ANP's discourse on Pashtun genocide – by Abdul Nishapuri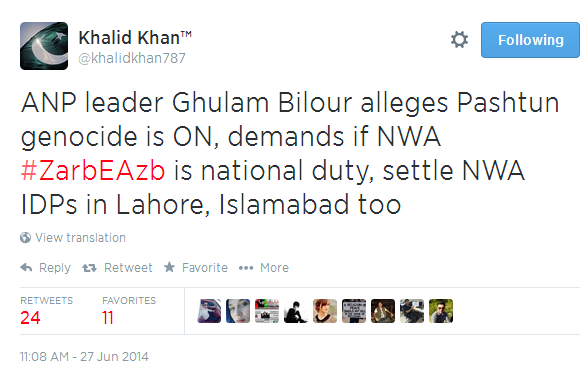 Jang's reporter Khalid Khan reports that ANP leader Ghulam Ahmed Bilour (the blasphemy murder reward fame) alleges "Pashtun genocide is ON" in North Waziristan, criticizes callous attitutde of Punjab and Sindh governments etc.
While we don't deny that in terms of suffering, Pashtunsa are the most affected ethnic group in Pakistan, we can't help notice the selective stance of some Pakistani liberals, including Pasahtun liberals, on issues of human rights.
Did you ever see this man raising voice on genocide of Pashtun Shias in Kurram who were besieged and massacred by Deobandi ASWJ and TTP terrorists of Pashtun, Punjabi etc backgrounds for more than seven years?
Only a few days ago, more than 40 Pashtun Shias from Kohat and Orakzai Agency were massacred by Deobandi ASWJ in Taftan, Balochistan. Did you see this man or any other ANP or Pashtun leader clearly condemn Shia genocide at the hands of Deobandi ASWJ terrorists? If they can't condemn Deobandi ideology due to sectarian reasons, what is stopping them from clearly condemning ASWJ (the urban cover of TTP)? https://lubpak.com/archives/306899
Selective championing of human rights is a characteristic common in pseudo-liberals of Punjab, KP, Sindh and elsewhere. https://lubpak.com/archives/306125
Indeed, the Operation Zarb-e-Azb could have been avoided if Pakistan army had not treated Deobandi seminaries in Akora Khattak and Karachi as its academies for non-state Jihad in Afghanistan and Kashmir, and also if Pashtun, Punjabi and other Pakistani leaders and scholars had realized that turning a blind eye to evil Deobandi ideology will not solve our problems.
Indeed, it is not the Pashtun, Punjabi or any other ethnicity which is to be blamed, it is the intolerant Deobandi ideology and the silence or vague stance of pseudo-liberals and pseudo-nationalists which is problematic.
Comments
comments