Ashura of Muharram, a burden on Pakistani economy? – by Abdul Nishapuri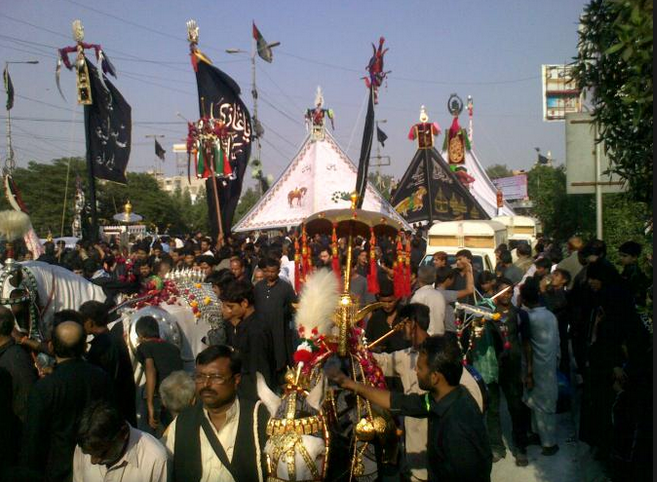 Related post: What can Pakistan and the entire world learn from Pakistani Shias?
In a previous post, I explained why it is important for Shia and Sunni Sufi Muslims to be able to freely practice their annual rituals of the Ashura (martyrdom anniversary of Imam Hussain) and Milad (birthday of Prophet Muhammad pbuh). I support similar freedom of practice and expression of religious and cultural practices for all faiths and ethnic groups. I explained in my previous post that we cannot and must not sacrifice our everyday life and life style due to threat of terrorism by the Deobandi and Wahhabi Taliban, ISIS and ASWJ terrorists.
While Deobandi and Wahhabi Islamists due to sectarian reasons and their inherent intolerant and violent nature are opposed to the Muharram-Ashura and Milad rituals, they and their fake liberal comrades also present seemingly rational arguments, e.g., law and order, economic implications, in order to support their demand for ban on religious processions of Muharram and Rabiul Awal. Nothing could be further from honesty and truth.
A Pakistani activist (Khudadad Azara) notes that Christmas, a religious event, also happens to be the biggest shopping season in the Western world where usually sales increase two- to three-times than other months of year. The end of shopping season is the beginning of New Year, so economists look to the Christmas season as a determinant of a "good" or "bad" year for economy. Indeed, there are at least two to three week holidays in most schools, colleges and offices, however, nobody ever complained that Christmas had an unhealthy effect on production, economy, education etc. Quite the opposite. There is an increased spending before and after Christmas on food, travel, gifts, and clothes thus the cycle of economy moves forward.
A similar comparison may be made with the Ashura of Muharram in Pakistan – and other countries such as Iran, Iraq, Yemen, Bahrain, India etc. The ten days of Muharram bring a major boost to the economy in the shape of money spent on charitable activities, food, mosques, imambargahs, mourning clothes, banners and flags, printing of books, pamphlets and advertisements, local employment, production of tazias, audio and video industry of nohas and majaalis, audio-video equipment, private security, well being of horses, payment to caterers, halls and event organisers etc.
In 2011, Pakistan's Geo TV made a very interesting report on the impact of Muharram on Pakistan's economy. According to this report, presented by veteran journalist Kamran Khan in Geo TV's 'Aaj Kamran Khan kay saath', Muharram rituals of Sunni Sufi, Barelvi and Shia Muslims stimulate the economy with 126 billion Rupees, i.e., approximately one fourth (22.1%) of the country's annual budget. In other words, economic activity in Muharram represents the biggest turnover in national economy, not unlike the Christmas season in the Western world.
Kamran Khan (Geo TV) explains how Pakistani economy gains more than Rs. 126 billion due to circulation of money as well as remittances received during the Ashura of Muharram.
It may be recalled that Shia Muslims represent approximately 20% of Pakistani population and Sunni Sufis/Barelvis are more than 60%. Together these groups pay homage to the grandson of Prophet Muhammad (pbuh) which not only has a high ethical and religious value but also healthy impact on the country's economy.
For example, in Pakistani city of Chiniot (Punjab), the tazias associated with the tragedy of Karbala are created, decorated and carried by not Shias only, but the Sunnis, too. In fact, Sunni Muslims are in majority in these processions. https://lubpak.com/archives/299665
The size of economic turnover indicates a large participation of Sunni Muslims in the Ashura rituals of Majalis, Sabeel, Jaloos etc which is also an indicator of religious harmony between these two major sects of Islam at the grass roots level, surely a bad news for Deobandi and Salafi Wahhabi takfiri minority of the Taliban, ASWJ, ISIS, Al Qaeda and their fake liberal comrades.
Muharram has an important role in Pakistani economy. It generates personal income, employment, education and social development. If the economy of a country goes to recession, then budget cuts, downsizing, flight of capital and general tendency of people to limit their expenditure will have an adverse effect on everyone irrespective of their faith or sect.
========
Appendix
Example of propaganda by Deobandi ASWJ and Deobandi atheists
Comments
comments