Congrats to the taliban for selecting Mullah Fazlullah known Pak Army killer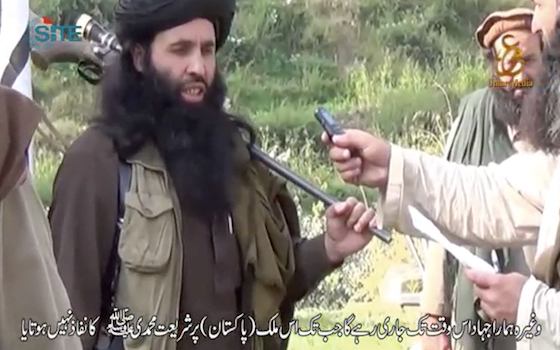 LUBP wishes to congratulate the Pro Taliban media and Political elite of Pakistan, who have have been hard at work to promote the shooters of Malala Youzafzai and killers of Pakistan Army.
Felicitations to Ansar Abbasi and Orya who attack anyone that support Malala or is against the Taliban, let us not forget their Najam Sethi and Hamid Mir who rub shoulders with the killers while pretending to defend the victims.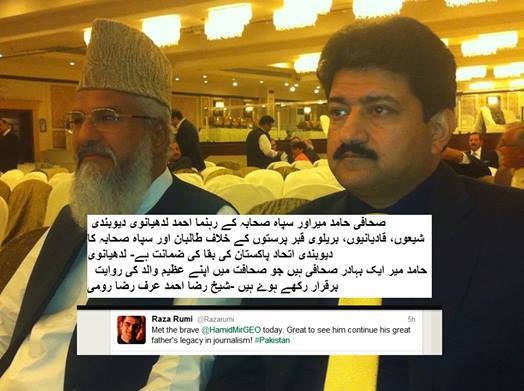 The largest of our congratulations should go to Munavar Hassan of Jamat e Islami and Fazlul Rehman of the anti Pakistan party alliance. They have been very vocal in declaring the hell hound Hakaim ullah a Shaheed of Islam. https://lubpak.com/archives/288859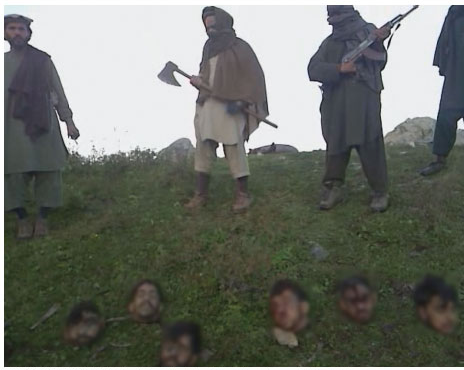 Lastly the misguided fools who follow the likes of Imran Khan and Nawaz Shareef under the umbrella of Islam should remember that Jamat e Islami is the parent organization of their ideological thinking. The same people who are declaring Hakim ullah Shaheed were declaring Quid e Azam Muhammed Ali Jinnah Kafir.
Especially in the month of Moharrum we invite people to think: Would the killers of Imam Hussain a.s. have any different mind set than those who kill Pakistan Army Jawans or shoot a 14 year girl in the head? They were also Muslims who knew the Quran well and prayed five times a day.
Pakistani Taliban name Mullah Fazlullah as new emir – by Bill Roggio

The Movement of the Taliban in Pakistan has named Mullah Fazlullah, the radical cleric from Swat in northwestern Pakistan, to lead the group following the death of its former emir last week in a US drone strike.

"Fazlullah is the new TTP [Movement of the Taliban in Pakistan] chief," Asmatullah Shaheen Bhittani, the head of the group's executive council who was appointed interim emir after Hakeemullah's death, told reporters "at a press conference at an undisclosed location in northwest Pakistan," Dawn reported. Asmatullah also told AFP that a commander known as Sheikh Khalid Haqqani was appointed as Fazlullah's deputy.

Shahidullah Shahid, an official spokesman for the Movement of the Taliban in Pakistan, also confirmed to Reuters that Fazlullah is the new emir of the Movement of the Taliban in Pakistan.

Fazlullah was one of four top Taliban commanders thought to be in the running to replace Hakeemullah, who was killed in a US drone strike on Nov. 1 in the Miramshah area of North Waziristan. Khan Said, who is also known as Sajna Mehsud and who served as the group's deputy emir under Hakeemullah, was rumored to have been appointed to lead the Movement of the Taliban in Pakistanimmediately after Hakeemullah's death. But the Pakistani Taliban did not officially confirm the report.

Sajna was thought to be the frontrunner to replace Hakeemullah, as he has served as the deputy emir and is based in South Waziristan, a hub of the group's power in the tribal areas. Both Hakeemullah and Baitullah Mehsud, his predecessor and the founder of the Movement of the Taliban in Pakistan, were from South Waziristan.

Fazlullah, who is also known as Mullah Radio for his radical sermons broadcast throughout the northwest, has been among the top leaders of the Movement of the Taliban in Pakistan since its founding in 2007. He engineered the Taliban takeover of Swat and neighboring districts from 2007-2009, and brutally ruled over a cowed civilian population. The Pakistani military intervened only after Fazlullah forcesinvaded Buner and advanced to just 60 miles from the Pakistani capital of Islamabad. He has vowed to continue the fight to regain control of the Swat Valley.

He is one of the most extreme commanders in a group filled with extremists. He was one of the first leaders to have opposed polio vaccinations. Last year, he proudly ordered the assassination of Malala Yousufzai, the young schoolgirl who passionately spoke out against the Taliban in Swat, and accused her of violating sharia, or Islamic law. This year, he took credit for the assassination of a Pakistani Army general who commanded operations in Swat.

http://www.longwarjournal.org/archives/2013/11/pakistani_taliban_na_1.php
Comments
comments