TTP terrorist Hakeemullah Mehsud killed! Imran Khan, Nawaz Sharif, Ansar Abbasi, Najam Sethi declare 40-day mourning. Congrats to Pakistani nation!
It has now been confirmed by a Taliban Spokesman  that  the chief of banned Deobandi Taliban outfit Tehreek-e-Taliban Pakistan (TTP), Hakimullah Mehsood has been killed in a US drone attack. One can expect a pall of gloom on Imran Khan and his followers in Pakistani Tehreek e Insaf and right winged media personalities like Ansar Abbasi, Orya Maqbool Jan, Kamran Khan etc who have been the biggest proponents stopping drone attacks as they cause civilian casualties and it is in reaction of this that we see suicide bombers in Pakistan and terrorism in the country.  One can expect a lot of contradictory statements from Imran Khan. Commiserations are also due to pro-establishment fake liberals including Ejaz Haider, Najam Sethi and other such species of TFT Blog and Jinnah Institute.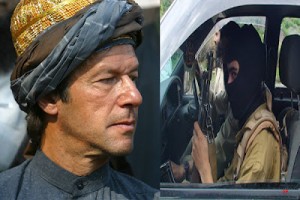 Coming to the PML-N, their politics is also expected to be affected. What will their foreign policy be all about as drone attacks continue to eliminate the enemies and high value targets.
Again, apologies to all the right wingers whose rants and politics all revolves around drone attacks and appeasing the Taliban!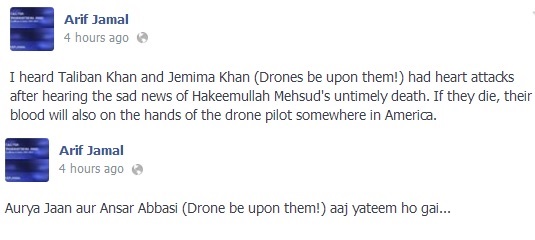 Source: Express Tribune

A fresh drone strike that has reportedly targeted a compound in the use of Tehreek-e-Taliban (TTP) commander Hakimullah Mehsud, has killed  five people and injured two in  North Waziristan on Friday, Express News reported.

The strike targeted a house in Dandey Darpakhel, five kilometres (three miles) north of Miranshah, a town that US considers to be a stronghold of Taliban and al Qaeda militants.

The identities of those killed in the strike are not yet known, but sources say a senior militant commander may be among the dead.

This is the second drone attack in two days, after Thursday's strike killed three people in Miranshah bazaar.

The attack comes against the backdrop of a political scenario rife with fresh tensions and controversies over the Pakistani state's role in these US attacks.

A strike in the midst of 'dialogue process'

On Wednesday, a week after Prime Minister Nawaz Sharif had urged his US counterpart to halt drone strikes, US Congressman Alan Grayson had said that if Pakistan wanted, drone strikes "could end tomorrow" and that "these strikes would not be possible if Pakistan did not facilitate them."

Then hours after Thursday's drone attack, an agitated Imran Khan had stated that the Pakistan Tehreek-e-Insaf (PTI) would put a stop to NATO supplies if a drone attack is conducted during the Taliban peace talks.

Also on Thursday, the Pakistani government announced that the dialogue process with the Taliban had begun, although no formal talks had occurred as yet.

"We expect that the formal dialogue with Taliban will also take place very soon," Interior Minister Chaudhry Nisar told opposition parties.

The Pakistani defence ministry recently said that 317 US drone strikes in the country's tribal areas had killed 67 civilians and 2,160 militants in Pakistan since 2008, figures that opposition parties in the parliament are highly skeptical of.
BBC Update:
The leader of the Pakistani Taliban, Hakimullah Mehsud, has been killed in a drone strike, a high-ranking Taliban official has told the BBC.

The strike targeted a vehicle used by Mehsud with four missiles in the north-western region of North Waziristan.

Four other people were killed in the strike, including two of Mehsud's bodyguards, intelligence sources say.

Several previous claims of his death, made by US and Pakistani intelligence sources, have proven untrue.

Friday's strike targeted Mehsud's vehicle in the Dande Darpa Khel, some 5km (3miles) north of the region's main town, Miranshah.

A senior US intelligence official told the Associated Press that the US received positive confirmation on Friday morning that he had been killed.

Mehsud became leader of the Pakistani Taliban in 2009, aged 30, after his predecessor died in a US drone strike.

His second-in-command, Waliur Rehman, died in a drone strike in May.

Hakimullah Mehsud had come to prominence in 2007 as a commander under the militant group's founder Baitullah Mehsud, with the capture of 300 Pakistani soldiers adding to his prestige among the militants.

In January 2010 he gained further notoriety when he appeared in a video alongside a Jordanian who is said to have blown himself up, killing seven CIA agents in Afghanistan to avenge Baitullah Mehsud's death.

Mehsud had a $5m FBI bounty on his head and was thought to be responsible for the deaths of thousands of people.

The attack targeting him comes on the same day that the Pakistani government announced it was about to send a delegation to North Waziristan to try to get peace negotiations with the Taliban under way.

Pakistani Prime Minister Nawaz Sharif had pledged to talk with the Taliban to try to end its campaign of violence, which has left thousands dead in bombings and shootings across the country.

In a rare interview with the BBC two weeks ago, Mehsud said he was open to "serious talks" with the government but said he had not yet been approached.

Mehsud denied carrying out recent deadly attacks in public places, saying his targets were "America and its friends".

He had loose control over more than 30 militant groups in Pakistan's tribal areas.
US drone strike targets head of Pakistani Taliban
THE LONG WAR JOURNAL :
US drone strike targets head of Pakistani Taliban

The US targeted the emir of the Movement of the Taliban in Pakistan in a drone strike today in Pakistan's Taliban-controlled tribal agency of North Waziristan. The strike is the second in the tribal agency in three days.
The CIA-operated, remotely piloted Predators or the more deadly Reapers fired a pair of missiles at Hakeemullah's vehicle as it left a mosque in the village of Danday Darpa Khel in the Miramshah area of North Waziristan, Dawn reported. The strike killed five "militants."

Hakeemullah Mehsud, the leader of the Movement of the Taliban in Pakistan, was the target of today's strike. Hakeemullah's bodyguard, who was identified as Tariq Mehsud, and his driver, Abdullah Mehsud, are said to be among those killed in today's attack.

Pakistani intelligence officials are claiming they have confirmed that Hakeemullah was killed in the strike, but officials would not speak on the record, Reuters reported.

US intelligence officials contacted by The Long War Journal said that they do not know if Hakeemullah was killed in today's strike. The Movement of the Taliban in Pakistan, which was quick to confirm the death of its deputy emir, Waliur Rehman, in May, has not released a martyrdom statement for Hakeemullah.

Danday Darpa Khel is a known hub for al Qaeda, the Taliban, and the Haqqani Network. A previous strike, on July 2, killed Abu Saif al Jaziri, an al Qaeda military commander in the Lashkar al Zil, and Maulana Akhtar Zadran, a Haqqani Network officer.

Today's strike took place just two days after another strike targeted "militants" in the village of Zafar, which is also in the Miramshah area of North Waziristan. The area is administered by the Haqqani Network, a subgroup of the Afghan Taliban that is tied to al Qaeda and based in North Waziristan.

The US targeted Hakeemullah just one day after the Pakistani government announced that it was formally negotiating a peace agreement with the Movement of the Taliban in Pakistan. Previous peace agreements have led to an expansion of Taliban control in the tribal areas and the greater Pakistani northwest.

The Pakistani government, which in the past has secretly permitted the drone strikes while denouncing them publicly, has called for an end to the attacks. After a strike at the end of September, Pakistan's Ministry of Foreign Affairs released a statement denouncing the US strike and called for the US to bring a halt to the program that targets al Qaeda, the Taliban, and a host of terrorist groups operating in North and South Waziristan. And last week, after meeting with President Barack Obama, Prime Minister Nawaz Sharif also publicly called for the US to end the strikes.

The drone strikes are controversial, as groups such as Human Rights Watch and Amnesty International have accused the US of indiscriminately killing civilians in strikes in both Pakistan and Yemen. But in the past week, Pakistan's Ministry of Defence released a report stating that 67 civilians have been killed in drone strikes since the beginning of 2009, and claimed that no civilians have been killed since the beginning of 2012.

The Long War Journal has recorded, based on Pakistani press reports, that at least 2,079 jihadists from al Qaeda, the Taliban, and a host of terror groups operating in North and South Waziristan have been killed in strikes since the beginning of 2009, including some of al Qaeda's top leaders. There have also been 102 reported civilian deaths in drone strikes in Pakistan since the beginning of 2009, with 15 civilians killed since the beginning of 2012. Civilian casualties are difficult to assess as the strikes take place in areas under Taliban control; the figure may be higher than 102.

The US has launched 25 drone strikes in Pakistan so far this year, according to data compiled by The Long War Journal. The number of strikes in Pakistan has decreased since a peak in 2010, when 117 such attacks were recorded. In 2011, 64 strikes were launched in Pakistan, and in 2012 there were 46 strikes.

The US has targeted al Qaeda's top leaders and its external operations network, as well as the assortment of Taliban and Pakistani jihadist groups operating in the region. The strikes have been confined mostly to North and South Waziristan; 332 of the 349 strikes recorded since 2004, or 95%, have taken place in the two tribal agencies. But al Qaeda and allied groups are known to have an extensive network throughout all of Pakistan.

Read more: http://www.longwarjournal.org/archives/2013/11/us_drone_strikes_tar.php?utm_source=feedburner&utm_medium=email&utm_campaign=Feed%3A+LongWarJournalSiteWide+%28The+Long+War+Journal+%28Site-Wide%29%29#ixzz2jRbaMWtW
Comments
comments