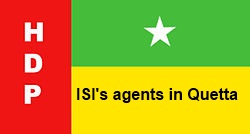 The voters of PB-2 once again rejected Hazara Democratic Party in May 11 elections by electing Majlis-e Wahadat-e Muslimeen's candidate. This was HDP's second consecutive defeat in elections ever since it was made in 2003. But like 2008 defeat, HDP is once again not accepting its rejection by the voters. The rejection of party in electoral politics makes it very clear that Shia Hazaras do not want to give representation to a party and individuals with dubious past.
In 2008 elections, the independent candidate Jan Ali Changezi beat HDP's chairman Abdul Khaliq by a big margin. Jan Ali Changezi's victory was not surprising after two incidents which are as followed:
1: HDP leader gave an interview to the local newspaper in which he said he would restrict the Moharram jaloos after his party came in power. It made Shias angry in Quetta, and even their potential voters backed off after the statement.
2: Soon after the statement, all the elders of Hazara community, Major Nadir Ali, Sardar Sadat and Tanzeem, announced their support to Jan Ali Changezi.
With that HDP lost the elections, and Jan Ali Changezi was elected by the people. Soon after Jan Ali's victory, HDP said elections were rigged in Jan Ali's favour. It protested against him. But Election Commission dismissed HDP's allegations, and issued official notification calling Jan Ali winner.
But, in the last five years HDP did not quit trying to find acceptance in the society by different means. It came up with slogans of secular nationalism. HDP through fake 'secular nationalism' did its every bid to take the religion out of Shia Hazaras. In the garb of secularism, it condemns those who are practicing Shias. Every practicing Shia is called a 'fundamentalist', 'extremist', 'Irani agent' and 'Tuman Khor' by HDP activists. It has started physically beating those who oppose them on ideology.
In last five years, HDP issued more press releases against the 'Shias' (calling them bunyad parast mazhabi Shia) than Sipahe Sahaba or Lashkari Jangvi who killed and injured hundreds of Shias in Quetta. If you come here in Quetta, you will still see local newspapers having HDP statements against 'mazhabi shidat pasand anasir', a reference to practicing religious Shias who have nothing to do with extremism. HDP does all this to please its masters.
But the biggest offence that Shia Hazaras took last year was when HDP started campaigning against the procession of 21st Ramzan, on the Shahadat of Imam Ali(as). It ran big campaign in social media and on the streets to dissuade people from participating in the traditional Julus. In the end, clashes broke out in one of the biggest imambargah (Imambargah Hazarar Nasir Abad) when a group of Shia Hazaras stood against HDP, and decided to take out procession. Procession was finally taken out, and people hated HDP ever more.
On 10 January when over a Hundred Shia Hazaras, Shias of other backgrounds and non-Shias were killed in Alamdar Road, the mourners sat on the street with the coffins to protest against the government. MWM later supported the peaceful Shia protesters and participated it in Quetta and all parts of Pakistan which resulted in government's ouster. But HDP did not sit with mourners, and stood a tent else where with a group of 10 to 12 people .While the ISI/Pakistan media portrayed this protest of 10 to 12 people as the legitimate Hazara Protest, the absence of HDP on Alamdar Road was enough to distance people from them.
In Burori Hazara Town, HDP did not become part of protests once again. After the protest was started by the heirs of Shuhada, MWM once again gave its support to the families of Shuhada and announced protest in all Pakistan. The protest was successful and all demands were met. But HDP did not stop its dirty politics, and sent few of its active women workers to lock the Imambargah, and don't allow the burial. There was firing in the air by HDP's supporters to give the impression that protests were not peaceful. All it was recorded in TV. Some of the active HDP women activists even lay in graveyard, to stop burial. But Ulema and families of Shuahda convinced them to leave so that burials happened.
The two events made people hate HDP more.
So when elections came closer, HDP tried its best to win the support of those who were angry. But HDP could not win support of the elders. All the elders, Major Nadir Ali, Sardar Sadat Hazara, Anjuman Tajiran e Hazara, gave their support to MWM's Agha Raza. Also, other minority groups in Shias, Gilgiti, Yusufzai, Bangash, Baltistani and Punjabis gave unconditional support to MWM for its candidate. Christians and Sunni Punjabis of area also announced their support. The support meant full victory for MWM's candidate. In last effort, HDP tried to win Tanzeem Nasle Nau Hazara's support, but Tanzeem (which is the oldest Hazara organization) tried to stay neutral and gave his support to Jan Ali Changezi once again.
On elections day, seeing its defeat, HDP adopted different means. It first sent its active violent male and female agents to polling booths to pressurize men and women to vote for HDP. In some booths, it used hundreds of fake votes which were cast for HDP. It was by afternoon that police intervened and stopped the high-handed approach of HDP.Voting was great here in Alamdar Road Road on 11 May. Every one was sure of MWM's victory since the start. So when results started coming, HDP's defeat was full and final.
HDP did not stop its dirty game. HDP's leader has made many friends in media. His most trusted friends are in Geo, Express and Aaj TV. So whichever booth's result came, HDP sent wrong info to their friendly reporters. And those dis-honest media men also ran the news without confirmation. For example, where MWM candidate had 470 votes, and HDP's candidate 67, HDP activists would feed media with
HDP 470
MWM 67
HDP's media wing in the form of Mechid TV played a big role in sending wrong info. HDP's activists sitting in Canada, Australia, Norway and other countries kept spreading the wrong info so that a perception was created that HDP is winning. On ground, HDP was losing in every booth. In the same time, as a pre-emptive strike, HDP sent its activists on Alamdar Road to celebrate the victory and made its video. Its activists started firing in-air, even though the result was completely in support of MWM's candidate, and HDP was losing by a big margin.
So when the Election Commission announced the final result, MWM was clear winner, and HDP had lost. HDP then started making drama of rigging, and forced the election commission to RE-COUNT votes again. ECP finally did the recounting. The re-counting once again went to MWM's favour and official notification in favour of MWM candidate was issued.
There were three booths where HDP's paid poling agents forced the women to cast votes in HDP's favor  HDP's paid men and women agents did everything they could to rig elections. There were more than 1500 fake votes that HDP balloted. The fake votes helped them raise the number of votes above 3500 votes they got in 2008. It was upon police intervention that male and female poling agents of HDP were driven out of the booths.
It staged a drama yesterday that ballot papers were found somewhere after one week of elections, which were dumped with stamp on HDP's sign. HDP means ballot papers were dumped so that HDP did not win elections. What is interesting to know is that dumped papers were found by HDP activists, and not a single paper was torn or dirty after remaining in dustbin for over a week. HDP called its friends in media to cover it, and they covered it just for the sake of it. It is so stupid that one cannot even laugh at the stupidity of it. And those who dumped the papers did not have the commonsense to burn the papers.
HDP is also facing the anger of Muttahida Qaumi Movement (MQM) whose candidate was forcefully made to sit in favor of HDP. But he did not sit. However HDP removed all the posters of MQM from Alamdar Road so that it gives an impression that MQM is supporting them.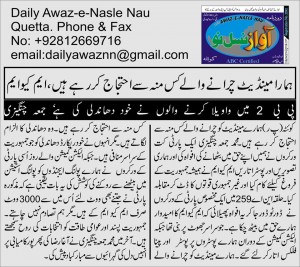 People are distancing themselves further from HDP. Now those who are against HDP politically are physically thrashed. There have been three cases here in Quetta in last three days where opponents of HDP were beaten by HDP activists, one barely survived. HDP is doing it all to provoke others so that they react, and god forbid a war within Hazara community starts. But elders of Shia Hazaras have shown wisdom and requesting for restraint from young Shias.
The electoral defeat means HDP's rejection by moderate Shia Hazaras and other communities in PB-2. After back to back defeats in the elections, HDP is trying everything to make the elections controversial.
It is using its friends in GEO, AAJ and other channels to level allegations. The channels do not invite the winner candidate of MWM Agha Raza to come and to expose HDP.
Its trolls on social media are more abusive than PTI members. HDP is harassing those who hold different view other than HDP's. People of Quetta have always practiced moderation, and do not want a violent abusive group to spread hatred among the communities. It is the reason why Shia Hazaras and others are practicing restraint.
Some useful links that expose HDP's rigging and fake campaigning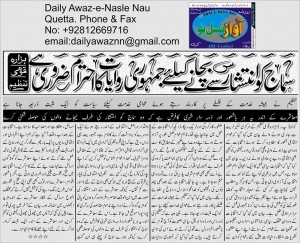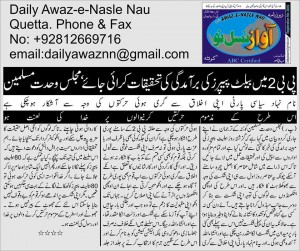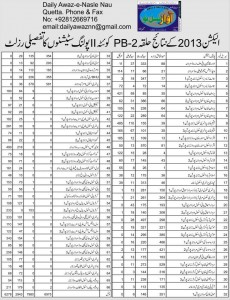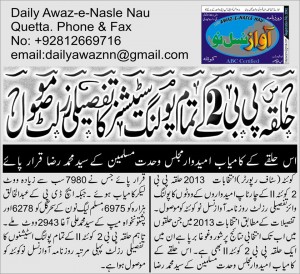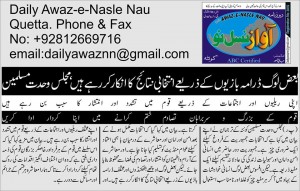 ہزارہ ڈیموکریٹک پارٹی کی اصلیت اب سامنے آ چکی ہے – یہ بھی بلوچستان میں لشکر جھنگوی اور سپاہ صحابہ کی طرح ائی ایس ائی کی پراکسی ہیں جو صرف اور صرف ہزارہ قوم کو تقسیم کرنا چاہتی ہے – اس سے پہلے بھی کتنی ہی بار عبدل خالق ہزارہ نے ہزارہ قوم کی نمائندگی کا دعوا لیکن ہزارہ قوم نے ہمیشہ اس کو ایسے کسی کوشش میں کامیاب نہ ہونے دیا- سپاہ صحابہ کے ساتھ اپنے پریس کانفرنس  میں بھی عبدل خالق ہزارہ اور ہزارہ ڈیموکریٹک پارٹی نے اس بات کا اعلان کیا کہ ان کا شیعہ مذہب سے کوئی تعلق نہیں ہے اور وہ  صرف ہزارہ ہیں اور ان کا سپاہ صحابہ لشکر جھنگوی سے کوئی تنازعہ نہیں ہے – اس بات کو بھی ہزارہ قوم کے زیادہ تر لوگوں نے سخت نہ پسند کیا اور عبدل خالق ہزارہ سے اظہر لا تعلقی کیا -پھر علمدار روڈ اور ہزارہ ٹاؤن بم دھماکوں کے بعد بھی عبدل خالق ہزارہ اور اس کی پارٹی کا مشکوک کردار سب کے سامنے بری طرح ہیں عیاں ہوا
Related:
https://lubpak.com/archives/231394
https://lubpak.com/archives/236203
https://lubpak.com/archives/229600
https://lubpak.com/archives/229441
https://lubpak.com/archives/227170
https://lubpak.com/archives/225263