Who killed HDP Chairman Hussain Ali Yousafi? – by Raza Changezi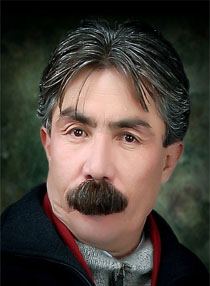 Hussain Ali Yousafi was killed on 26th January 2009 in the early hours of the morning near his office on Jinnah Road Quetta. Apparently it was made to seem that Lashkar-e-Jhangvi had claimed responsibility for the attack on sectarian grounds. But it was a known to all that Hussain Ali Yousafi was not a religious person, in fact he was known as a self-avowed atheist who took pride in his disrespect of religion. His task assigned by ISI was not much different than the one assigned to Lashkar-e-Jhangvi.
By what has been said above, no one should think that Hussain Yousafi was a liberal person. He was a wife-beater, a bigot who didn't allow his daughters to speak to their male cousins living in the same house in a joint family. The person who pretended to be the champion of secularism and liberalism among Hazaras in Quetta forced his daughters to wear hijab and beat them up whenever he thought they were not observing proper hijab. This is an account told by one of his very close relatives.
But in public, Hussain Yousafi was a liberal, and that is how the world knew him. And the above account has been mentioned only to prove that he was not a liberal but a hypocrite. There is no reason and no evidence whatsoever to believe that he was killed by Lashkar-e-Jhangvi. He was not killed by Lashkar-e-Jhangvi, rather taken out by HDP itself at the behest of ISI and also due to internal politics of the party. ISI feared that Hussain Yousafi was getting close to the Balochs and Americans and was getting out of their hands after having served them for 3 decades. ISI therefore sought the help of its pet-dog in HDP Abdul Khaliq Hazara who connived with them to get Yousafi killed.
In order to absolve itself and HDP of the blame, ISI ensured that its other asset, Lashkar-e-Jhangvi, accepted responsibility or that an untraceable phone call was made to a couple of newspaper offices to accept responsibility in the name of LeJ.
An eye-witness of his assassination, standing near the bank from which Yousafi had just withdrawn cash, told me minutes after Yousafi's killing that the assailant was a Hazara boy. This was much before LeJ claimed responsibility, police initiated investigations and HDP started its fake hue and cry.
It might come as a surprise to the readers that out of the 500 Shia-Hazaras who have been martyred in Quetta by LeJ, along with 200 other non-Hazara Shias, not a single HDP leader or member has been killed. And I have already stated that Yousafi too was killed by HDP and ISI and not LeJ. This is a big question. Why are religious Shia-Hazaras, and even common ones are killed, but not a single HDP person has been killed by Lashkar-e-Jhangvi?
HDP tries to present itself as the voice of Shia-Hazaras and steal their sacrifices and cash upon them, but at the same time, it has not lost a single member to this terrorism? Why? Because it is another ISI asset that is working in alignment with Lashkar-e-Jhangvi. The latter kills Shias, and HDP misrepresents it, creates confusions among them and weakens them internally.
The same had happened even in 1995 when the same elements who latter founded HDP in 2004 sold off Shaheed Abdul Ali Mazara to Taliban and ISI. Shaheed Mazari too was cheated and killed by the same people. Not that Shaheed Mazari and the hypocrite Yousafi stand in the same league, but the latter reaped what he had sown. He and his friends who was still a part of HDP or are its sympathizers and hidden supporters had gotten Shaheed Mazari killed. I will try to write on it in detail some time.
Comments
comments