Baloch friends must not promote thugs who misrepresent Shia genocide as Hazara ethnic issue – by Mukhtar Askari
Cross-posted from World Shia Forum
This is a humble request not only to our Baloch friends but also to all those who condemn Shia genocide at the hands of Pakistani State sponsored Shia genocide.
It is common knowledge that Shias of all ethnic backgrounds are being target killed in all parts and areas of Pakistan.
However, agents of dark forces in Quetta, the very forces who are responsible for Shia genocide and Baloch genocide, want to dilute Shia genocide by dividing the Shia community into Shia Hazaras and non-Hazara Shias, and also by misrepresenting Shia genocide as a Hazara ethnicity specific issue.
A recent proof is Khaliq Hazara's recent TV appearance in which he refused to acknowledge that Shia Hazaras were being killed due to their faith, not ethnicity.
Sadly, we note that a few media persons and bloggers have started promoting certain dubious thugs who misrepresent Shia genocide in Hazara ethnic terms. By retweeting or promoting such thugs, some friends are not only hurting the already target killed Shia community, they are also denting their own credibility.
Unfortunately, at least a couple of Baloch activists on social media too have fallen in the trap of ISI-thugs in Quetta.
Here is an example: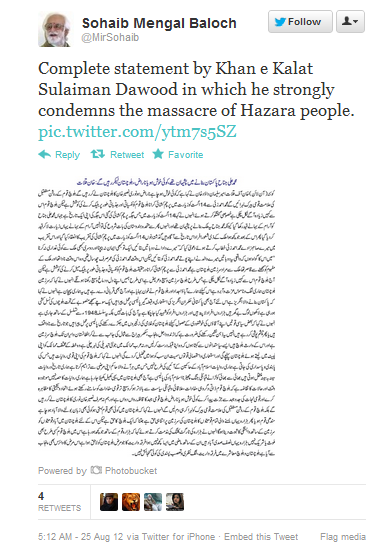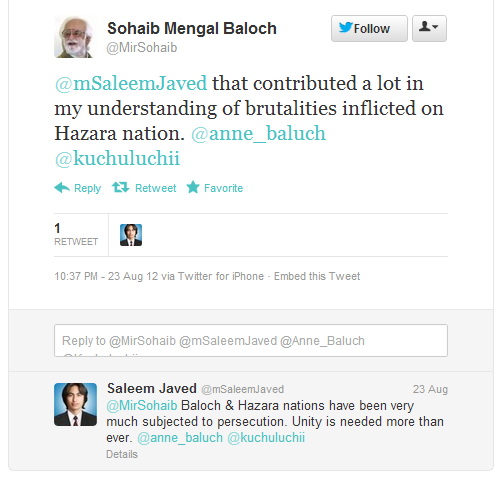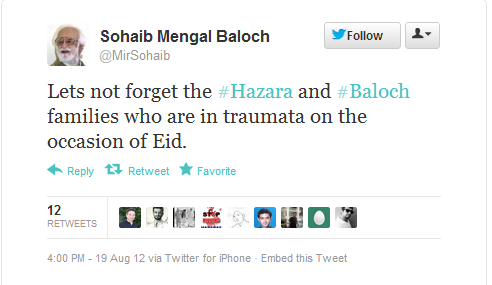 https://twitter.com/MirSohaib/status/239138029338492928
https://twitter.com/MirSohaib/status/238676466785738753
https://twitter.com/MirSohaib/status/237126981542629377
https://twitter.com/mSaleemJaved/status/236775493326737409
We ask all friends to beware of those who want to divide Shia community into Hazara Shias and non-Hazara Shias. Such people tend to wipe out at least 200 non-Hazara Shias (including Baloch, Pashtun, Punjabi etc Shias) killed in last few years in Balochistan at the hands of religious extremists sponsored by Pakistani State. How can we condemn murder of 500 Shia Hazaras of Quetta but forget 200 non-Hazara Shias in the same city? Also how can we remain oblivious to the larger Shia genocide taking place in Parachinar, Karachi, Gilgit-Baltistan and other parts of the country?
We condemn those who want to divide the Baloch nation and the Shia nation.
We condemn all those who want to dilute Shia genocide in order to promote ethnic agenda of an ethno-political party (HDP).
The onus is on Baloch friends to disown/advise those Balochs who are, perhaps inadvertently, trying to dilute Shia Genocide as a Hazara ethnic issue.
We also remind those media persons and bloggers who are promoting the Hazara ethnicity narrative to refrain from diluting Shia genocide. They must not uncritically promote and propagate ethnic agendas of Hazara Democratic Party (HDP). It is their ethical and professional responsibility to stop promoting political and ethnic agendas of a an ethno-political party in a non-transparent and generalizing manner.
We appreciate that the Balochs are overall a pluralist, tolerant nation. We strongly condemn excesses by Pakistani State, particularly by Pakistan army, against our innocent Baloch brothers. We understand that there is only a tiny minority of the Baloch (along with other ethnic groups) which has been hired by agencies as a part of the LeJ-Taliban-Jundullah militia to kill Shia Muslims in Quetta, Mastung etc. Our Baloch friends must vocally disown such anti-Shia sectarian terrorists (whether in LeJ or Jundullah) who are deeply sectarian against Shia Muslims and also those who ally with ISI-thugs to misrepresent Shia genocide as an ethnic issue. ISI-backed Baloch LeJ terrorists are a threat not only to Shias but also to wider, secular Baloch population. They must not be given physical or rhetorical shelter or defence. Instead of denying or understating the presence of Baloch sectarian militants in LeJ Balochistan, Jundullah etc, it is important to overcome ethnic fraternities on principles of secularism, pluralism and tolerance.
We request that Baloch friends in Balochistan dissociate from those who are dividing Shia in Shia Hazara and non-Hazara Shia.
Anyone who promotes the thugs who misrepresent Shia Genocide in ethnic terms enables further Shia genocide; is not our friend.
We urge all rights activists, including Sunni and Shia activists, to remain united against all those who want to divide Shias or misrepresent Shia genocide.
On Twitter, ISI-touts in Quetta are easy to locate. Instead of #ShiaGenocide, they use #Shia #Hazara #Genocide (separate hash-tags) to dilute it in Hazara ethnic terms. A quick search of these hashtags can reveal such persons.
Majority of Shia Hazaras reject ISI-touts in Quetta who completely wipe out murder of non-Hazara Shias in Quetta. Majority of Shia Hazaras acknowledge they are being killed due to their faith; their ethnicity helps in their murder, is not the main cause.
We also want to clarify that Hazara ethnic party (HDP) represents only a minority of Hazaras, just as Pakistan Muslim League represents only a minority of Muslims.
We request our Baloch friends to stop RTing and promoting ISI-touts in Quetta who misrepresent Shia Genocide as a Hazara specific ethnic issue. We hope our Baloch brothers will consider our humble request.
Relevant sources:
Baloch comrades must not ignore anti-Shia terrorists making inroads in Baloch nation – by Ali Ahsan
Is it Hazara genocide or Shia genocide? – by Musa Changezi
Fortunately, the Sunni Hazara brothers are safe in Quetta – by Mehdi Changezi
Abdul Khaliq Hazara and the ethnic cleansing narrative – by Marya Mushtaq
Imran Khan, Munawar Hasan and Hamid Mir's discourse on Hazara genocide in Quetta
List of non-Hazara Shia Muslims killed by SSP-LeJ-Taliban in Balochistan – by Marya Mushtaq
ISI-sponsored Shia genocide in Pakistan or Sunni-Shia sectarian violence?
Blood of Shia Muslims flows freely in Pakistan – by Amir Mir
Intellectual dishonesty in misrepresenting Shia massacres in Pakistan
A viral video has made rounds online where a Quetta bus carrying Shia pilgrims was stopped by Takfiri Deobandis in Mastung (September 2011), and where all Shias (including Hazara and non-Hazara Shias) in the bus were rounded up and shot dead in cold blood. Upon closer inspection of that video, it turns out that the killers of those Shia pilgrims were not speaking Pashtu or Punjabi – as the common stereotype about LeJ-Taliban is – but Brahvi mixed with some Balochi. Brahvi speaking people are an integral part of the Baloch nation.
http://youtu.be/9Irg8bsIhMA
In recent times the Baloch city of Mastung – an traditional stronghold of Baloch politics – has become a hotbead of anti-Shia killings and many deadly acts of terror have been carried out against Shias in and around Mastung where the local language is both Brahvi and Balochi. It seems that the Deep State has now successfully infiltrated the secular Baloch movement while some Baloch activists remain either in denial or silence over these atrocities.
Comments
comments