Similarities between Khaliq Hazara and Ahmed Ludhianvi – by Raza Ali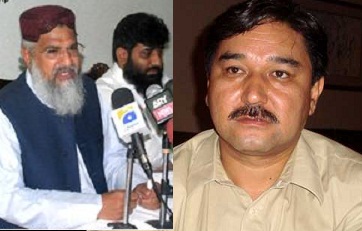 It was pleasing to see Mohammad Malick do a brave program on Shia genocide on 22nd August. The program again highlighted, apart from Sipah-e-Sahaba's role in Shia killings, the complicity of Hazara Democratic Party (HDP) in the ongoing killings by creating the narrative that supports killers of Shia.
The program also showed how similar the stances of Khaliq Hazara Chairman HDP and Ahmad Ludhyanvi, chief of Sipah-e-Sahaba (LeJ/ASWJ) are. When asked by Malick whether Shia-Hazaras were killed because of religion or ethnicity, Abdul Khaliq Hazara avoided the question and tried to change the topic while giving the killings of Shia in Quetta an ethnic colour. Similarly, when asked whether all Sunni Ulema could issue a fatwa that anyone who kills a Shia is out of the ground of Islam, Ahmad Ludhyanvi in a manner similar to Khaliq Hazara avoided using the term Shia even once and indirectly refused to comment on the question. The reactions of Khaliq and Ludhyanvi were ironically similar but understandable given that they both worked for and continue to serve ISI.
While Mohammad Ahmad Ludhyanvi head the organization which is mother of all terrorist organizations and directly responsible for all Shia killings in Pakistan, Abdul Khaliq Hazara heads a party tasked by the ISI to cover up religious killings of Shias in Balochistan by giving it ethnic color and creating ethnic tensions between Pushtoons, Baloch and Hazaras in Quetta. This man is also responsible for marginalizing the Urdu speaking, Punjabi, Yousafzai, Turi, Bangash, Gilgiti and Baltistani Shias in Quetta as outcasts and creating hatred between Hazara Shia and Shias of other ethnic backgrounds. Khaliq Hazara also kept lying that 700 people killed in Quetta were all Hazara, while in fact, around 200 of those killed in Quetta were non-Hazara Shia. Khaliq, his party, and their touts on social media deliberately ignore the killings of non-Hazara Shias also to create distance between them and the Shia-Hazara, apart from other reasons.
All those who are sincere with the cause of putting an end to Shia genocide in Pakistan and rescuing the besieged Shias of Quetta should categorically point out Khaliq Hazara's diabolical role in which he has been selling the blood of innocent Shias (both Hazara and non-Hazara) in order to serve ISI and get some petty personal benefits in return.
Mohammad Malick and other news anchors should also stop giving any importance to Abdul Khaliq Hazara by inviting him to their programs because he is a highly controversial figure in Quetta with a bad reputation and does not represent either the Shias of Quetta or the Shia Hazaras of Quetta.
Comments
comments