HDP flaming Pashtun-Hazara fight, endangering thousands of lives for politics – by Raza Changezi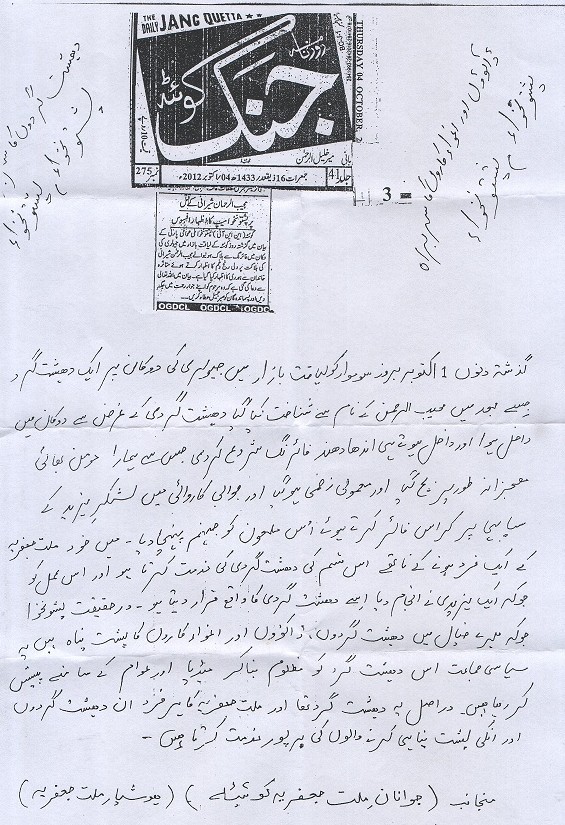 Hazara Democratic Party (HDP) has always stood along with Sipah-e-Sahaba/Lashkar-e-Jhangvi in its activities against Shias of Quetta. In a recent diabolical propaganda campaign, HDP has written a vicious pamphlet and scattered it in the city. In the statement which has been written by HDP by attributed to unknown and anonymous 'Jawanan-e-Millat-e-Jafaria' HDP has called Pashtunkhwa Milli Awami Party (PkMAP) and Pashtuns as Yazidis, kidnappers, dacoits and terrorists and their supporters.
The text of this pamphlet clearly shows that it is a deliberate attempt at propaganda. All sensible Shia-Hazaras in Quetta know that this has been done by none other than HDP. It has been previously stated here that HDP wants to create ethnic war in Quetta in order to ensure that it wins the 2 provincial assembly seats from the city. HDP is scared of the fact that many Hazaras have joined PkMAP in the last year or so, and it wants to blackmail those people in the name of ethnicity and religion by creating rifts between Hazaras and Pashtuns both in the name of religion and ethnicity so that either they leave PkMAP, or the Hazaras due to ethnic or religious fight with Pashtuns, do not vote for those people.
In the near future, if the relations between common Shia-Hazaras and Pashtuns of Quetta worsens, HDP should be held accountable for. If God forbid something unpleasant happens between the two groups, HDP should be held accountable for it. These paid servants of intelligence agencies, these criminals drop to any level for their own benefits. On this occasion, they have literally endangered the lives of half a million Shias of Quetta by making things appear as if all of them stand against Pashtuns and consider Pashtuns, and their representative party PkMAP as Yazidi.
The elders of Shia-Hazaras and well as PkMAP should understand the situation and foil the HDP attempts aimed at creating discord between the two groups. In fact, they should file a joint FIR against HDP for forgery and incitement for violence. If the people of Quetta do not recognize HDP and foil its attempts, this opportunist party will eventually be successful in getting the people of Quetta at each others throats.
Comments
comments