LUBP editor meets Ahmadiyya community's spiritual leader – by Ali Taj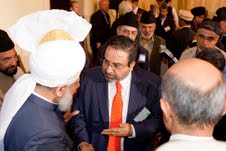 The spiritual leader and fifth Khalifa of Ahmadiyya Muslim community visited Los Angeles on 11 May 2013 and delivered an address. I had the pleasure and honor of meeting his holiness and asked him a question about the U-turn that Pakistan is taking away from tolerance and into the fire of Islamofacism.  This is a trend we must strive to reverse. I made it a point to thank the Ahmadiyya Muslim community for their contributions in the creation and development of Pakistan, including but not limited to Sir Zafarullah Khan, the first Foreign Minister of Pakistan and Dr. Abdus Salam, the first Muslim to be awarded the Nobel Prize. The whole reason of my attendance was to demonstrate that while we may disagree on some issues and interpretations we must respect and tolerate our differences and cherish and highlight our common achievements.
In principle, LUBP opposes the Second Amendment in Pakistan's constitution that apostatized Ahmadi Muslims and enforced a Wahhabi-Deobandi agenda of othering and ostracizing of non-Sunni and minority communities in Pakistan. LUBP stands for pluralistic secular and progressive Pakistan where religion is not the business of state.  We are opposed to the Takfiri ideology of declaring differing schools of thought as Non-Muslim.
More than 300 politicians, academics and community leaders attended, including the California Lieutenant Governor, mayoral candidate Eric Garcetti, and several members of the United States Congress and a key to the city of Los Angles was presented to his holinesss.
On behalf or LUBP I would like to congratulate the Ahmadiyya Jamaat of Southern California for organizing an amazing reception for their esteemed leader.
LUBP further reaffirms its commitment to continue to champion the cause of the oppressed religious communities of Pakistan including Sunni Brelvi, Shia , Ahmadiyya, Christian and Hindu. We will also continue to fight for fair distribution of resources to smaller provinces and be very critical of Islamofacist Punjabi Dictatorship of Nawaz Sharif elected under the Taliban guns and Saudi monies directed to PMLN.
https://lubpak.com/archives/262847
https://lubpak.com/archives/261551
https://lubpak.com/archives/261715
https://lubpak.com/archives/261551
https://lubpak.com/archives/tag/terrorists-contesting-elections
While these are serious crimes against democracy another very serious crime was inflicted against the Ahmadiyya community by the same islamofacist forces comprising of the Saudi dominated ISI, Judiciary and their henpecked interim government. This was discussed briefly at a press conference with his holiness.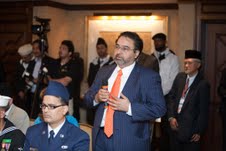 https://lubpak.com/archives/263363

https://lubpak.com/archives/260859
https://lubpak.com/archives/258141
https://lubpak.com/archives/tag/ahmadiyya-persecution
I would also like to share a personal story. One of the closest friends of my family is Mr. Karim Z. Malik an Ahmadiya and the son or Molana Zahoor Hussain ,the first Ahmadiyya missionary to Russia and Central Asia. Molana Zahoor Hussain was imprisoned in Stalinist Russia for several years for preaching his faith. Following in his footsteps Mr. Malik has always worked tirelessly for Ahmadiya and humanitarian causes and always inspired me as a child to champion the cause of humanity. Whatever our differences in faith Mr. Malik always put humanity and relationship above it.
We should all follow that example and put humanity first.  We should not impose our views or faith on others. We should tolerate the opinion of others whether we like it or not.
Comments
comments