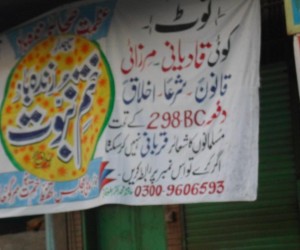 Related post: Worldwide concern about CM @NajamSethi's inaction about attacks on Ahmadis in Punjab
Christians continue to be attacked, Shias continue to be target killed, Ahmed Ludhianvi and other Takfiri Deobandi terrorists of Sipah Sahaba (ASWJ-LeJ) are free to contest elections and spew hate speech against Shias, and now Ahmadis are being arrested and harassed on flimsy charges. Welcome to Najam Sethi's Punjab!
What else could we expect from someone who routinely promotes head of banned terrorist outfit Ahmed Ludhianvi through his talk-show (Aapas ki baat) and magazine (The Friday Times)? What else could be expected from someone whose loyalty to Aabpara is as old and strong as that of Ahmed Ludhianvi? What else could we expect from an owner-editor whose paid employees and columnists (Ali Chishti, Mohammad Shahzad, Raza Rumi etc) routinely promote and humanize pro-Taliban Deobandi clerics while harass Shia and Ahmadi bloggers and misrepresent Shia and Ahmadi persecution? In fact Ali Chishti of the ISI-ASWJ-TFT has publicly spoken in support of expanding the blasphemy law against Shia Muslims.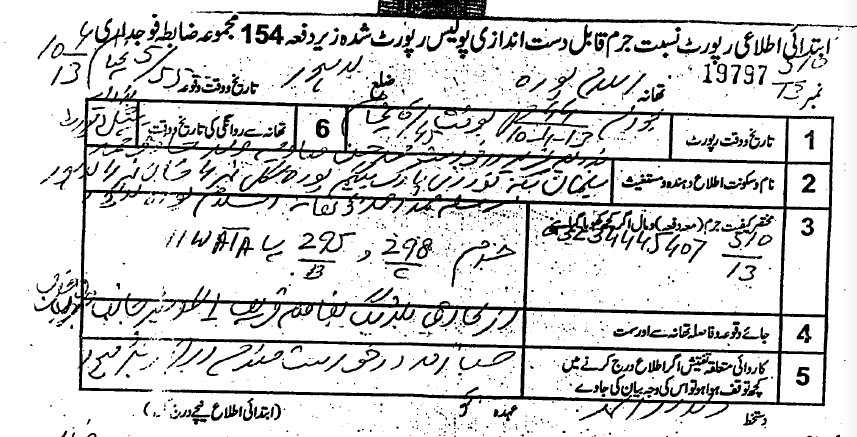 'Objectionable' publication: Four held on blasphemy, terrorism charges

LAHORE: Islampura police on Friday (12 April 2013) registered a case against six Ahmedis on blasphemy and terrorism charges and arrested four of them including a hawker and editor and printer of an Ahmedi publication.

Police registered the FIR under Section 295-B (defiling, etc of copy of holy Quran) and 298-C (person of Qadiani group, etc calling himself Muslim or propagating his faith) of the Pakistan Penal Code and 11-W of the Anti-Terrorism Act (ATA) on the complaint of a member of the Khatm-i-Nabuwwat Lawyers Forum. The complainant accused the Ahmedis of printing and distributing Jamaat-i-Ahmedia's community newspaper Al-Fazal, which he said carried blasphemous content. The complainant, Muhammad Hassan Muavia, sought action against them under Sections 295-A, B and C, 298-B and C of the PPC, Section 24 of Registration of Printing Press Ordinance and 11-W of ATA. However, the police dropped four of the sections.

The complainant alleged that Khalid Ashfaq, a hawker, was distributing the newspaper carrying objectionable content. He said Faisal Ahmed Tahir, son of Tahir Mahmood, and Azhar Zarif too were associated with the publication. He accused Al-Fazal editor, Abdul Sami, and printer, Tahir Mehdi, of publishing and distributing blasphemous content. However, the police did not arrest Sami and Mehdi.

In a press statement issued to condemn the incident, Jamaat-i-Ahmedia Pakistan spokesperson Saleemuddin said daily Al-Fazal was published only for Ahmedis. He said it contained no blasphemous material.

He said Khalid Ashfaq had reached Tahir Mahmood's house to deliver a copy of the newspaper when a group of local clerics followed him and forcibly entered the house. He said they beat Khalid, Mahmood and his son Ahmed Tahir and detained them for 45 minutes. He said they questioned them about the editor and printer of the newspaper so that they could be nominated in the complaint. Later, he said, they called the police and lodged the FIR.

He said the clerics also beat Tahir Mahmood's children and took away two mobile phones and two laptops.

He said a group of clerics had been registering FIRs against Ahmedis in Lahore. He said the government machinery, instead of protecting Ahmedis' rights, had become a tool in the hands of a handful extremists. He said the allegations in the FIR were fabricated. He appealed to caretaker Chief Minister Najam Sethi to ensure justice to the Ahmedis. He said it was already the second incident against Ahmedis during the caretaker government. He said Al-Fazal was going to celebrate its 100th anniversary of publication this year but since July last, some anti-Ahmedi elements were bent on stopping its publication. He said a few months ago, they had stopped its circulation in the newspaper market. He said following the developments, the Jamaat-i-Ahmedia had developed its own circulation setup in Lahore.

Muavia said the KNLF had filed four cases against Ahmedis in Lahore. He said they had used derogatory language against non-Ahmedis. He said the KNLF had stopped Al-fazal's circulation in the newspaper market. He said they wanted to stop all presses printing Ahmedi literature in the country. He called the allegations of beating and theft baseless.

Published in The Express Tribune, April 13th, 2013.