Like Sana Saleem, let's deflect attention from ASWJ-LeJ by blaming Abbas Town attack on Sharmila Farooqi Bhutto – by Riaz Malik Al Hajjaji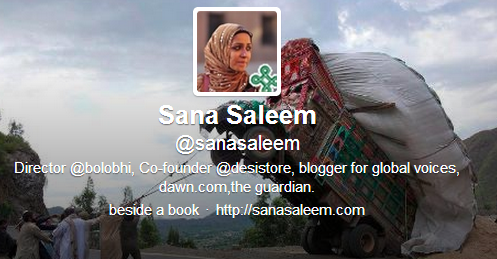 I want to take this opportunity to thank renowned liberal blogger and human rights activist Sana Saleem and her Good Liberal friends for their tireless activism for the Lashkar-e-Jhangvi (LeJ aka ASWJ) and their parents in GHQ (Pakistan army).  By advocating that Sharmila Farooqi Bhutto is responsible for the blast at Abbas Town Karachi, Sana has elevated herself  to the worthy ranks of comrade Ansar Abbasi.
Take that LUBP! By propagating that Sharmila Farooqi Bhutto is responsible for Abbas Town blast, Sana Saleem has countered your attacks on security establishment, ASWJ-LeJ and Taliban.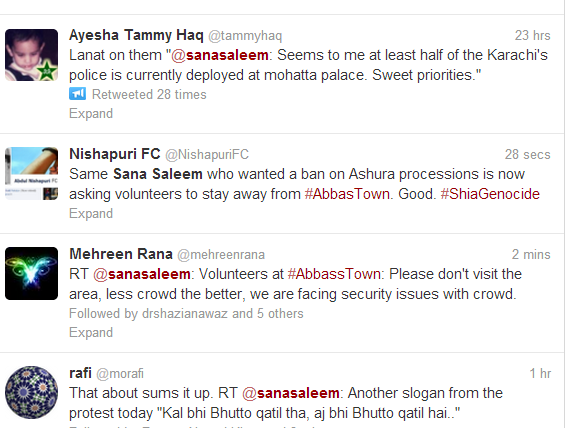 We all know that Sharmila Farooqi Bhutto (SFB) was also responsible for the attacks on Sri Lankan Cricket team.  She is a South African cricket team fan and hates Sri Lanka for winning the World Cup in 1996. We know that SFB likes Rahat Fateh Ali Qawaal which is why she is also responsible for attacks on Data Darbar and Abdullah Shah Ghazi.  This is because these shrines always invite Amjad Sabri Qawaal and we also know that the attacks on shrines in Pakistan are part of a Sabri-Fateh Ali proxy war.
Sana Saleem, please accept  heartiest felicitations from ASWJ-LeJ and GHQ.  My Takfiri Deobandi friends were hurt with all the criticism against them and we appreciate your efforts to blame Abbas Town on SFB.  They also appreciate that you stood with our advocate Deobandi cleric and Akram Lahori's niece when they threatened LUBP and got that Rafzi/Qadian activist pest from Stockholm, Nisha-Puri to get lost.  Good ASWJ Deobandis and Good Taliban can depend on our Good Liberals to bail them out.
To all those who have identified SFB as the Abbas Town bomber, please don't let anyone know that PM and CM did not actually attend the dinner and cancelled their plans due to Abbas Town bombing.   It is better to pretend that they were all stuffing their faces with Tempura Prawns at Sharmila's bash!  Otherwise these pesky facts just ruin a good roast.
We should  also appreciate the great MQM led by peerless Quaid-e-Qiwam, Pir Sahib Altaf Bhai.  MQM is the only Infallible party in Pakistan which is why even Liberals hardly ever criticize them.  Like Good Liberals, MQM does its best to stay in the good books of Paak Fauj.  Within this week, MQM leadership had a nice meeting with another secular liberal leftist Marxist nationalist organization known as Ahle Sunnat Wal Jamaat ASWJ-LeJ. It was so nice to see them hosting the great Pacifist intellectual Aurangzeb Farooqi  – no relation to Abbas Town bomber SFB of course.  A few weeks ago, a great good liberal blogger of MQM was busy in promoting secular Punjabi nationalist Ahmed Ludhianvi on a TV show. https://lubpak.com/archives/231304
It must also be appreciated that just like HDP in Quetta, MQM has given the Abbas Town bombing an ethnic twist.  ISI must definitely appreciate this. No one can forget how MQM identified ANP as the murderers of their Shia MPA.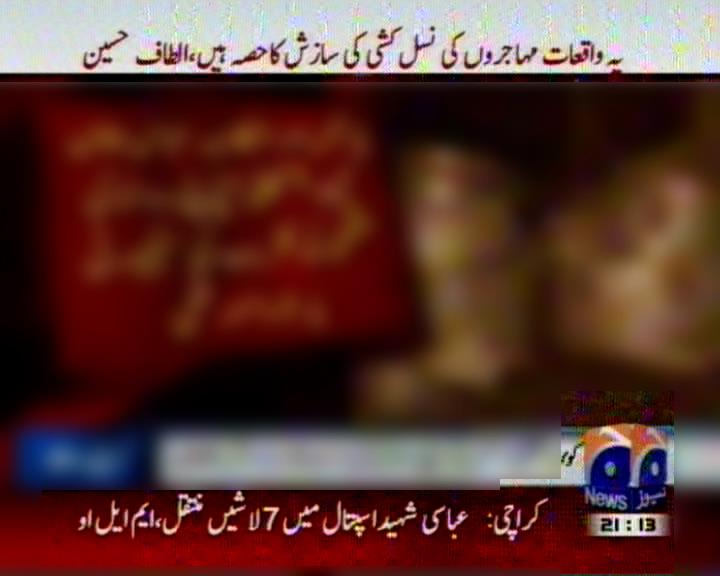 These tactics are much appreciated by ISI.  For this great service and for leaving the government three weeks before the end, you will get 4 more MNA seats and 9 more MPA seats including one in Bhakkar.  And don't worry, I am sure that the next PML N-MQM alliance will be brokered after the elections.  You will not stay out of power for too long.
Finally, a note of appreciation for my hero Chief Justice Abu Arsalan Chaudhry whose Supreme Court liberated Malik Ishaq Deobandi.  Just make sure you read Sana Saleem's tweet and also insure that our great friend Ansar Abbasi retweets her.  This way CJ Abu Arsalan Chaudhry can tell the Rafzis that he took Suo Moto on Abbas Town and found SFB responsible for the bombing and not ASWJ-LeJ.  Sana Saleem and Tammy Haq's tweets (along with Mehr Bokhari's excellent talk show on Samaa TV) will form the sufficient evidence against SFB – unlike the malicious LUBP slanders against ASWJ-LeJ/Taliban/Lal Masjid against whom Supreme Court always ruled that there was insufficient evidence.  I mean just because someone freely  admits something cannot be admitted as evidence.
I request all Good Liberals to stand with Sana Saleem and me against LUB. After all, Sana advocated that Shia Ashura Jalooses must end and I agree with her. http://blog.dawn.com/2009/12/29/terror-strikes-home-again/ All this criticism of the infallible Amir ul Momineen Hazrat Yazeed ibne Muawiya by these Shias was just too much for me to bear.  As for the rest, refer to Professor Saleem Ali and Haq Char Yar on why Shia Muharram processions must be stopped. Something about horses and Shia mourners high on something.
The blast at Abbas Town would never have happened if the shia had listened to Sana and stopped doing their funky Jaloos. The fact that their homes are being destroyed is entirely their own fault,as per great blaming-the-victim strategy provided by Mohtarma Sana Saleem.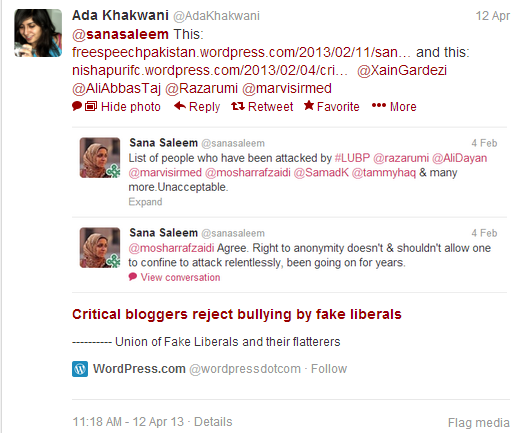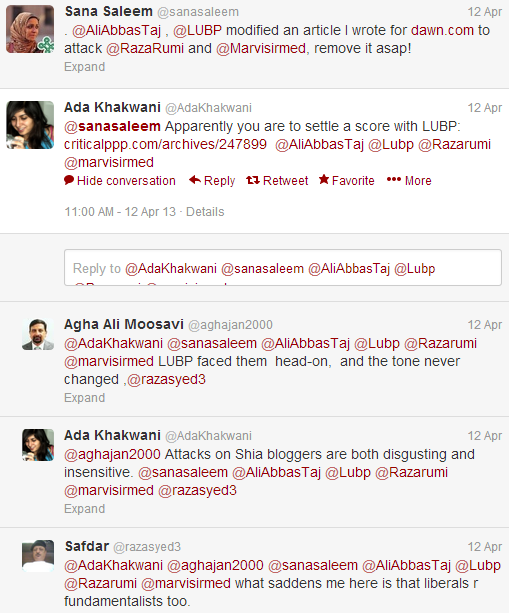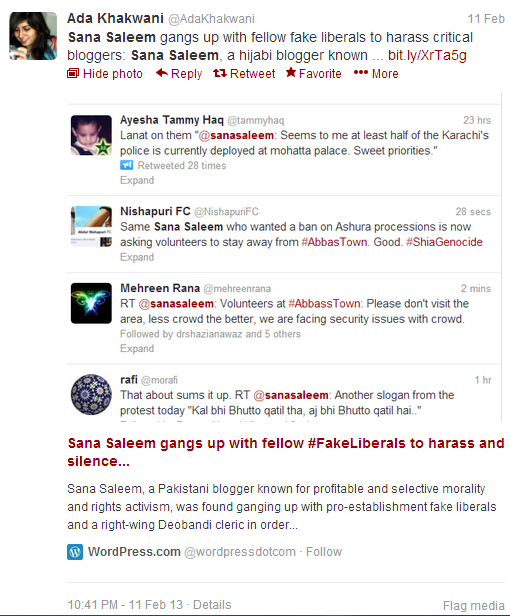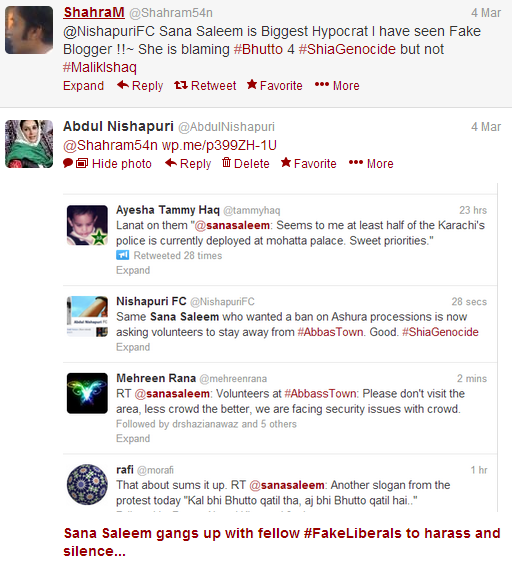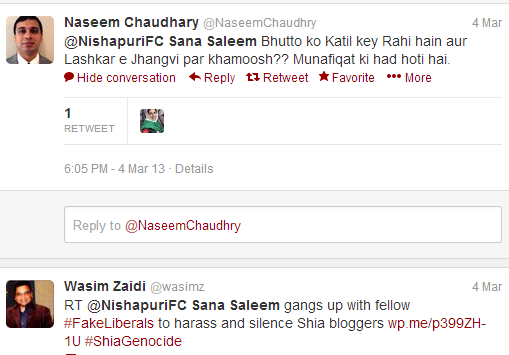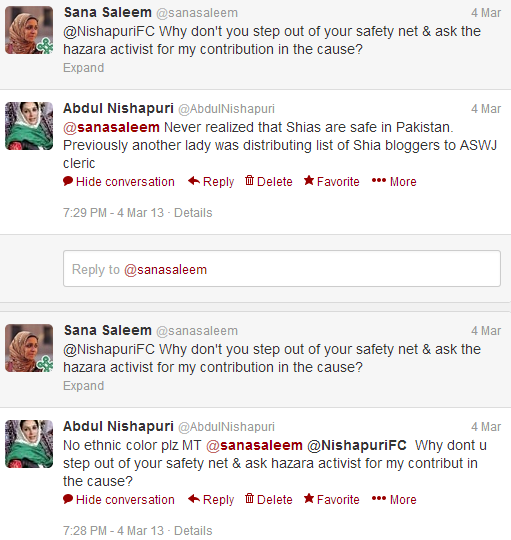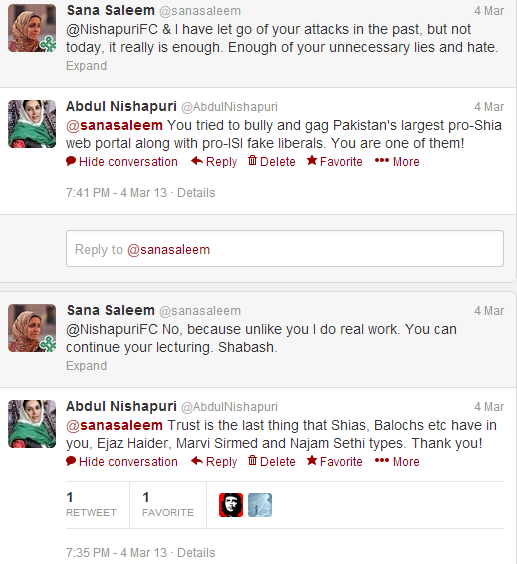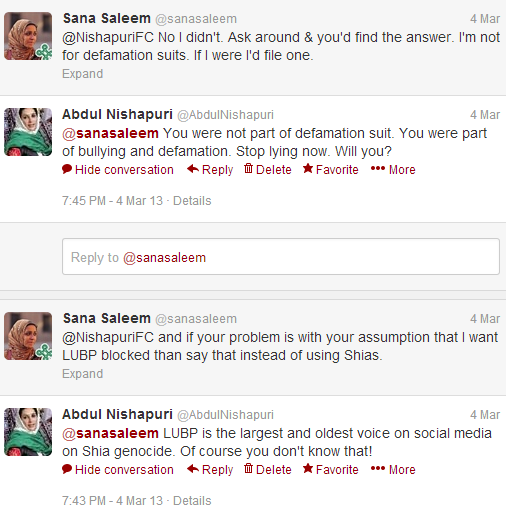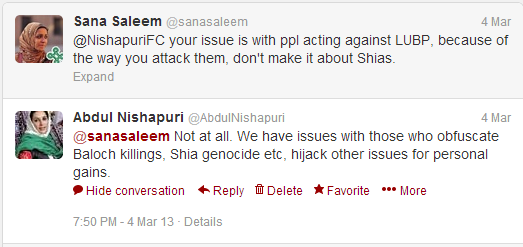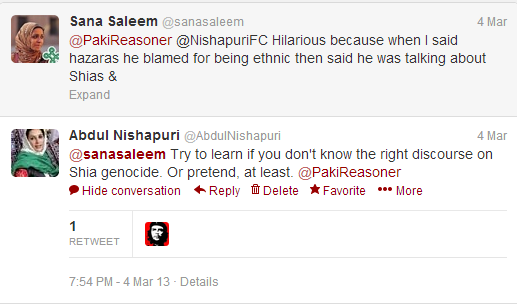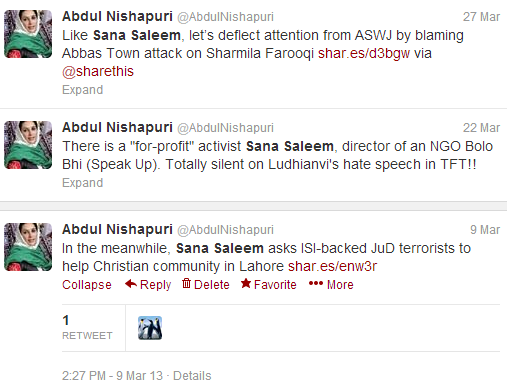 Comments
comments