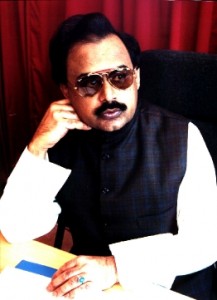 Nadeem Farooq Paracha, noted left-liberal Pakistani columnist and satirist, is viewed by some in Pakistan's limited English speaking circles as a prominent authority on the history of Pakistani culture and society. For the younger generation, Mr Paracha came into prominence sometime after the early 2000s when he began writing for Daily Dawn as a weekly columnist and also did a panel show on a Pakistani news channel in 2006. Mr Paracha has used these media platforms to propagate his support of liberalism and a free-thinking approach towards religion.
According to his Wikipedia entry, he had also supported the November 2007 state of emergency declared by the former dictator Pervez Musharraf in which private media channels were banned for a few days and certain news anchors forcibly suspended up till the elections held early the next year. It may be recalled that the martyred Chairperson of the PPP and two-time former Prime Minister of Pakistan Mohtarma Benazir Bhutto Shaheed had condemned the Emergency Declaration of 2007 as a "betrayal" by Musharraf of their arrangement to restore democracy in the country.
Politically, as he mentioned in an exclusive interview to LUBP in 2011, he has been a PPP supporter since his student days in Karachi. In that interview he also mentioned his support for the "…ANP and the MQM." His support for these three parties, that have been ruling Pakistan in a coalition government since the February 2008 elections, is ostensibly due to their support of liberal values and centre left politics.
Mr Paracha has previously and frequently used his columns to explain and even advocate the ideologies and even benefits of these three political parties. His last column 'Enter Altafism' published in DAWN newspaper's August 12th issue is a recent example in which his object of adoration is the MQM. He seeks to analyse the ideological transformation of the MQM from its overtly ethno-nationalist Mohajir (Immigrant) Qaumi (Nationalist) Movement origin to its more non-denominational Muttihada (United) avatar.  While one can at least understand, if not accept, whatever logic is pursued in the support of this controversial (to put it lightly) organisation, NFP has made some assertions in his afore-mentioned tribute that merit critical analysis.
IN ANALYSIS
 "Even though the MQM's main support still comes from Sindh's Urdu speakers, an ideological conflict had erupted in the party when it clashed with the state on the streets of Karachi in the 1990s."
As the generation that lived through the its reign of terror in Karachi and Hyderabad in the late 80s very well knows, it was the MQM that had begun to use acts of violence to pursue its political (and economic ends). Mohtarma Shaheed, in the 2007 foreword to her book 'Daughter of the East', herself mentions how the MQM had become a "state within a state" and how side roads in certain areas of Karachi were gated up by MQM activists to limit access to those areas where they had hegemony. It was the MQM in fact to whom we owe the introduction of the term "no-go areas" in our national lexicon. Therefore the military and subsequent police action against the MQM was not so much a principled clash with the state as it was an operation against a criminal outfit with a history, by the way, of often persecuting members of its own ethnic group of Urdu speakers.
"Gradually the accusations then led to some organs of the security agencies and the government accusing the MQM of wanting 'to break Karachi from rest of the country and turn it into a new homeland for Mohajirs called Jinnahpur.' But it was only recently that former IB Chief, Brig. Billa, finally went on record saying that the whole Jinnahpur issue was largely a fabrication."
It was not just the Army or its intelligence agencies that were blaming MQM on its Jinnahpur ambitions. Mohtarma Shaheed had also voiced this allegation in the National Assembly as an opposition politician and in the national media as well. A former Pakistan Army Major also endorsed the existence of the Jinnahpur plan and laid serious allegations on those senior military officials who were denying the same. Being an avowed leftist himself, it's strange that NFP is willing to absolve the MQM of this damning claim on the testimony of a man who's alleged to have carried out the torture and extrajudicial murder of the famous Sindhi leader of the Communist Party of Pakistan Comrade Nazeer Abbasi in the late 80s.
"The party leadership also explains Altafism's pragmatist aspect as something that gives the party the flexibility to eschew ideological contradiction. For example, the MQM, though vehemently opposed to Political Islam, has in recent times supported certain issues championed by its reactionary and fundamentalist opponents — issues such as the demand to release Dr. Aafia Siddiqui, the Pakistani neurosurgeon jailed in the US on the charge of supporting terrorism in Afghanistan."
What NFP sees as the eschewing of "ideological contradiction" is called hypocrisy in plain words. While the MQM has shown support or remained silent on issues sensitive to the conservative segment of Pakistani society, its support for the indicted Al Qaeda terrorist Afia Siddiqi can be explained on ethnic grounds. Ms Siddiqi, like most of the leadership and membership of the MQM, happens to be an Urdu speaking Mohajir herself. MQM supporting Afia's case could be an attempt at subverting the Urdu-speaking, conservative support base the Islamist Jamaat-e-Islami party still controls in Karachi.  The readers should also bear in mind that the leader of the MQM for the last three decades, Altaf Hussain was himself a part of the Islami Jamiat-e-Tulaba (IJT) , the student wing of the Jamaat-e-Islami. Informal sources allege that he was a gun runner for IJT.  Anyone, especially NFP who has rightfully written against the militant violence of the IJT cannot gloss over this.

In the recent past, this is not the only instance that MQM has exposed its pro-military establishment and Islamist leanings.  Along with ISPR (the Pakistan Army's official commnications channel), MQM was amongst the first to lambast the PPP government on its support for the Kerry-Lugar Bill.  This inspite of the fact that MQM is a coalition partner in the same government.  KLB called for the limitations of the Army's role in politics, strict nuclear non-proliferation and a commitment to crack down on Jihadi-sectarian organizations like Lashkar-e-Tayabba (a.k.a Jamaat-ud-Dawa) and Jaish-e-Muhammad.  For a political party that has tried to refashion itself as secular, this is clearly a major contradictary stance that speaks volumes.
Similarly, MQM continues to be plagued with allegations of having links with Jihadi groups.  Refer to this clip where Sunni Tehrik leader blames MQM leader for supporting madrassas that spread hatred and incite murder and the support given to this entity by senior MQM leader.

Its continuous betrayal and arm twisting of the PPP government (KLB, NRO) and its bizzare calls for "revolution" by "honest military generals" are facts that are quite different from the romantisized view painted by NFP.
It is towards the end of his article that NFP produces an admirable, if slightly Goebbelistic, definition of what Altafism purports to be. Immediately though, the reader is struck by the very visible mistakes NFP makes here.
"It can be explained as a consensus reached between the modernist, pro-business and secular aspirations of the party's new leadership and the hyper populism of the old guard that still roots its rhetoric in the horrid memory of the bloodshed witnessed during the state's operations against the party and in imagery entrenched in the idiom of martyrdom found in the tales of defiance in Sufi folklore."
For one, MQM has had the same old guard in its leadership roles since its founding in the late 80s. Altaf Hussain has been its Supreme Leader, or Quaid-e-Tehrik (Leader of the Movement) as he is referred to by his supporters, since its creation. The late Dr Imran Farooq was its founding Convenor and remained so until his suspension in 2003. Dr. Farooq Sattar, the current head of MQM's executive decision-making Rabita (Coordination) Committee was also a founder member. Where and which is this "new leadership" that Mr Paracha refers to?
Secondly, and most bizarrely, the narrative of the MQM about its persecution by the "state", as also endorsed by Mr Paracha in his column, is compared to the tales of martyrdom found in Sufism. One does not have to be a Sufi theologian to know that Sufism, as a basic principle, propagates peaceful activism and not armed resistance! Shah Inayat Shaheed of Jhok Sharif  gave up his life for advocating the rights of the peasants of Sindh without taking up arms or harming a soul. Makhdoom Bilawal, the Sindhi martyr saint after whom Mohtarma Benazir Bhutto Shaheed named her eldest child and current PPP Chairperson Bilawal Bhutto Zardari, opposed foreign rule over Sindh in the 13th century and paid with his life for it in what was one of the first instances of death by fatwa in the South Asian region. He too professed his nationalism in a peaceful manner. One needs to inquire from Mr Paracha the identity of those Sufi martyrs who were killed for committing acts of crime and terrorising their people!  One doesn't know of many Sufis who preach the selling of their personal belongings  to buy weapons like Altaf Hussain used to preach in the 1980s.
IN CONCLUSION
Regardless of what Mr Nadeem F. Paracha would have us believe, MQM has been unable to shake off the perception of being a violent, criminal organisation posturing as a political party. It's leader Mr Altaf Hussain is probably the only party head in Pakistan with more than 30 murder cases on his head! Since the daytime massacre witnessed on the streets of Karachi in May 2007, the MQM has frequently chosen violent means to express its anger or even political opposition.
May 12, 2007: More than 40 killed and dozens injured as armed MQM activists open fire on rallies of opposition parties taken out to welcome the then 'suspended' and current Chief Justice of the Supreme Court Iftikhar Chaudhry.
April 9, 2008: A protest camp set up by lawyers supportive of the MQM is attacked and its attendants thrashed. In retaliation, a building of law offices is set on fire by an unidentified mob in which 6 people including two women are burnt alive.
August 2, 2010: In what was the bloodiest incident of MQM reprisal in recent memory, more than 100 people were killed in 3 days of rioting following the assassination of an MQM MPA.
http://youtu.be/QPBMgbygkRA