A respone to Raza Rumi's TFT article 'About suffering they were never wrong' – by Ali Taj
Raza Rumi, editor of Najam Sethi's The Friday Times, has written an article in which he has presented the artwork of Pakistani miniaturist Saira Waseem who he describes as the latest exponent in a long list of Pakistani artists resisting the country's political, cultural and social erosion.http://www.thefridaytimes.com/…/about-suffering…/…

There is a discussion of Shia genocide and persecution of religious minority groups in the article where, in our view, Rumi's article has three key gaps.

1. The first major gap in this article is the 'silence on perpetrators'. In the entire article, there is absolutely no mention of the Deobandi idelogical identity and the ASWJ organisational identity of the group responsible for the genocide of Shias and violence against other faith communities including Sunni Sufis, Barelvis, Ahmadis, and Christians.

While the artist Saira Waseem clearly reveals the Deobandi ASWJ identity of terrorists by inserting the ASWJ's (Sipah-e-Sahaba) red and green flag in a painting and also depictis the specific religious attire of Deobandi clerics, Rumi chooses to remain silent on the Deobandi or ASWJ identity of the actual perpetrators of genocide, the very terrorists who tried to kill him in Lahore only a year ago, an attack in which his Sunni Sufi driver was killed.

In a country where mainstream media is characterized of Nazi style silence on the Deobandi ASWJ identity of terrorists, the persecuted communities, Shias in particular, expect that that liberals such as Raza Rumi will break, not contribute, to silence.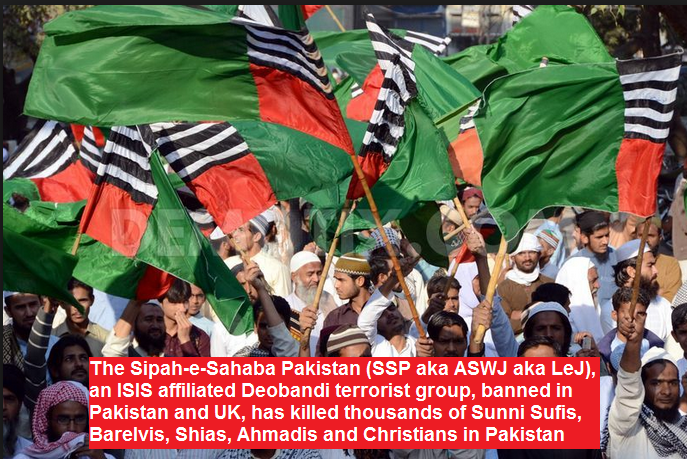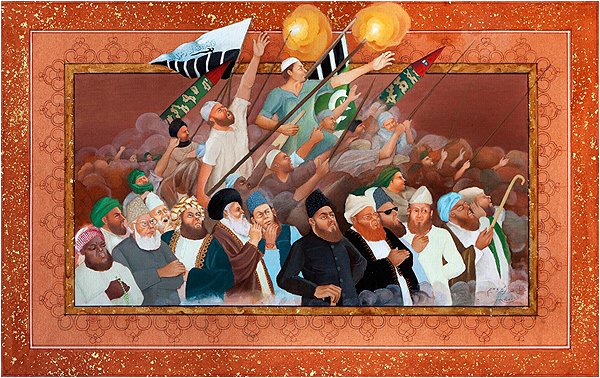 http://www.thefridaytimes.com/…/2015/03/tft-04-p-16-f.jpg

2. The second gap relates to the omission of Sunni Sufis and Barelvis, who face ongoing persecution, harassment and massacres at the hands of Deobandi ASWJ terrorists. There is no mention of the suffering of Pakistan's largest faith community, i.e. Sunni Sufis and Barelvis.

3. The article uses a term minority for Shias and other persecuted groups that doesn't fit their actual legal and numerical status in Pakistan. In total, Sunni Sufis (55%) and Shias (20%) constitute at least 75% of Pakistan's population as compared to approx 20% Deobandis, 2% Salafis and 3% non-Muslims. Minority is a term that is used for non-Muslims in Pakistani constitution and does not apply to Shias and Sunni Sufis, despite all the noises and demands by the ASWJ Taliban terrorists and their sponsors in Deobandi seminaries. 
Last but not least, the article, when referring to the increasing acceptance of the term Shia genocide, also talks about how this terminology was "earlier frowned upon by experts". Is this a subtle way of saying that the "experts" have still not accepted what is now not just an obvious fact but also admitted freely by the Takfiri Deobandi perpetrators who publicly boast about committing this genocide?
Who are these "experts" and "official quarters" anyway? By any chance are they sections of Pakistan's "liberal" intelligentsia who insensitively promote anti-Ahmadi, anti-Shia Deobandi clerics like Tahir Ashrafi – as a "progressive"!

What Mr. Rumi does not highlight is that it is these very "experts" and "official quarters" have in the past and still continue to misrepresent the terrorist violence by Takfiri Deobandi groups against Sunni Barelvis, Sufis, Shias, Ahmadis and Christains in false "Sunni vs Shia" binaries.
Comments
comments