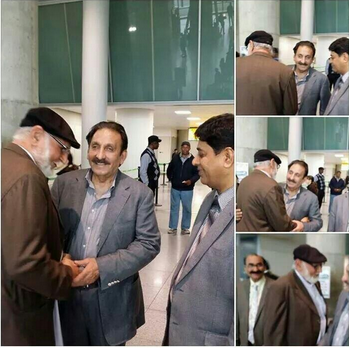 My first question should be to the US State Department. What the hell are you guys doing? We don't need more pro Al Qaeda sentiment in the United States, don't we have enough? Why is a known Al Qaeda sympathizer given a visa to come here and do ra ra speeches about the importance of holy war? Do your job and don't let such people fall through the cracks.
My second question is for the organizations sponsoring such a controversial judge. What were you thinking? Or does your support base get excited by a champion of Al Qaeda? Would it inspire the Human Development Foundation (HDF) that Iftikhar Chaudhry sent a Hindu teenager Rinkle Kumari  to a brothel instead of sending her to her Hindu parents, thereby upholding the flag of Islam? If your support base is excited by such fascism then perhaps you should change name to Human Bondage Foundation (HBF).
Additional sponsors include Organization of Pakistani Entrepreneurs of North America and pro Taliban Pakistani channel Dunnay TV.
Pro Al Qaeda activities: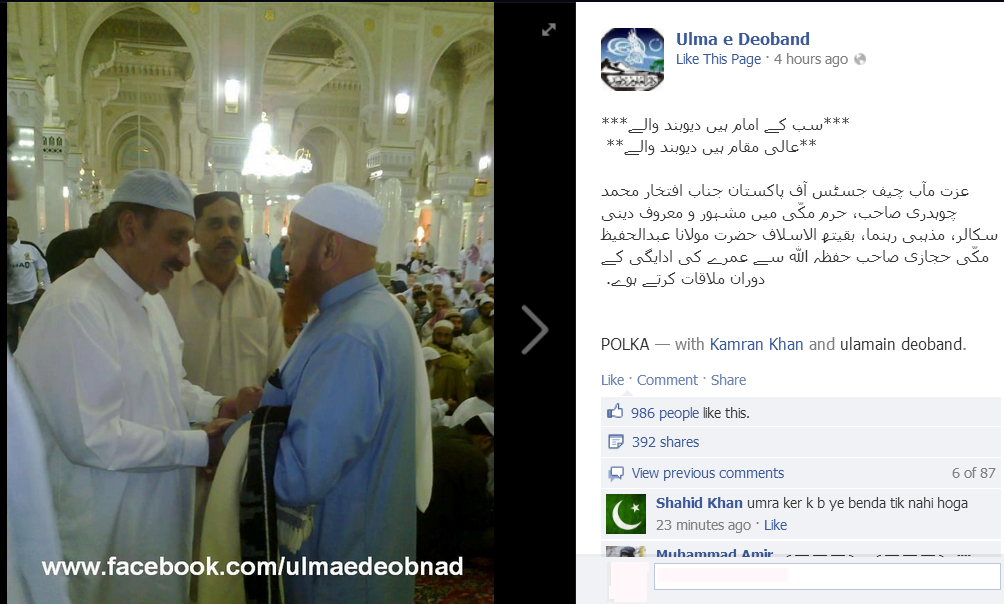 Former Chief Justice of Pakistan Iftikhar Chaudhry Deobandi met head of Sipah Sahaba Taliban in Saudi Arabia Maulana Muhammad Makki Al Hijazi Deobandi. According to another report, CJ Chaudhry also met head of Saudi Intelligence Prince Bandar bin Sultan Salafi. In both meetings, CJ Chaudhry explained his services to the cause of Takfiri Deobandi-Salafist movement in Pakistan, evidence in acquittal of Malik Ishaq Deobandi and Aurnagzeb Farooqi (of Sipah Sahaba aka Lashkar-e-Jhangvi), Hafiz Saeed Salafi (of Lashkar-e-Taiba), Maulana Abdul Aziz Deobandi (of Lal Masjid) etc. (Source: Ulma-e-Deoband)
Video: Abdul Hafeez Makki Deobandi (head of Sipah Sahaba, Saudi Arabia) meets Sanaullah Hyderi and Ali Sher Hyderi of Sipah Sahaba or LEJ which is considered the most potent arm of Al Qaeda in Pakistan.
After releasing hundreds of Taliban and Al Qaeda that would go scot-free to go kill innocent Shia Sufi Sunni Brelvi Christians and Ahmadiyya and then go further across the Durand line and kill Americans, even the Taliban acknowledged Iftikhar Chaudhry's generous overtures and gave him top marks:
Chief teray jaan-nisar, Khudkush bambaar
(O Chief Justice, Deobandi suicide bombers of TTP-ASWJ are there to sacrifice lives for you)

Reading daily Jang everyday is a habit one can't get rid of. Not because of the news covered in it but because reading it tells one how Pakistan is in a downward spiral. Today, November 10, 2013, Jang has published the interview of Ihsanullah Ihsan Deobandi, the spokesman of the banned terrorist outfit, Tehreek-e-Taliban Pakistan, given to Newsweek Pakistan.

The headline given by Jang is good enough to give one fits of laughter and confirm apprehensions that Chief Justice  Iftikhar Chaudhry, who is known to favor terrorists is liked by the Taliban as " … one person among these infidels who has a good attitude it is Chief Justice Iftikhar Chaudhry".

– See more at: https://lubpak.com/archives/289547
A growing section of the media and political elite of Pakistan joined us in condemnation of the pro terror pro rape judge:
Senator Abidi passionately spoke about Iftikhar Muhammad Chaudhry and his ways to demoralize the nation through his antics at the court. He openly called on the public to try this Judicial Martial Law Administrator who single handedly undermined democratic process and demoralized the military by calling them to the court and insulting them.

– See more at: https://lubpak.com/archives/297239
The gravest of crime of former corrupt Judge was the release of self confessed LEJ or Al Qaeda in Pakistan chief Malik Ishaq. Who claims to have killed dozens of people  and proudly reaffirmed that he will kill more while he was led to his motorcade from Chaudry Court:
Lashkar-e-Jhangvi chief Malik Ishaq, the alleged murderer of at least 70 Shia and Barelvi Muslims and alleged mastermind of the terrorist attack on the Sri Lankan cricket and who was recently released from jail, is again preaching hatred and violence in the name of Islam,according to a report prepared by Pakistani officials.

Ishaq, accused of murdering 70 people, most of them Shias,had been involved in "highly objectionable activities", said the document prepared by a law enforcement department of the Punjab government. The document, titled 'Highly objectionable activities of Malik Ishaq', said: "Please find enclosed herewith four vernacular reports regarding some highly objectionable activities of Malik Ishaq whose name has also been placed in the fourth schedule of the Anti-Terrorism Act for information
and appropriate legal action".

http://pakistanblogzine.wordpress.com/2011/09/18/thanks-to-shahbaz-sharif-and-iftikhar-chaudhry-lej-chief-malik-ishaq-continues-to-spit-venom/
Iftikhar Chaudhry tried his best to cover up or hush the Abbottabad investigation on Bin Laden. No one could ask any legitimate questions like:
How could Osama bin Laden live in 6 different safe houses with multiple wives  in Pakistan for ten years?
How could his brood children be born in hospitals and receive medical care?
How could their calls to Saudi Arabia be ignored?
Instead the judicial commission and media carefully focused on how could a powerful nation like Pakistan, the Citidal of Islam had its sovereignty violated? And how can we find more money in the budget for the Army so they can better equipped ?
How can we find more irrelevant things to talk about.?
Such as blaming Dr. Afridi or the entire polio effort in Pakistan so that real questions are never asked.
https://lubpak.com/archives/77473
Pro rape and forced conversion of teenage girls from Hindu or Christians to Muslim:
This is perhaps most disheartening to write on a purely human level. Iftikhar Chaudhry took Suo Moto action on anything and everything so much that many scholars of law felt that judiciary was misbehaving to the detriment of the proper functioning of the government. Despite doing non stop Suo Motos on more cases than anyone in history, Itikhar Chaudhry would not take Suo Moto actions where he should such as forced conversions of young Hindu and Christian girls or Shia Genocide not surprisingly,  by the same Takfiri Deobandi Taliban that he loved to free.
London: Lunch-time on the 28th of May 2012 the controversial right-wing leaning Chief Justice of Pakistan Iftikhar Chaudhry received a vocal reception at the hands of the protesters gathered outside the dubious award giving ceremony of the International Council of Jurists (ICJ). Ironically Justice Chaudhry is himself the vice president of ICJ.

According to Zee News reported, "Pakistan's Chief Justice Iftikhar Chaudhry ha[s] been awarded for his "unique and tremendous contribution in the field of administration of justice and for the tireless and fearless endeavours towards administration of justice in Pakistan against all odds."

Shortly before Justice Chaudhry received the award, two persons barged into the auditorium at the Hotel Court House raising slogans against genocide of Shias in Pakistan.

While outside a large demonstration by Sindhi, Hindu, Christian, Muslim activists was taking place against forced conversions of Hindu and Christian girls in Pakistan. The protesters were chanting loud slogans against Justice Chaudhry's role in handing over the Hindu girls to their Muslim 'husbands' (kidnappers) whereas their families allege that all three girls were abducted on the orders of the influential custodian of a Muslim shrine Mian Abdul Haq (Mian Mitha) -Member National Assembly for the ruling PPP. However, the Supreme Court of Pakistan which otherwise is quick to award punishment to office bearers and ministers of the PPP on this occasion chose to support Mian Abdul Haq, consistent with Chief Justice Iftikhar Chaudhry right-wing leaning, misogynist record.

Christian groups pointed out the lack of justice in Pakistani courts for scores of victims languishing in jails under trumped-up charges under Pakistan's infamous blasphemy laws which carry the punishment of death penalty. The protesters were allowed to speak to the organizers of the event.

The event was covered by a number of international news media including UK based websites including The Asians and a website sympathetic to PPP also known as Let Us Build Pakistan. Unfortunately the mainstream Pakistani media channels chose to self-censor any mention of the protest march due to fear of ongoing contempt of court cases against individuals who criticize Justice Chaudhry's suo moto actions and decisions of Pakistan's Supreme Court. ARY News London correspondent Ahmed Ali Syed continued his live broadcast from the venue with a 'poker face' despite the cacophony of noise in the background.

The representatives of World Sindhi Congress, Pakistan Hindu Council, Pakistan Minorities Rights Organization, All Pakistan Christian League and All Pakistan Minorities Alliance(part of ruling PPP) expressed the desire to work together in future to highlight the abuses of Human Rights and uphold the cause of religious freedoms in Pakistan. In the end the organizers thanked the larger Pakistani Christian community who campaigned on behalf their compatriot Hindus who form a very tiny percentage of one million Pakistanis residents in the UK.

Source: Adapted from Global Christian Voice

    

– See more at: https://lubpak.com/archives/78262
Corrupt Judge:
There is mountains of evidence of financial corruption, black mailing and extortion by former judge Chaudry and his son who made millions:
LUBP is publishing exclusive documents which show that Dr. Arsalan, son of Pakistan's Chief Justice Iftikhar Chaudhry, did indeed accept bribery from Malik Riaz of Bahria Town in monetary and non-monetary forms. We have received these documents from at least two sources via email.

The documents comprise summaries as well as receipts of Dr. Arsalan's various trips to London, Monte Carlo etc

– See more at: https://lubpak.com/archives/78994

CJ Iftikhar Chaudhry continued harassment and abusing of NAB officials led to Kamran Faisal's suicide. We demand thatCJ Chaudhry be prosecuted for causing unbearable stress to Kamran Faisal leading to his suicide. Right-wing pro-establishment media too contributed to Kamran Faisa's death. Let me explain.

For the last two week there has been drumming by media how government severed the two investigators from rental cases on the pretext of contempt notices but real motives being obstruction of instigations/justice. This was also the narrative of Pakistan's pro-Taliban anti-democracy Chief Justice Iftikhar Chaudhry in both of his orders dated 15th and 17th of this month

– See more at: https://lubpak.com/archives/239387

1. Chief Justice of Pakistan Iftikhar Muhammad Chaudhry should reveal how many times I (Malik Riaz) have met you in the middle of the night? Was Arsalan Iftikhar not a part of these meetings, does he not know me? The sitting Registrar was also present during several of these meetings.
2. How many meetings were held at the residence of Ahmed Khalil between the Chief Justice and Prime Minister and was there not an acting judge of the Supreme Court present during one of the meetings?
3. How long did the Chief Justice know about this case and why did he wait till media reports to take suo moto notice.
Malik Riaz said that he was blackmailed and did not pay any bribes. He described Arsalan Iftikhar as 'Don' adding that he was the one running the judiciary. SANA

Real estate tycoon and the developer of Bahria Town, Malik Riaz, on Tuesday levelled horrendous allegations against Chief Justice Iftikhar Muhammad Chaudhry, in his row with the son of the chief justice, Dr Arsalan Iftikhar.

– See more at: https://lubpak.com/archives/78666

CJ Iftikhar Chaudhry continued harassment and abusing of NAB officials led to Kamran Faisal's suicide. We demand thatCJ Chaudhry be prosecuted for causing unbearable stress to Kamran Faisal leading to his suicide. Right-wing pro-establishment media too contributed to Kamran Faisa's death. Let me explain.

For the last two week there has been drumming by media how government severed the two investigators from rental cases on the pretext of contempt notices but real motives being obstruction of instigations/justice. This was also the narrative of Pakistan's pro-Taliban anti-democracy Chief Justice Iftikhar Chaudhry in both of his orders dated 15th and 17th of this month (links below).

– See more at: https://lubpak.com/archives/239387
Here is the LUBP library with further useful information on pro rape pro Al Qaeda judge Iftikhar Chaudry:
https://lubpak.com/archives/tag/chief-justice-iftikhar-chaudhry