Mubasher Lucman's hard hitting program: Shia Genocide, Iftikhar Chaudhry and his corrupt ways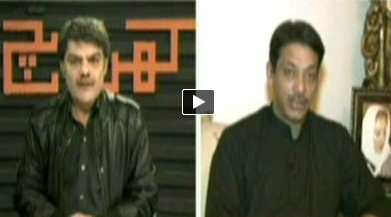 On a day when the entire media was finding it opportune to talk about the 42nd anniversary of Fall of Dhaka and to find a link of Shaheed Zulfikar Ali Bhutto in the debacle, Mubasher Lucman did a hard hitting program on the killing of Allama Nasir Abbas and the continuous killings of Shia Muslims.
Mubasher Lucman's invited Senator Faisal Raza Abidi discussed a Pakistan Army report about controlling media and Indian influence outed by Geo TV.  Faisal Raza Abidi spoke about the Jang Group itself being a tool in promoting Indian culture. Mubsaher Lucman again called upon Mir Shakil ur Rehman to explain himself.
Senator Abidi shamed Punjab government for one-sided action against Sunni Barelvis and Shias while giving free hand to Takfiri terrorists of the Sipah-e-Sahaba (ASWJ) that continue to attack Sunnis, Shias, Ahmadis, Christians. Senator Abidi also pointed out that CJ (retired) Iftikhar Chaudhry continued to sympathize with Takfiri terrorists.
Senator Abidi passionately spoke about Iftikhar Muhammad Chaudhry and his ways to demoralize the nation through his antics at the court. He openly called on the public to try this Judicial Martial Law Administrator who single handedly undermined democratic process and demoralized the military by calling them to the court and insulting them.
Mubasher Lucman even highlighted that Arsalan Iftikhar is being given a ticket by the PML-N to be shot into politics. He demanded that Arsalan Iftikhar be put on ECL. Faisal Raza Abidi talked about all the hatred and insults Iftikhar Muhammad Chaudhry hurled on politicians, military and bureaucracy.
Later on Aqeel Karim Dhedhi came on phone and lamented the "Makrooh harkaat" of Jang Group by publishing such damaging and plagiarized news in their papers.

KharaSach16Dec2013 by awaztoday101
Comments
comments