#Justice4KamranFaisal: CJ Iftikhar Chaudhry should be prosecuted for causing unbearable stress to a govt servant leading to his suicide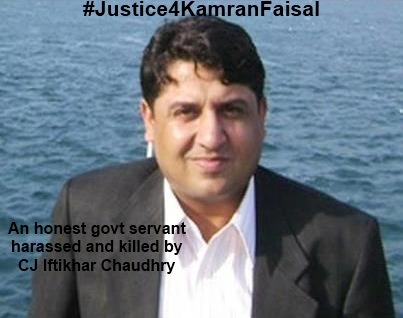 Author: Dr. Zulfiqar Ali
CJ Iftikhar Chaudhry continued harassment and abusing of NAB officials led to Kamran Faisal's suicide. We demand thatCJ Chaudhry be prosecuted for causing unbearable stress to Kamran Faisal leading to his suicide. Right-wing pro-establishment media too contributed to Kamran Faisa's death. Let me explain.
For the last two week there has been drumming by media how government severed the two investigators from rental cases on the pretext of contempt notices but real motives being obstruction of instigations/justice. This was also the narrative of Pakistan's pro-Taliban anti-democracy Chief Justice Iftikhar Chaudhry in both of his orders dated 15th and 17th of this month (links below).
Now we know the unfortunate death of one investigator Kamran Afzal. Before today (19 January 2013), media never mentioned that Kamran Afzal had himself asked that he be removed from investigations because of severe mental stress. He sent his application on November 13th and he was removed on Jan, 7th.
So far neither media nor honorable court had mentioned that Kamran Afzal had himself asked the removal. Before today only narrative by both judges and journos has be that a wicked government removed them just because they were close to the catching the culprits.
Now they know they have been caught, but media still are distorting the facts. Now they have come up with phrases like 'did he smelled the danger?' without naming whom. Or "his request was kept buried in files and mysteriously he was removed.
Is seven weeks, too much a time for action on a letter?
The questions are that
1- Why did Iftikhar Chaudhry (IC) push him to re-accept the investigations knowing that Kamran Afzal was under stress and had requested to removal himself?
2- Why media did not tell that truth? ( I think they cannot tell the truth by habit until it favors them or some specific quarters)
3- Why did he commit suicide (apparent)?
4- Was he being blackmailed to give opinion against PM, otherwise something about him would be leaked. He tried to get himself off the hook by getting him removed but was hounded by both IC and powerful quarters?
5- Not knowing how to escape, he apparently committed suicide?
6- May be both govt. and other side knew something and he felt helpless?
It is settled fact that he was made to re-accept by IC and his cohorts. Apparently mala fide duress was force on him by those judges.
It appears that MR. JUSTICE IFTIKHAR MUHAMMAD CHAUDHRY, CJ, MR. JUSTICE GULZAR AHMED and MR. JUSTICE SH. AZMAT SAEED are also responsible in causing his unfortunate death.
Therefore they be charged with involuntary manslaughter.
Mr. Roedad Khan! Will you dare to write a column titled "J'Accuse", you once wrote?
I know you cannot and if you do, may be you will commit suicide.
Wait a minute! You will not commit suicide because you are a shameless breathing matter.
References:
http://e.dunya.com.pk/detail.php?date=2013-01-19&edition=LHR&id=124211_73422258
http://e.dunya.com.pk/detail.php?date=2013-01-12&edition=LHR&id=113917_63617374
http://e.dunya.com.pk/detail.php?date=2013-01-11&edition=LHR&id=112834_97354052
http://e.dunya.com.pk/detail.php?date=2013-01-13&edition=LHR&id=114972_90748469
http://e.dunya.com.pk/detail.php?date=2013-01-16&edition=LHR&id=119918_68267275
http://www.supremecourt.gov.pk/web/user_files/File/C.M.A.No.3685of2012-dt-18-1-2013.pdf
http://www.supremecourt.gov.pk/web/user_files/File/CMA%20No.3685of2012-dt-15-1-2013.pdf
Comments
comments