Jang Group's campaign against ISI but appeasement of Khariji Deobandi terrorists
LUBP wishes to show solidarity with Hamid Mir and  his family. Our best wishes and prayers are with him and hope that he makes a speedy recovery.
Howeve, attacks on Hamid Mir and others who promote/humanize Deobandi clerics confirm that appeasement of Deobandi terrorists (TTP and its urban face ASWJ) is not going to work. Deobandi ASWJ hit men who tried to kill Hamid Mir cared least that the he often promotes and humanizes their leader Ludhyanvi on TV and is sympathetic to the Taliban.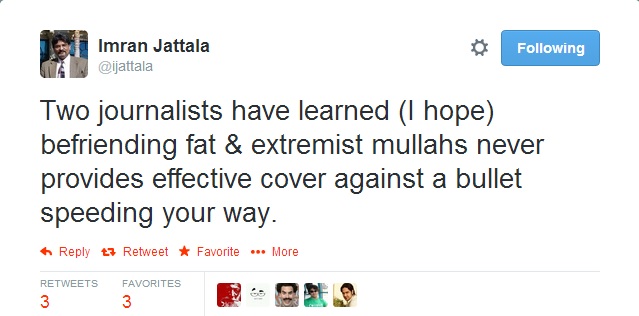 LUBP received the following message via social media (identity is being protected for safety).
It is the story of a native of Darra Adam Khail in FATA, the Laskar e Jhangvi (LeJ aka ASWJ) and Taliban were beheading the local people, Hamid Mir showed up with his camera but would not let anyone speak against the Taliban. "Taliban are very nice people the just want Sharia", he said. By attacking Hamid Mir, TTP-ASWJ terrorists have shown that they bite the hands feeding them.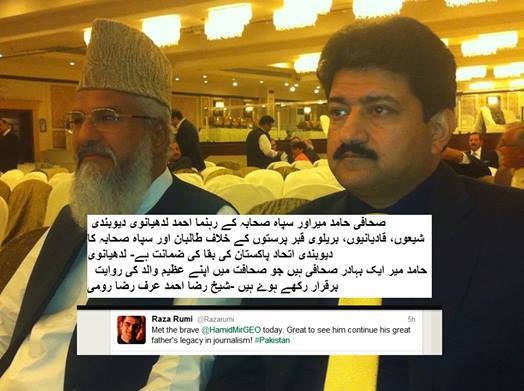 Indeed we have seen this before in the case of TTP-ASWJ's attacks on Raza Rumi and Shaheed General Sanaullah Niazi. Refer to this LUBP Interview with renowned journalist Arif Jamal on slain General Sanaullah Niazi and the pro-Taliban mindset of Pakistan Army. In the case of Raza Rumi he was well known for providing softball questions and legitimacy particularly to the Punjabi Deobandi terroriss (Sipah Sahaba or ASWJ), eg, Ludhyanvi's interview published i The Friday Times which was widely criticized. Clearly the appeasement of Deobandi TTP-ASWJ clerics is not going to work.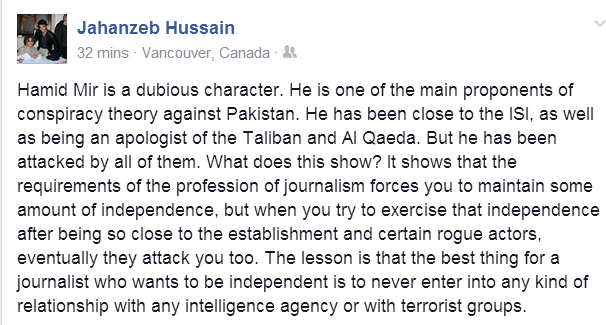 In the aftermath of the recent attack on Hamid Mir, what is surprising that mysterious onslaught by pro Taliban Ansar Abbasi, Najam Sethi and others against the ISI, while ignoring those who are the killers used for such activities, the Kahariji Takfiri Deobandis under different avatars. We are not suggesting that ISI is blameless:
In 2011, a journalist Saleem Shahzad, who wrote about Islamist militancy, including links between militants and the military, was abducted in Islamabad. His battered body was subsequently found in Punjab province. An autopsy later found he had been beaten to death. Journalists widely blamed the attack on the ISI, which denied the allegation. A subsequent judicial inquiry was inconclusive.http://online.wsj.com/…/SB10001424052702304810904579511…
Even if ISI is giving the order, the executioners are the Khariji Deobandi Taliban. The Pakistan media should realize that the policy of appeasement of such cold blooded killers will not work. They will come back and bite you too. This was echoed by the human rights activists: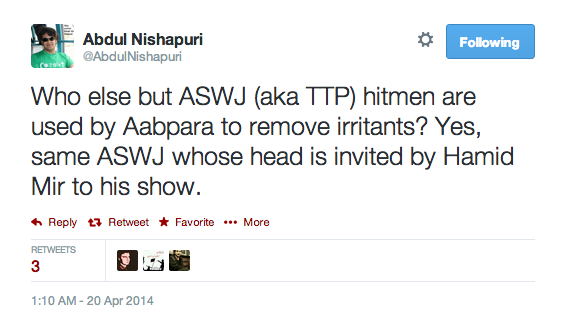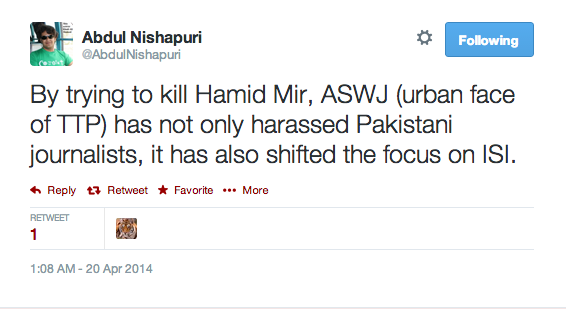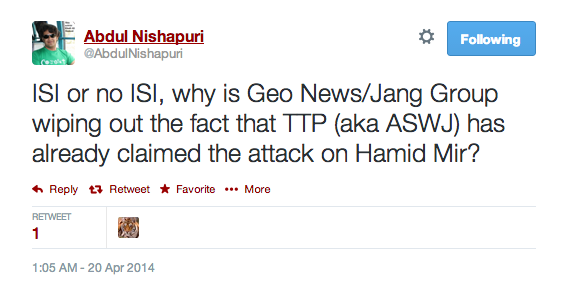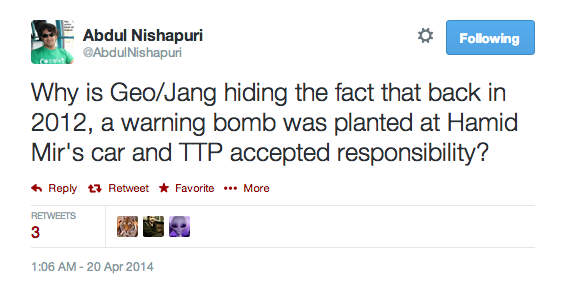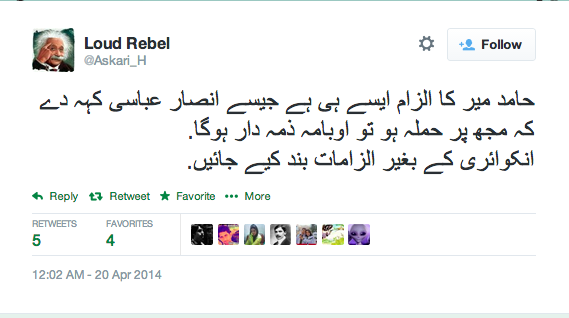 We pray that Geo musters the courage to stand up the Khariji ASWJ Deobandis, and condemns them at least as must as they are condemning the Pakistan Army and ISI, while the Khariji Deobandis accept responsibility for the attack and the ISI vehemently denies it:
Peshawar:  The Pakistani Taliban have claimed responsibility for a failed assassination attempt against a prominent Pakistani TV anchor. Taliban spokesman Ahsanullah Ahsan said Tuesday that the group targeted Geo TV's Hamid Mir because he was "promoting secular forces."

Read more at: http://www.firstpost.com/world/taliban-claims-responsibility-for-attack-on-hamid-mir-537124.html?utm_source=ref_article

ISLAMABAD: Tehreek-e-Taliban Pakistan (TTP) top gun, Omar Khalid Khorasani, Saturday said Hamid Mir reaped what he had sown, Samaa reported. "He earned it for his anti Islam/mujahideen (holy warriors) rants, his patronizing a propagandist girl (Malala Yousafzai), his 'journalistic efforts' to pave way for a military offensive against TTP, and his support for democracy in the stead of religion" Khorasani wrote on the social media website Twitter.

He said that Mir had only suffered divine retribution –in the form of this attack– for his sins. "I feel no hesitation in saying what goes around comes around. It was supposed to happen sooner or later", said his tweet. Khorasani added that it was not like a true Muslim to do or say such things. "Before blaming someone for a 'reaction' one should first look at his own actions", said he.

Omar Khalid also known as Omar Khalid Khorasani is the commander of outlawed TTP in Mohmand Agency. He is considered one of TTP's most effective and powerful leaders in the Federally Administered Tribal Areas (FATA).  His real name is Abdul Wali and belongs to the Safi tribe.

http://www.samaa.tv/pakistan/19-Apr-2014/hamid-mir-reaped-what-he-had-sown-ttp

A few minutes after Khorasani's twweets, TTP's account on Twitter formally accepted the responsibility of the attack on Hamid Mir describing him as anti-Islam and anti-Mujahideen. Apparently, TTP-ASWJ terrorists were upset by a column in which Hamid Mir revealed that Pakistan army was using LeJ-ASWJ to kill Shia Hazaras and secular Balochs in Balochistan.

It's not TTP's first attack on Mir. In November 2012, Mir narrowly escaped a bid on his life when the bomb disposal squad defused a bomb planted under his car in Islamabad. The Tehreek-i-Taliban Pakistan (TTP) had accepted responsibility for the attempt and said it was targeting the journalist due to his "secular agenda". https://www.dawn.com/…/journalist-hamid-mir-injured-in
LUBP has clearly advocated a media boycott of such hate groups:
I am writing these lines in view of the TTP-ASWJ's continued attacks on Pakistani media, particularly the Express media group but also others, and also in view of how certain sections of Pakistani media have either surrended to TTP-ASWJ's threats or are currently considering that option.

I would like Pakistani media, anchors, journalists, reporters, analysts to consider a recent decision by some Afghan journlaists to boycott Taliban, to deny them the vital space they need to show their presence and spread their propaganda. https://lubpak.com/archives/310637
Related posts: Taliban claim responsibility for attack on Hamid Mir https://lubpak.com/archives/312015
اداریہ :حامد میر پر قاتلانہ حملہ اسٹیبلشمنٹ اور لشکر جھنگوی کا مشترکہ منصوبہ تھا یا۔۔۔؟ https://lubpak.com/archives/312135
Comments
comments