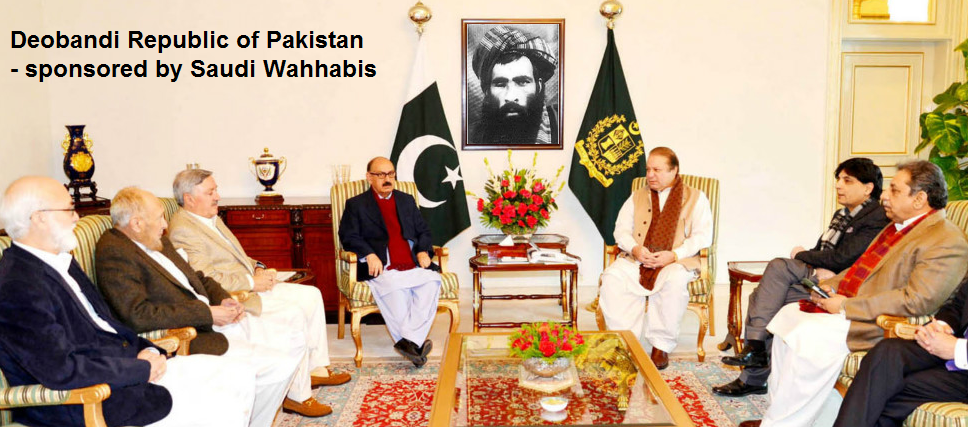 I am not an admirer of Generals Yahya or Musharraf. Yet I find it odd that while we find it appropriate to accuse one (sometimes along with a person who was then not yet in power) for surrender to an army waging war against us generally in line with the Geneva Conventions, and the Sharif government finds it appropriate to try the other for high treason because of his alleged violation of the constitution of Pakistan.
We do not find treasonous the acts of Deobandi Terrorists – Foreign and Pakistani – against the state, armed forces and people of Pakistan – acts that blown to shreds the Geneva Conventions and the constitution and laws of Pakistan – and of the apologists who wish the state to conduct dialogue with these enemies of state instead of acting against them in accordance with the law of the country.
Similarly, while we correctly see the drone attacks by USA as violations of our sovereignty, we do not see the entry and stay for years of foreign terrorists in Pakistan as a similar violation. Rather we advocate talking to those responsible for letting in and hosting these foreigner terrorists in Pakistan. What hypocrites!
Lt. Gen. Hameed Gul, Brig. Imtiaz Ahmed (a.k.a. Billa) and Maj. Amir coordinated on behalf of ISI with the CIA when Gen. Akhter Abdur Rehman headed ISI and General Zia the usurper misruled Pakistan. They were the handlers on behalf of the CIA of the so-called mujahedin now re-monikered the Taliban, which includes its Pakistani subsidiaries like Jaish-e-Muhammad, Anjuman-e-Sipah-e-Sahaba (ASS) and Lashker-e-Jhangvi (LeJ).
The leader of Pakistani Shias Allama Arif Husein al-Huseini (ar) was martyred in Peshawar on 5th August 1988. Among hose considered by the Shia leadership to be involved in this killing were General Zia, Lt. Gen. Fazle Haq (then Governor NWFP), Hameed Gul, Imtiaz Billa and Maj. Amir. The trio was also responsible for creation of the so-called Islami Jamhuri Ittehad (IJI) in an attempt to subvert the people's will during the 1988 elections. They were later the main characters of the infamous Operation Midnight Jackal whereby Pakistan's armed forces attempted to overthrow an elected government.
After they had been removed from positions of influence in the armed forces during the PPP government, Nawaz Sharif appointed Imtiaz Billa and Amir as security advisors' to the Punjab government headed by him in 1989, despite their having been dishonourably discharged from the army as a result of court martial. Next year when he became prime minister, he appointed them to the Intelligence Bureau (IB).
Things have now come full circle, and the notorious Major Amir has been appointed by Nawaz Sharif as one of the notorious four who will 'negotiate' with the Taliban terrorists.