Pakistan's Foreign Office, acting as ISI media cell, hides the common identity of Deobandi terrorists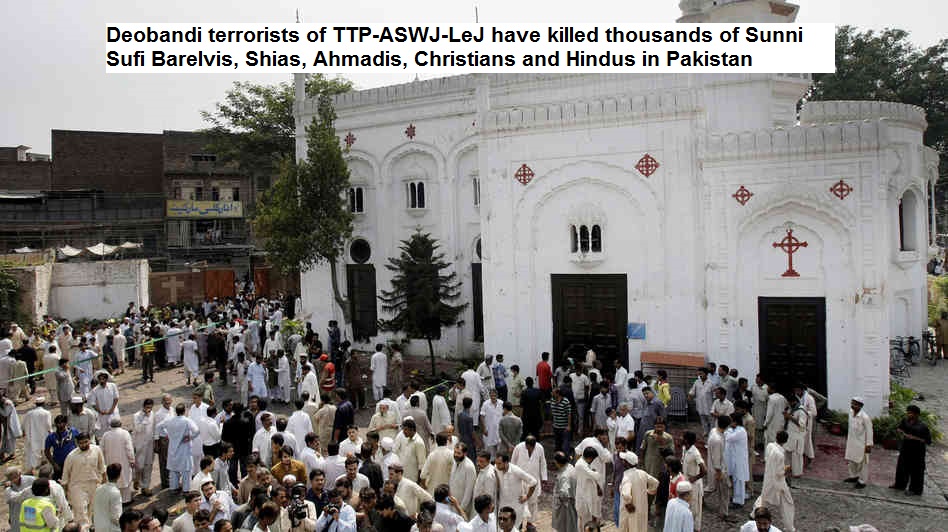 Pakistan's Foreign Office (FO) in Islamabad and its envoys in the UK, EU, United States, Australia and Canada are deliberately obfuscating the extremism debate with regards to Pakistan.
Pakistan Foreign Office acts as nothing more than the apparatchiks of Pakistan's spy agency, ISI. Their entire function is to muddy and confuse the common identity of Deobandi terrorists operating as Ahle Sunnat Wal Jamaat Deobandi (ASWJ-D), Lashkar-e-Jhangvi (LeJ), Tehreek-e-Taliban Pakistan (TTP), Jundullah and Jaish-e-Muhammad (JeM). It may be noted that all of these groups are 100 per cent Deobandi militant outfits; not a single Sunni Barelvi (Sufi), Shia or Ahmadi is a part of these groups. Since 1980s, these Deobandi terrorist groups have killed thousands of Sunni Barelvis (Sufis), Shias and hundreds of Ahmadis, Christians and Hindus due to their faith and sect. Dr. Murtaza Haider provides a statistical breakdown of terrorist activities in Pakistan confirming that Deobandis are a key source of terrorism in Pakistan: http://dawn.com/news/664029/an-incurable-disease
Unfortunately, since the days of Afghan Jihad (1970s-80s), Pakistan army has been using these Deobandi militants to promote its strategic interests in Afghanistan and India (including in Indian-administered Kashmir). Therefore, Pakistani State has silently ignored the incessant acts of violence by their strategic assets, ie, Deobandi terrorists against non-Deobandi communities of Pakistan.
It is a fact that almost all Deobandi clerics of Pakistan including Taqi Usmani, Rafi Usmani, Ahmed Ludhyanvi, Fazl-ur-Rehman, Sami-ul-Haq and Munawar Hasan have been vocal supporter of Taliban (TTP) and have never explicity condemned ASWJ-LeJ and TTP terrorists. In contrast, scores of Sunni Barelvi, Ahmadi and Shia clerics have explicitly spoken against Deobandi terrorists of ASWJ-LeJ and TTP.
Until the world community does not identify the specific groups -TTP, ASWJ, JeM, Jundullah – and their common shared ideology – (Deobandi fascism) – we are no where near a solution. https://lubpak.com/archives/231552
It is a fact that Deobandi mosques and madrassahs in Pakistan, India, Afghanistan, UK, USA and Australia are heavily funded by the Saudi Wahhabi Kingdom, and act as useful proxies and mercenaries of the global Wahhabi Salafi agenda.
It is now becoming clear that the ruling establishments of Pakistan and Saudi Arabia are doing their best to divert attention away from their patronage and sponsorship of Takfiri Deobandi terror groups in Pakistan.
Common tactics are to misrepresent the Deobandi terrorism against Shias as "Sunni-Shia" sectarian violence or "Saudi-Iran" proxy war. https://lubpak.com/archives/244423 Such misrepresentation hides the fact that Deobandi terrorists of ASWJ-LeJ-TTP have killed thousands of Sunni Sufi Barelvis and Ahmadis in addition to 21,000 Shia Muslims. Another tactic is to use vague, misleading and general terms like "Islamists", "extremists", "Sunni radicals". Yet another tactic is to define the ongoing Shia Genocide in ethnic terms (confining it to Hazara Shias only https://lubpak.com/archives/64797), and obscure the faith identity and reason for the ongoing Shia Genocide. Here are some written and video examples of the explicit genocidal intentions against Shias: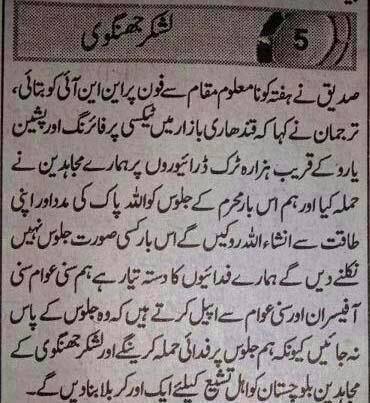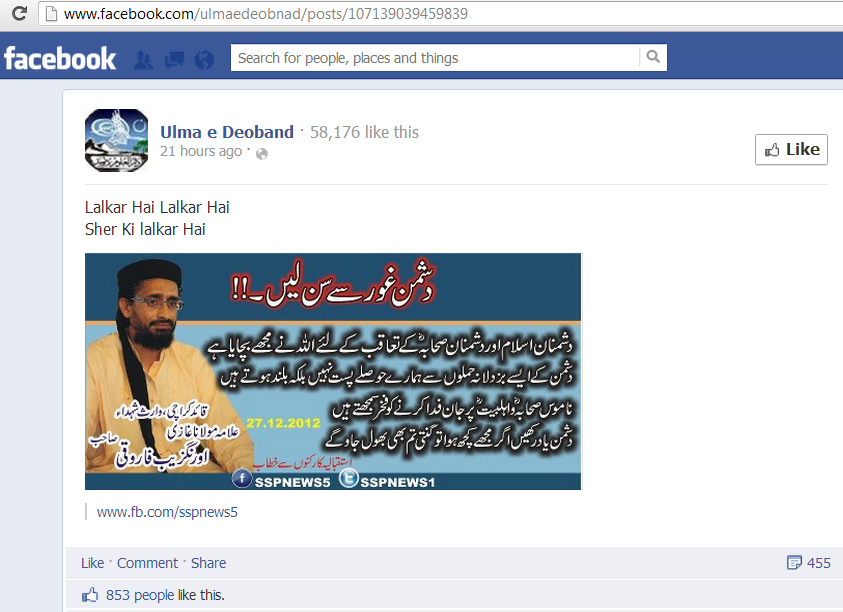 http://pakistanblogzine.wordpress.com/2011/09/21/lejs-fatwa-against-shias-and-hit-list-against-pakistanis-of-all-faiths/
https://lubpak.com/archives/235607
Essentially, the main aim of those who want to obfuscate the central role played by Takfiri Deobandi terrorists is to protect them as "strategic assets" and utilize them as Non-State mercenaries in global conflicts.
One way of diluting the outrage against Deobandi terrorists is create artificial differentiation between the various terror outfits – nearly all of whom subscribe to Deobandi ideology. The main recruiting organization is the Tableeghi Jamaat while the main political fronts are JI, JUI-F and JUI-S. The main militant fronts are the Taliban, Jaish-e-Mohammad and most importantly the Sipah Sahaba/ASWJ/LeJ . SSP/ASWJ/LeJ is essentially the same organization that operates under different names, and is also an integral part of banned TTP.

Maulana Ahmad Ludhianvi Deobandi speaks himself that SSP and ASWJ are same. from Progressive Shia Activists on Vimeo.
In this post Deobandi Suicide bomber admits that his religious mission as taught by Deobandi Ulema is to kill Shia Muslims and others:
Furthermore, the LeJ chief Malik Ishaq Deobandi is also the Vice President of ASWJ-SSP.
This tactic is based on having a grand overlapping nexus of inter-connected groups under the Deobandi umbrella who conduct systematic violence against not just Shias but Sunnis (Sufi, Barelvis and moderate Deobandis), Christains, Hindus and Ahmadis.
Whenever there is one organization, for example, the TTP that starts to attract too much criticism, another paper organization is created to divert the attention. In the recent Church Bombing in Peshawar (2013), the TTP did not take credit after seeing the outrage of the general public. Instead two related Deobandi groups like Jundullah and Punjabi Taliban took the credit.
There are no boundaries between these various inter lapping groups and militants move freely from one organization on to another. The TTP have since justified the bombing as being in accordance with their Takfiri Deobandi ideology which confirms the assertion of no real boundaries between these groups.
If further proof is needed, refer to the DPC where all these groups have publicly announced their solidarity. In spite of severe pressure, mainstream Sunni (SIC, ST) and Shia (MWM) have stayed away from the DPC.
Deobandi violence against Sunnis:
The Deobandi terror groups are lead locally by Sipah Sahaba (ASWJ-LeJ) which is the main Al Qaeda Wahhabi-Salafi affiliate in Pakistan. In the last decade, the following terrorist attacks have taken place against Sunnis and all have been traced back to Sipah Sahaba/ASWJ and Taliban.
1. The assassination of Maulana Saleem Qadri – a leading Sunni cleric who stressed on inter faith harmony and who opposed Takfiri Deobandi hate ideology – 2001. Maulana Saleem Qadri was a leading opponent of the tactic of using the Sunni umbrella for violence. This tactic has been practiced by the powerful, Saudi-funded and ISI-backed Deobandi lobbies ever since their ascent under the patronage of General Zia ul Haq.
A common operational element of this tactic is to forcibly capture Sunni mosques and then misuse the pulpit for inciting hatred and violence against all Non-Deobandi faith groups. Maulana Saleem Qadri explicitly opposed this tactic and was killed along with his male relatives.
2. Attack on the Nishtar Park function commemorating the Birthday of the Holy Prophet PBUH. This suicide attack nearly wiped out the senior Sunni (Barelvi) leadership in 2006.
3. Attack on Bari Imam Sufi Shrine – Islamabad 2003.
4. Attack on Jhal Magsi Sufi Shrine – 2004-2005.
5. Attack on Rehman Baba Sufi shrine – 2009.
6. Attack on Data Darbar – Lahore 2010 with more than 100 casualties.
7. Attack on Abdullah Shah Ghazi 2011.
There is silent Sunni genocide taking place in Pakistan, not at the hands of Shia Muslims but at the hands of Takfiri Deobandis, which remains grossly ignored and unreported. For a detailed account of crimes against ALL Pakistanis by Takfiri Deobandis, review this post. 9 out 10 terrorists in Pakistan are Deobandi militants. https://lubpak.com/archives/231552 https://lubpak.com/archives/74672
Deobandi violence against Christians:
ASWJ aka Sipah Sahaba has been the primary group behind the violence against Christians in Pakistan. The major events include:
1. The trumped up blasphemy case against the Masih Brothers. After failing to prove their case, the Sipah Sahaba lead a lynch mob against the defense lawyer and famed human rights activists, Asma Jehangir which she barely managed to escape.
2. A liberal, PPP judge Arif Bhatti was shot dead for acquitting blasphemy suspects.
3. Tariq Mota, a Sipah Sahaba activist was allowed to shot a blasphemy allege within the prison confines.
4. Shantingar, a Christain locality in Punjab was burned down in 1998 by mobs lead by Sipah Sahaba. A common tactic to persecute Christains and grab and occupy their land was to blame them for blame them on blasphemy charges. The cases were all bogus but with the active connivance of various PML N governments, the Sipah Sahaba has been given a free hand to persecute Christains and destroy their property.
5. Both Gojra 2010 and Joseph Colony 2013 were also conducted by Sipah Sahaba with the active support of PML N. Both are now in a formal coalition. As PML N heads the Government in Pakistan, we must not allow ourselves to be suppressed to protect the interests of a political party and its Deobandi terrorist allies. In Gojra 2010, a Christain family was gruesomely attacked and burned to death.
6. The attack on Joseph Colony in Lahore in 2013 left hundreds of Christains homeless.
"The Sipah-i-Sahaba and Lashkar-i-Jhvangi have been involved with provoking blasphemy issues, and they have also been implicated in cases of sectarian violence (including bombings) against Shia Muslims. It is therefore unsurprising that in May 2005, when fourteen Shias were officially accused of blasphemy, the Sipah-i-Sahaba were involved.
The Shias were accused under Section 298-A of the Pakistan Penal Code ("use of derogatory remarks, etc., in respect of holy personages"). The Shia group included five children. On a Shia holy day, the children allegedly made an effigy of a companion of the Prophet, placed it on a donkey, uttered insulting comments, and took it to a market. They repeated the remarks and ran off when reprimanded. Originally, nine children had been listed in the FIR charge.
A jirga (tribal council) intervened and suggested the children should have their faces blackened (a shameful experience) and then made to ride on donkeys. This did not happen, and the case was brought to the police instead. The Shias lived in a village (in Haveli Koranga, Khanewal district) where the Sipah-i-Sahaba had been founded in 1986, and were effectively surrounded by members of the Deobandi fundamentalist group. (The Taliban of Afghanistan follows this ideology, as do the Tablighi Jamaat, a group which has several ISI members)."
http://www.familysecuritymatters.org/publications/id.4469/pub_detail.asp
Deobandi violence against Ahmadiyya Muslims
There is routine violence against Ahmadi Muslims but the 2010 Lahore Mosque massacre stands out as particularly disturbing. This attack was also conducted by ASWJ/LeJ and left over a 100 people dead. In a brazen display of complicity, the PML N government of Punjab then allowed the LeJ terrorists to launch another attack on the hospital and free its activists from there later that night. Also refer to the massacre in Mandi Bahauddin in October 2005.
Deobandi violence against Hindus
Just weeks ago, in a event that was only properly reported in foreign media, the ASWJ terrorists in Sindh dug out the dead body of a Pakistani Hindu (Boru Bheel) citizen and dragged it all ever the area. Defiling the dead was a punishment meted out to a dead Hindu simply because he happened to be buried in a shared graveyard. The Pakistani media simply hid the specific identity of ASWJ mob and instead used typically vague terms. The identity of the ASWJ perpetrators who all belonged to the local Sipah Sahaba mosque was kept secret until and Indian media outlet broke the story.
Taliban violence against Sikhs
In 2009, scores of Pashtun Sikhs who had been living in Swat for hundreds of years were driven away from their homes by the Taliban.
Conclusion
We can no longer afford to use vague, misleading and generalized terminology fto hide the specific identity of the culprits behind extremist violence in Pakistan. Nearly all of them belong to the Deabandi umbrella of terrorist groups.
It is intellectually dishonest to misrepresent and justify Shia genocide by Deobandi terrorists as as Shia-Sunni and Saudi-Iran proxy war. https://lubpak.com/archives/272991 This is a classical case of fale neutrality. This propaganda stands exposed when seen in the light of the organized violence against Sunnis by Takfiri Deobandi groups. And not violence against Sunnis but all other groups are being targeted by Deobandis. Similarly, this propaganda also serves to obscure the role of Pakistan's security establishment, the ISI, in fostering and promoting Deobandi terrorism.
Pakistani Wahhabi and Deobandi militants celebrating the Woolwich beheading of a British soldier https://lubpak.com/archives/266997
By misleading our public on this issue, we are directly laying the foundations of more 7/7 – an act that claimed the lives of 50 Britishers and was committed by Deobandi terrroists who had been radicalized by their counterparts in Pakistan. Faisal Shahzad who attempted to bomb the Times Square (New York) in 2010 was also a Deobandi terrorist. Lets call a spade a spade.
Comments
comments