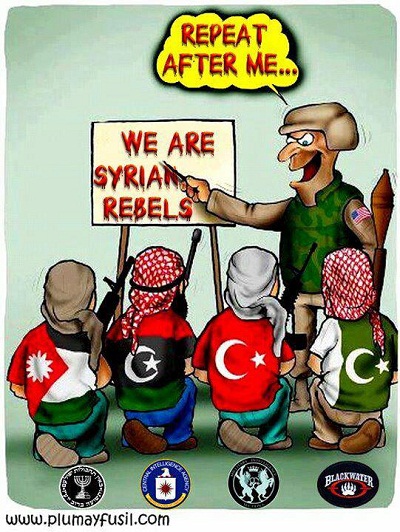 The enclosed New York Times article as well as the You Tube video illustrates for the first time a detailed and in-depth involvement of the Human Rights Watch in terms of criminal activities being perpetrated by the so-called Syrian rebels targeting Alawite Syrians and massacring them en mass. The Syrian regime has, for unbeknownst reasons, kept a lid on these acts of atrocities, recently in Latakia and around other parts of Syria where the victims are Christians, and Shia and Sunni Muslims who support Bashar el-Assad's government.The Human Rights Watch has now decided to file a case against the rebels and their accomplices with the International Criminal court.

This article cites Turkey as a partner in this crime since it provides bases, where these so-called rebels and their cruel comrades from Al-Qaeda. Turkish Airline flies the Deobandi Taliban from Pakistan to Syria. Saudi Arabia sends 1,239 death row inmates to fight in Syria with full pardon. Islamic state of Iraq in Syria (ISIS), Al-Nusra Front and others receive their training and armaments financed and furnished by Kuwait (A recent entrant in this gruesome game), Saudi Arabia and Qatar. This gang of criminals then marches ahead and commits one bloodbath after another, maiming and butchering innocent  Syrian civilians while the poorly informed and gullible West, greatly influenced by the Wahhabi/ Deobandi/Salafi instigated propaganda, not only sympathizes with these cannibals and beheaders, it applauds and endorses their actions.
Reasonable voices in Israel have pointed out the danger that the Takfiri Wahhabi Deobandi Salafi terror groups pose to humanity. Kapil Komireddi writes in an Israeli newspaper (Haaretz) to explain that Israel and Jews will not be better off if Saudi-funded Takfiri militants are able to install an Islamist government in Damascus. Kapil too confirms the presence of Pakistani trained Jihadists in Syria.
Some Excerpts form the New York Times Article:

In a coordinated attack, numerous rebel groups fought off a small garrison of government troops and swept into the villages, killing 190 people, according to a Human Rights Watch report to be released on Friday. At least 67 of the dead appeared to have been shot or stabbed while unarmed or fleeing, including 48 women and 11 children, the report said. More than 200 civilians are still being held hostage.

"This is the first time that we have documented opposition forces actually systematically targeting civilians," said Lama Fakih, the group's deputy director in Beirut, Lebanon, who last month visited five of the villages, which the government had recaptured by Aug. 19. She also reviewed medical records and interviewed 19 witnesses as well as doctors, military officials and opposition members for the 113-page report.

"We have up to now not documented anything approaching this scale of abuse" by opposition fighters, Ms. Fakih said, adding that the number and methodical nature of the killings constituted a "crime against humanity."

http://www.nytimes.com/2013/10/11/world/middleeast/syrian-civilians-bore-brunt-of-rebels-fury-report-says.html?_r=0

The Human Rights Watch report accuses the five leading fighting groups of crimes against humanity; names several private donors in Kuwait and other Persian Gulf countries as financiers of the operation; blames Turkey for allowing the fighters to use its territory; and calls for an arms embargo against the five groups, adding to its previous calls for such an embargo against the Syrian government.

A doctor in Latakia, who asked not to be identified for safety reasons, said the government appeared to have kept the episode relatively quiet, a surprise given its eagerness to highlight what it identifies as opposition atrocities and its cooperation with Human Rights Watch, which said officials did not impede access or sit in on interviews. The doctor said she and other Alawites in Latakia suspected that the government wanted to avoid news reports that could provoke panic or revenge attacks against Sunnis, which could further destabilize the area, and to conceal anger among Alawites that the villages were not better defended.

The attackers used cannons, mortars, rocket launchers, armored vehicles and tanks captured from the army, routing an army post and killing 30 soldiers after two soldiers had switched sides and shot at their comrades from behind, the report said.

Fighters dressed in black or in Pakistani-style tunics then strode through villages, attacking people with seeming abandon, witnesses said.

Excerpts from NBC News:

Human Rights Watch appealed to the Gulf states to crack down on such money transfers. It also urged Turkey, a rear base for many rebel groups, to prosecute those linked to war crimes and restrict the flow of weapons and fighters. The Western-backed Syrian opposition must cut ties with the groups that led the Latakia offensive, the report said.

http://worldnews.nbcnews.com/_news/2013/10/11/20910839-human-rights-watch-says-syrian-rebels-committed-war-crimes

Human Rights Watch said at least 67 of the 190 civilians slain by the rebels were killed at close range or while trying to flee. There are signs that most of the others were also killed intentionally or indiscriminately, but more investigation is needed, the group said.

The rebels seized more than 200 civilians from the Alawite villages, most of them women and children, and demanded to trade the hostages for prisoners held by the regime.