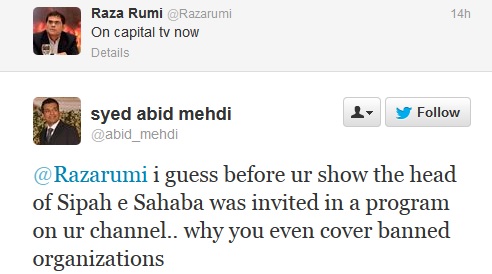 For the last few years, LUBP website has been advocating, unapologetically and without obfuscation, for the rights of Shias, Ahmadis, Sunni Barelvis, Christians, Hindus, Balochs, Pashtuns etc, the targeted and disenfranchised communities of Pakistan.
While our editors, authors, contributors and supporters have always been threatened by the banned militant outfits including Taliban and Sipah-e-Sahaba/Lashkar-e-Jhangvi (ASWJ-LeJ) or their right-wing advocates in the Urdu media, in the last couple of years we have also been threatened by certain pro-establishment pseudo-liberals of Pakistan's English media.
While LUBP took a very clear stance against pro-Taliban Deobandi and Salafi hate clerics and terrorist leaders sponsored by Saudi Arabia and Pakistan military establishment, a growing segment of pro-establishment pseudo-liberals attacked our criticism instead of supporting us. In fact they glorified and stood with the pro-Taliban hate clerics against LUBP, and resorted to obfuscation of Shia genocide at the hands of Takfiri Deobandi terrorists of TTP-ASWJ.
When LUBP criticized the Friday Times blog (edited by you and Najam Sethi), the Jinnah Institute, Capital TV etc for normalizing, humanizing and providing platform to pro-Taliban clerics and leaders of banned terrorist organizations, instead of responding to our legitimate criticism, you (Mr Rumi) and some of your colleagues started harassing LUBP authors and other pro-rights activists.
Using pen names to write sensitive articles against powerful pro-establishment figures is an ancient tradition.  You should know this, Mr. Rumi, as even you utilized LUBP to write under a pen name. Can you deny this fact? Hence abusing others as cowards is rather hypocritical just as it is a cowardly tactic to attack anti-establishment activists on Twitter.  Do you lack the guts to challenge my articles exposing your direct and indirect promotion of Sipah-e-Sahaba and Taliban?
LUBP has already lost our supporter, leading Shia rights activist, Khudi Ali in January 2013. We have also lost other supporters and their relatives who used to write on LUBP with pen names because of security concerns, whose identities were conveyed to banned terrorist outfits. https://lubpak.com/archives/278323. We are all going to die some day. At LUBP we yearn for a death like that of Khudi Ali Shaheed, may God elevate his levels in the heavens.
Everyone has to die one day, and all of us will be held accountable for our deeds. You too, Mr. Rumi, and others who glorify, humanize or promote anti-Shia anti-Ahmadi clerics and harass Shia, Ahmadi, Sunni Barelvi activists cannot hope to live for ever. What will you leave behind is a blood stained history of a wolf in sheep's clothing. I made my policy clear to you back in April 2013 https://lubpak.com/archives/260809. Why is it that when any "liberal media outlet" promotes terrorists in a deceptive way that you or your TFT blog employer Najam Sethi are always affiliated with it? You must apologize and come clean on your tactful promotion of hate clerics or hate groups (Sipah Sahaba, Taliban). Otherwise we will continue to criticize your support for murderers under the veil of opportunist liberalism.

As chief editor of LUBP, I stand by all legitimate criticism of you, Najam Sethi and all others who uncritically promote, humanize and provide a platform to hate clerics of banned terrorist outfits, and contribute to violence against Shias, Ahmadis etc. https://lubpak.com/archives/280987
Recently we have seen you directly attacking, naming and locating our present and former bloggers and their relatives who have nothing to do with LUBP. The implications of such tactic are very clear in a society where Shia, Ahmadi and other non-Deobandi non-Salafi professionals are being target killed on a daily basis by the same people who are being promoted by you and your friends and colleagues.  https://twitter.com/WorldShiaForum/status/386804134180966400
Instead of regretting your uncritical promotion of hate clerics of banned terrorist outfits, you are threatening families and relatives of Shia, Ahmadi, Christian and other bloggers. As a matter of fact, we have never seen you take Deobandi hate clerics (of or sympatheic to banned Sipah-e-Sahaba etc) to task, the way you are threatening present and former bloggers of LUBP and other anti-establishment activists. How low can you stoop? How much more money will you and your boss Najam Sethi make on the blood of innocent Shia, Sufi Sunni Brelvi, Ahmadi and Christians? Is this the legacy you want to leave behind?
We have documented evidence of instances where you and some of your friends and colleagues glorified and promoted pro-Taliban clerics with known anti-Shia, anti-Ahmadi views. This has in turn enabled and contributed to acs of violence against Shias, Sunni Barelvis, Ahmadis, Christians etc. You must remember that as per laws of several Western countries including the USA, UK, Canada, Australia etc, all those who glorify hate clerics or militants or incite or enable acts of violence by the Taliban and Sipah-e-Sahaba (ASWJ-LeJ) may be subject to visa ban and other sanctions.
Promoting, glorifying or enabling terrorism, violence, or criminal activity is a violation of international law, and those who publicly glorify pro-Taliban pro-ASWJ-LeJ clerics, enable terrorism or enable and incite hatred may be barred from visiting Canada, USA, UK and other countries. This includes a foreign national who makes public statements or uses any means to broadcast, write, produce, publish or distribute material, including a website and public speaking, to express views which:
(a) directly or indirectly promote or glorify terrorist violence or promote or golorify those who glorify Taliban and Al Qaeda;
(b) promote or glorify a listed entity (eg Sipah-e-Sahaba (ASWJ-LeJ), Taliban) under Regulations Establishing a List of Entities pursuant to the Criminal Code of a country, Regulations Implementing the United Nations Resolutions on the Suppression of Terrorism or the United Nations Al-Qaida and Taliban Regulations;
(c) counsel, enable, encourage or incite others to commit terrorist activity or terrorist violence;
(d) incite or promote hatred that is likely to lead to violence against a specific group;
(e) promote, counsel, encourage or incite serious criminal activity.
Mr Rumi: On more than one occasions you have glorified, promoted and provided platform to pro-Taliban pro-ASWJ Deobandi clerics with known anti-Shia, anti-Ahmadi, anti-Christian views, which enabled and contributed to violence against Shias, Sunni Barelvis, Ahmadis, Christians etc at the hands of TTP-ASWJ Deobandi terrorists.
Technically speaking, your actions confirm that you are engaging in unacceptable behaviour by enabling, promoting or seeking to provoke others to serious criminal acts and fostering hatred which might lead to inter-community violence within and outside Pakistan.
Such persistent violation of international law could lead to the governments of the USA, Canada, UK, France, other EU countries, India etc to impose visa restrictions on you and others who glorify or promote hate clerics with known pro-Taliban anti-Shia anti-Ahmadi views. As per international laws, your bank accounts and assets outside Pakistan may be frozen so that you cannot use those funds to incite violence against already target killed religious groups in Pakistan or against Western citizens by the Takfiri Deobandi terrorists of ASWJ-LeJ, Jundullah and Taliban.
Such sanctions may also include:
1. Cancellation of any pre-existing visas;
2. Complete ban on issuing any kind of visas in the future;
3. Stopping national (public, private) and international organisations from engaging in any type of commercial or non-commercial businesses owned by such individuals who glorify, promote or publish pro-Taliban hate clerics;
4. Stopping all donations given to these individuals or the organisations they own or manage;
5. Freezing their bank accounts; and
6. Placing details of these individuals and organisations on the international database of terrorist organisations and individuals
As chief editor of LUBP, I await your specific response to legitimate criticism of you and others who humanize, normalize and provide a platform to hate clerics and terrorists. Intimidating relatives and families of our present and former bloggers (even those who have nothing to do with LUBP) will only lead to further bloodshed of Shia and Ahmadiyya Muslims – Is that the goal you want to achieve?
Obviously if you had a valid counter-argument, you would never have resorted to harassment and ad hominem attacks. This is typical  Sipah-e-Sahaba and Taliban tactic whose leaders and glorifiers your Friday Times blog provides space to. https://lubpak.com/archives/252959
LUBP is in touch with rights groups in and outside Pakistan, and we will take all possible measures to protect rights activists, and remain committed to highlighting the plight of persecuted communities of Pakistan.
If you have any problems with that, feel free to contact me.
Reaction on Twitter