Secretive Najam Sethi and mysterious agencies – by Asif Jilani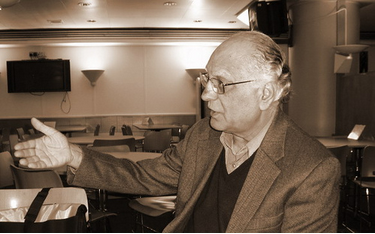 English translation by: Mahpara Qalandar
Originally published in Sindh language in daily Kawish, Urdu tranlsation published by LUBP blog
Summary: In this article, Mr. Asif Jilani, senior Pakistani columnist and veteran broadcaster of BBC Urdu, has exposed some hidden aspects of Najam Sethi, in particular his links with Pakistan's military establishment (ISI). Mr. Jilani recalls Sethi's dubious role in deceiving and hurting the Baloch resistance movement during 1970s, his role in ISI-sponsored malicious propaganda against democratic government of Benazir Bhutt in 1990s etc. Mr. Jilani also reports that Sethi's oft-reported tiff with ISI is nothing but a fog of deceipt to repair his lost credibility.
**********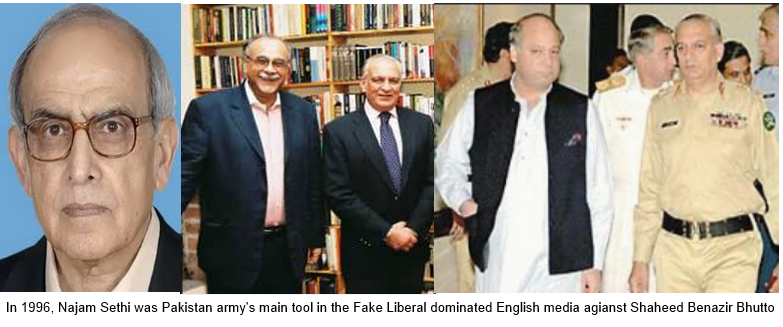 Secretive Najam Sethi and mysterious agencies
– by Asif Jilani
I have never met Najam Sethi, the caretaker chief minister of Punjab (March-June 2013) — not even when in the early 1970s he was studying in England and was a member of the "London Club" made up of Pakistani students inspired by Marxism.
It was from my friend Qadir Buksh Nizamani that I heard about Sethi for the first time. Those days, Qadir was known as "Karim Baluch" and was leading the Free Baluchistan Movement from London. He told me in confidence that five "London Club" young men had joined the Movement, and had landed in Baluchistan. One of them, he said, was Najam Sethi. The other four were Ahmad Rasheed, Dilip Das (son of a Pakistan Air Force officer), and Rashed Rahman and Asad Rahman, sons of Justice Rahman.
While mentioning Najam Sethi, Mr Nizamani became worried. I asked him why, and he replied: "Even his close friends say he is a secretive person. The confidante sent by General Sherof Sher Muhammad Marri to assess the credibility of these five young men was not sure about Najam Sethi."
In 1975, Najam Sethi was arrested while on an army helicopter. It led to suspicions about his loyalties. Soon after Sethi's 'arrest' three of his friends were arrested while Dilip Das was killed by Pakistani soldiers near the Pakistan-India border. On investigation, it was found that these "London Club" gentlemen had lived in the mountains in Baluchistan where they were given military training. They were also taught the Baluch language and culture. In 1975, Najam Sethi suddenly decided to move to Karachi on the pretext of collecting funds for the Baluch freedom struggle. For some time there was no trace of him. Then all of a sudden he was found flying to Baluchistan on an army helicopter! His friends were puzzled as how why he would fly to Baluchistan on an army helicopter. They suspected that he had flown in order to identify the Baluch freedom fighters' hideouts in the mountains. A few days before his death, Asad Rahman pointed this out in an interview. https://lubpak.com/archives/60154
After his 'arrest' in Quetta, Sethi was shifted to Hyderabad with Baluch leaders who had been jailed by Z.A. Bhutto for treason. In 1978, General Zia pardoned all the prisoner including Sethi. After his release Sethi became a journalist and soon became an exceedingly prosperous and successful journalist.
It was probably in 1976 that Saeed Ahmed Khan, a high-ranking intelligence officer, met me in my office in London disguised as a Hippie. I recognized him and told him that I had met him in the police headquarters in Karachi. He was rather shocked and embarrassed at that. He frankly told me why he had come to see me. I asked him about Najam Sethi. He only nodded his head implying that what I was thinking about him was correct. Then he looked around as if ascertaining that no one had seen him.
In 1993, Farooq Laghari dismissed Benazir's government over corruption charges and appointed Meraj Khalid as caretaker prime minister. Najam Sethi was appointed Accountability Minister in the Meraj cabinet. Later on, the corruption cases against Benazir and Zaradri during Nawaz Sharif's tenure were in fact prepared during Sethi's ministership. In 1996, it was Najam Sethi who helped the BBC prepare an incriminating documentary about Benazir and Zardari called "The Princess and the Playboy". (Details here: https://lubpak.com/archives/254791)
[youtube id="_YRY0N0H49M" width="600″ height="340″ position="left"]

Princess and the Playboy BBC 1996 by f1499110548
I am sure Zardari never forgot the documentary. And yet it was the PPP which appointed Sethi Punjab's caretaker chief minister [in 2013]. This was such a mysterious act which left many people clueless. It is puzzling that when Shahbaz Sharif and Raja Riaz failed to agree to appoint a caretaker chief minister for Punjab and the parliamentary committee had given up all hopes, a mysterious phone call to Nawaz Sharif resulted in the immediate appointment of Sethi as Punjab's caretaker minister. (Details here: https://lubpak.com/archives/273395)
In 1999, Nawaz Sharif had Sethi arrested for treason after he made anti-Pakistan statements in India. He was put under the custody of the ISI. There were rumours about Sethi being tortured. Later he was released without any charges brought against him. Fifteen minutes after his release, Sethi gave an interview to the BBC in which he claimed that he was severely tortured. I thought he would criticise the ISI, but he actually praised it a great deal saying that it was a great institution and the entire Pakistan should be proud of it. I could not believe it. I listened to the interview again. Later I asked him if the ISI had tortured him, but he only praised it to the skies. The interview must be in the BBC archives.
It was after a long time that it was found out that the ISI had sent Sethi to India for the purpose of disinformation. The ISI strategy was to mislead the Indians into believing that the reason Sethi was arrested was because whatever he told the Indians was in fact true.
Source (Urdu) : https://lubpak.com/archives/256617
Related articles:
Reality of Comrade Najam Sethi – by Farrukh Sohail Goindi https://lubpak.com/archives/255527
Najam Sethi's shameful role in undermining Benazir Bhutto's democratic government https://lubpak.com/archives/40420
White Paper on Najam Sethi's Performance as Caretaker Chief Minister Punjab – by Mahpara Qalander https://lubpak.com/archives/267821
Archive on Najam Sethi: https://lubpak.com/archives/tag/najam-sethi
Comments
comments