MPAC and its agenda of malice and mischief – by Agha (Shaukat) Jafri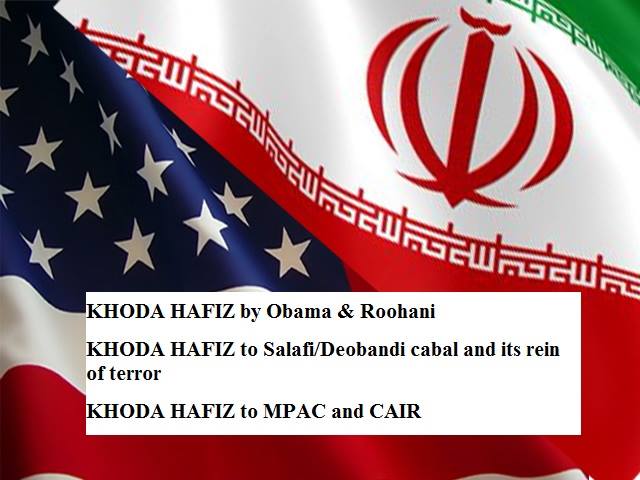 In keeping with an enriched tradition of Unity and Brotherhood within the ranks of Ummah, the Mission of Islamic Republic of Iran to the United Nations organizes every year, a forum of friendship during the week of UN General Assembly Session in New York. This event of ecumenical elegance, usually includes various Muslim leaders from all across North America to meet and greet the President of the Islamic Republic as well each other so as to develop ongoing relationships of respect and responsibility among themselves. A few members hailing from academia and domestic political circles belonging to other faiths are invited as well to insure that the Muslim world is extremely cognizant of the need for an Inter-faith dialogue and understanding at all times. No other Islamic state offers a similar venue to the Muslim leadership of North America, and even if it does, Shia and Sufi Muslims are kept out of such gatherings.
This year's event took place on Tuesday, September 24, 2013, where Nation of Islam leader Louis Farakhan, Al-khoei Foundation President Sheikh Fadhel Al-Sahlani, Sufi scholar Imam Faisal Abdul Rauf, Professor Emeritus Dr. Abdul Aziz Sacchadena, ISNA leader Dr, Sayed Saeed, ICNA president Dr. Naeem Baig, Imam Sayed Moustafa Al- Qazwini, Imam Sayed Hassan Al-Qazwini, Sheikh Mohammad Sarwar, U.S. Congressmen Keith Ellison and Jeffrey Meeks among other dignitaries were in attendance. Dr. Mohammad Khazzae, the permanent Representative of the Islamic Republic of Iran to the United Nations opened this two hour festivity by introducing Dr. Hasan Rohani, the President of Islamic Republic. Dr. Khazzae selected 18 leaders from the participants and requested that they share their thoughts with President Rohani. Almost every Muslim leader spoke with great eloquence as each and every one of them addressed President Rohani with utmost respect and reverence, expressing a desire that the moment has arrived to initiate a detente between the Islamic Republic and the West. This common plea, thus became the theme of this glorious gathering. President Roohani expressed his appreciation as he appeared pleased and greatly encouraged.
Salam Al- Marayati, the MPAC representative and a first time entrant to this occasion was an exception to the rule. At his turn, he began with his deleterious diatribe by injecting the crisis in Syria at this discussion. As a new comer to the gathering, he appeared totally out of order and seemed to lack the maturity in observing the decorum of the event. The participants quietly endured his accusatory and venomous diatribe both in his text as well as his tone while addressing President Roohani. He insinuated that since Islamic Republic is involved with assisting the Syrian government, it must stop the killing in Syria thus attempting to incriminate Iran in this debacle.
Al-Marayati and his MPAC never decisively supported almost a million Arab and Kurd Muslims who were slaughtered by Saddam, the butcher of Baghdad. To the contrary, MPAC condemned Saddam's execution and questioned the motives of those who carried it out! . It is so disingenuous, for the MPAC representative, who just a week ago clandestinely ran to the White House with its partner in Crime CAIR, urging the US to strike and strike quickly on Syria. Characteristically Al- Marayati made no mention of his benefactors Turkey, Saudi Arabia and Qatar, the states that not only instigated the so-called rebels for starting this bloodbath in Syria, these Satanic Salafis still continue to arm and finance the ranks of these rebels that are heavily infested with the most bloodthirsty cannibals known as Al-Qaida, Jabhat al-Nusra, Ahrar al-Sham and Akhwan ul Muslimeen.
Al-Marayati showed his two faced approach as he raised his concerns about a half dozen individuals and their release from the Iranian prisons. And yet this same Al-Marayati and his MPAC have shown no sympathy for thousands of Bahraini and Eastern Saudi Arabian Shia Muslims who had been tortured and incarcerated for years and whose innocence have been repeatedly proved by numerous international tribunals, but they still continue to rot in the Jails of that most cruel and criminal Monarchies.
As a result of Al-Marayati and his MPAC's demeanor as well as their discourse during the past 12 years, the Shia Muslims at large have lost all faith and confidence in this group's credentials and its credibility and from here onward we will not recognize MPAC as part of Muslim leadership. It so hypocritical that Al-Marayati's is a signatory tocode of  honor recently signed by notable Shia and Sunni organizations. Henceforth, with a tremendous amount of pain, the majority of Shia Muslims disassociate from MPAC, and call upon the signatories code of honor to see through the hypocrisy of MPAC (aka Marayati Personal Agenda Corporation) and promotion of Al Qaeda and Salafi Deobandi Wahhabi mindset.  MPAC should be held to account its munafiqiyat and withdrawn from the document to preserve its integrity and credulity.
It does not need much of an imagination to picture the discomfort and dismay of the Salafist chronies and proxies, as events unfold on the rapprochement between Iran and US, with the historic phone-call between President Roohani and President Obama ending with the familiar words of farewell of KHODA HAFIZ by President Obama. Is this also KHODA HAFIZ to Salafi/Deobandi cabal and its rein of terror.
Comments
comments