Text of direct phone conversation between Iranian President Rouhani and U.S. President Obama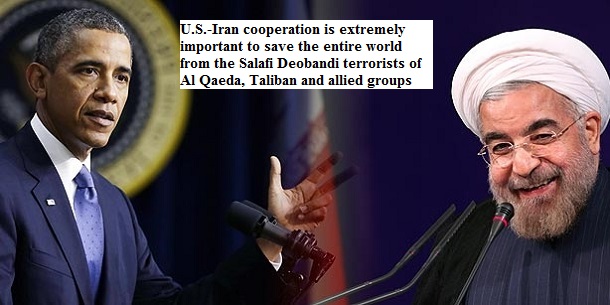 Obama, Rouhani phone call first communication between U.S. and Iranian leaders since 1979
WASHINTON, D.C. — The Associated Press
Published Friday, Sep. 27 2013,
U.S. President Barack Obama and Iranian President Hassan Rouhani spoke by telephone Friday (27 Sep 2013), the first conversation between American and Iranian presidents in more than 30 years. The exchange could reflect a major step in resolving global concerns over Iran's nuclear program.
Obama told reporters at the White House that he had a constructive conversation with the Iranian leader.
The White House revealed Wednesday that Obama has told Iran's President Hassan Rouhani in an exchange of letters that the United States is ready to resolve its nuclear dispute with Iran in a way that allows Tehran to show it is not trying to build weapons.
Iranian President Hasan Rouhani addresses the 68th United Nations General Assembly at UN headquarters in New York on Sept. 24, 2013. In a CNN interview, Rouhani says the Nazis committed a "reprehensible" crime against the Jewish people.
"While there will surely be important obstacles to moving forward and success is by no means guaranteed, I believe we can reach a comprehensive solution," he said.
Obama said he and Rouhani have directed their teams to work quickly to pursue an agreement. He said the U.S. will co-ordinate closely with its allies – including Israel, which considers an Iranian nuclear weapon capability to be an existential threat.
The fact that it had been so long since American and Iranian presidents had traded words reflected the "deep mistrust between our countries," Obama said. But he added that it also indicated the opportunity for moving forward.
"I do believe there is a basis for a resolution," he said.
The conversation came hours after Rouhani, wrapping up a trip to the U.S., called the United States a "great" nation, a sharp reversal from his predecessors that buoyed hopes that the two governments can stop the escalation of tensions.
"I want it to be the case that this trip will be a first step, and a beginning for better and constructive relations with countries of the world as well as a first step for a better relationship between the two great nations of Iran and the United States of America," Rouhani told a news conference at a hotel near UN headquarters.
Rouhani has pledged to reduce nuclear tensions, and UN officials said they have seen encouraging signs from Tehran. Iranian and UN officials agreed to meet again Oct. 28 to continue talks on how to investigate suspicions that Iran worked secretly on trying to develop nuclear weapons. Tehran denies that it wants to build a weapon.
On behalf of the peace loving people of Pakistan, LUBP (Let Us Build Pakistan) team welcomes this highest level contact between Iran and U.S.A since 1979. We believe that close cooperation betewen Iran and U.S.A is important not only for the betterment of both nations but also to save the world from the growing menacne of Salafi-Wahhabi and Deobandi terrorism which is manifesting itself in the form of Al Qaeda and subsidiaries eg Taliban, Sipah-e-Sahaba, Al Shabah, Jamaat Islami, Al Nusra Front etc.
Comments
comments