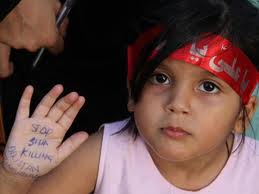 Editors note: The following discussion took place on Facebook. Most comments are sarcastic. It underscores that the people using the respect of Sahabas as a reason to kill Shia Muslims, have no credible argument. Today the want respect for those that killed the worthy companions of the Prophet PUBH. Next they will demand respect for Yazid , Abu Suffain day and Abu Lahab. These are the ideological decedents of the same people who went to war with Ameer al Momineen Ali a.s., they were called Kharajites at that time.

https://lubpak.com/archives/272443
C1 – Religion is a personnel matter, everyone should be free to believe whatever he/she wants.
C2-C1 : There is a difference between accepting and insulting. Yes, if non-Shia Muslims don't believe in 12 Imams, but they have respect for them, which may not be the case in reverse. Again, I am against all type of violence and considers Shias as Muslim brothers irrespective of all difference of religious beliefs.
C3- C2 : The generalization that you are implying in your comment is genocidal – Not all Sunnis respect the Shia imams and not all Shias disrespect the Caliphs (2) If you know your history, who founded the trend of disrespecting the Caliphs? Being a Shia who lives in Pakistan, I have to stop here for obvious reasons… I can start quoting your books and all but whats the point???
(3) For your kin who are so sensitive about insults to Caliphs, companions etc, I ask: What about those who glorify the one responsible for killing and insulting the progeny of the prophet? Why is Zakir Naik and the likes safe from the wrath of the "lovers of prophet and his sunnah"? Similarly why are the "lovers of prophet's companions" frequently caught in bed with those who bulldozed the shrines of these very companions?
C2-C3 : Well you reply is equally applicable on the original post as well. So, not all Sunnis disrespect Imams and not all Shias respect Caliphs.
Al Hajjaji- C2 : we must all respect Caliph Yazeed bin Muawiya. Period. No arguments. Got that.
Al Hajjaji- C2 : why are you arguing with these fools. Look, we can respect both Caliph Yazid and Hussain at the same time. Ofcourse, we will obviously hold a softer corner for Caliph Yazid (wink wink) because it does not hurt to pretend that we respect both at the same time.
C3-Al Hajjaji  : I am respect personified! Death to the terrorists who stood against our pious Caliph Yazeed at Karbala… and to the terrorists who stood against his venerable father Caliph Muawiah at Siffin! But wait… I see there were hordes of honorable companions among these terrorists…. I am dead meat! gulp! damned either way!! I am converting to a Sipah Sahaba… From now on I will respect only those companions that have the approval from Dar-ul-uloom Deoband.
Al Hajjaji-C3 : Shabaash mian. Now you get it. O Ye Liberal Fascist fools. We have converted another one. Aik aur wicket gar gae
C2- C3 ,Al Hajjaji: Have I mentioned anything about Yazid or Muawiah? I think all Sunnis believe that the Caliphate was ended with the Shadat of Hazrat Ali. Exception are everywhere. Your so called sarcastic remarks can only make fun of a mature discussion. I was only correcting the facts of original post. We all need to learn to live together with all difference of religious beliefs .
Al Hajjaji- C2 : Arey arey what are you saying? Our Sipah Sahaba comrades are upset with Shias because they criticize Caliphs Yazid Bin Muawiya and Caliph Muawiya Bin Abu Sufyan and Bibi Hinda. You see our assets like Sipah Sahaba and Taliban get very upset with this criticism and just can't help themselves. Just like how the drones in Waziristan make them so upset and then you know things happen in Quetta and Karachi. If you agree to live together with different beliefs you are validating C1 and C2 point.
Al Hajjaji – C2 : Good Liberal supporters of the Taliban and Maulana Ludhainvi like me have made so much efforts to wipe out the differences of opinion and we present everyone as the same-same – what is the word I am looking for – haan ji, Monolithic , not paleolithic. We say that this whole thing is a Sunni-Shia fight and do not make any distinctions or promote the dangerous notions that there are different schools of thought within Sunnis. Such distinctions will be disastrous to our project of protecting our Taliban assets. Please understand and stop getting into nuances.
https://lubpak.com/archives/272341