Abduction, extortion, assassination: LeJ/ASWJ Islamofascism must triumph at all costs! – by Mahpara Qalandar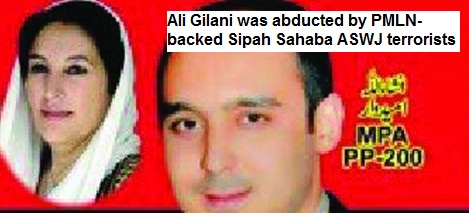 The latest acts of Islamofascist violence staged by the LeJ/ASWJ aka Taliban is the abduction of Ali Haider Gillani. The LeJ/ASWJ criminals attacked his political meeting, killed his secretary, seriously wounded his supporters, and carried him away. The kidnapping of Shahbaz Taseer to the assassination of Bashir Bilour to today's abduction of Ali Haider Gillani, thousands of innocent, liberal Pakistanis have been killed, maimed or abducted. But the very word "LeJ" or its political face "ASWJ" is absent from every lip. So overwhelming is the fear amongst the politicians and so unqualified the support of the Army/ISI is that when it comes to LeJ/ASWJ Islamofascism, there is total silence.
But not all politicians are afraid of the LeJ/ASWJ. Nawaz Sharif and his cabal of PML-N; PTI; Jamaat-e-Islami; and JUI are all political faces of the LeJ/ASWJ aka Taliban. They have openly said that they will negotiate only with the leaders of these political parties. They said that they will stage attacks on all liberal parties. There are only three parties which the LeJ/ASWJ has designated as liberal: the PPP, the ANP, and the MQM. And they have made good on their promise/threat by staging one murderous attack after another on these party rallies, thus forcing these parties to stop their campaigns.
The Islamofascists have provided a free hand to the pro-Islamofascist parties. General Kiyani and Chief Justice Iftikhar, the two most shameless supports of the  LeJ/ASWJ, have not said a word about these criminals. But any TV advertisement which can expose the corruption of the Sharif brothers merits immediate judicial review.
The world is silent too. The United States and the European Union are silent on the destruction Islamofascism is wreaking on Pakistan while Saudi Arabia, Qatar, and the UAE finance and cheer these Islamofascists.
Let the liberal Pakistani blood be spilled! Let democracy mean no more than the rule of the Islamofascists! And let the likes of Bhutto and Benazir be smashed for telling the masses that they are the true masters of Pakistan! Pakistan must be what the reactionary forces want it to be: A graveyard of humanity where only Islamofascists will dance a dance of victory. Yesterday, the Islamofascists fought the Afghanistan jihad in the name of Islam. Today, they will facilitate the safe exit of the NATO forces and the triumph of Saudi Wahabism.
https://lubpak.com/archives/263213
Comments
comments
Tags: Al-Qaeda, Chief Justice Iftikhar Chaudhry, General Kayani, Imran Khan, Judiciary, Nawaz Sharif, Pakistan Army, Pakistan Elections 2013, PMLN, PMLN's support to ASWJ LeJ Taliban AlQaeda LeT, PTI, Sipah-e-Sahaba Pakistan (SSP) & Lashkar-e-Jhangvi (LeJ) & Ahle Sunnat Wal Jamaat (ASWJ), Takfiri Deobandis & Wahhabi Salafis & Khawarij, Taliban & TTP, Terrorism