Raza Rumi unleashes ISI-ASWJ touts to harass and harm anti-establishment bloggers

Related post: Raza Rumi's proxy jihad against anti-establishment bloggers
The following notice has been published by a leading Shia web portal (Karbala-e-Quetta) to warn Shia and other human rights activists to be mindful of impostors (Takfiri Deobandi terrorists and agency plants) who are reportedly monitoring internet to identify and harm social media activists. https://lubpak.com/archives/254753
The Friday Times editor Raza Rumi's latest rants and threats on Twitter remind one of Takfiri ASWJ and Taliban tactics. First they publish and promote hate speech and lies that lead to the death of innocents. They then cry foul and start threatening to eliminate rights activists (eg LUBP, Shia Killing, World Shia Forum, Ahmadiyya portals) just because they stand with the victims.
Who in their right mind would believe that people like Raza Rumi and his pro-Taliban Sipah Sahaba colleagues in The Friday Times are facing threat. Ali Chishti, TFT columnist, is a known agency tout and supporter of Sipah Sahaba's drive to expand the blasphemy law to implicate Shia Muslims along with Ahmadis and Barelvis. Mohammad Shehzad is another abusive TFT columnist and public sympathizer of Sipah Sahaba. Amir Saeed Deobandi is the co-moderator for the parent blog (Ulma-e-Deoband) of the Taliban and Sipah Sahaba. Connecting them all is Raza Rumi. And they are the ones claiming to feel threatened by LUBP and other anti-establishment bloggers.
Based on Pakistani, UK and American law, a case could be made against all four TFT bloggers for incitement to murder. The tragic high profile killings of Professor Sibte Jafar in Karachi, Dr. Ali Haider in Lahore, human rights activist and lawyer Malik Jarrar Hussain in Peshawar are the direct result of hate speech by ASWJ – an organization humanized, rationalized, promoted and defended by these four pro establishment writers. Just a few months ago, Karbala –e- Quetta, a leading Shia portal from Quetta has revealed that ASWJ and agencies are collecting details and whereabouts of leading Shia, Ahmadi and Barelvi activists.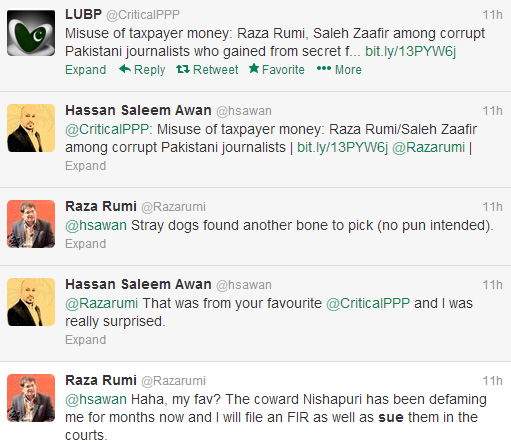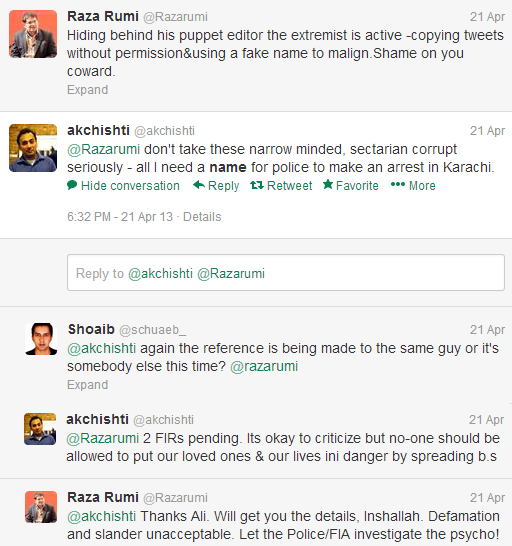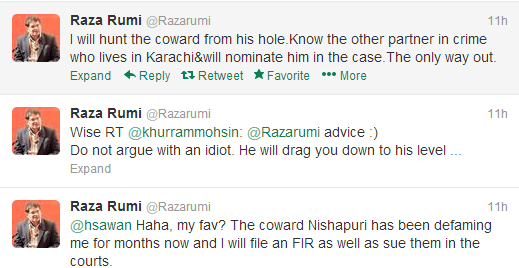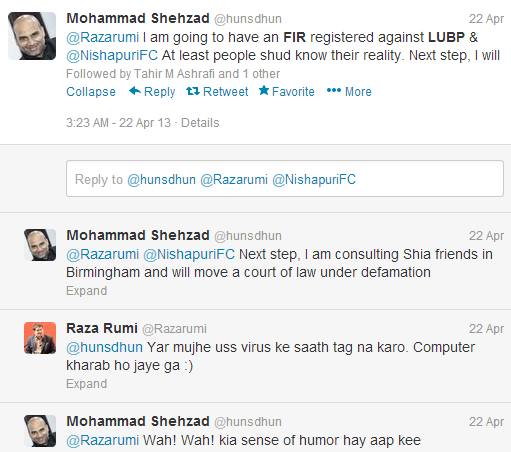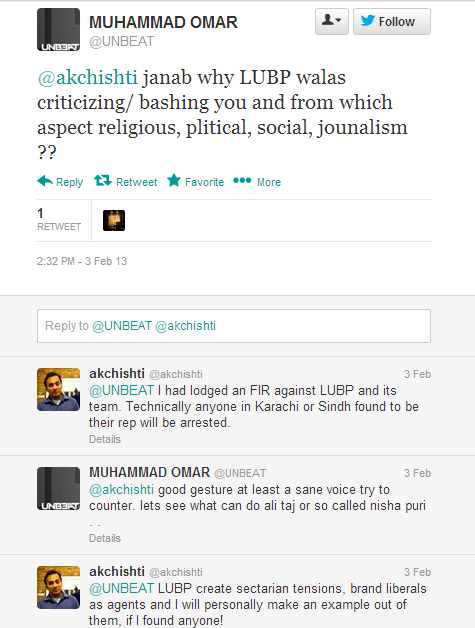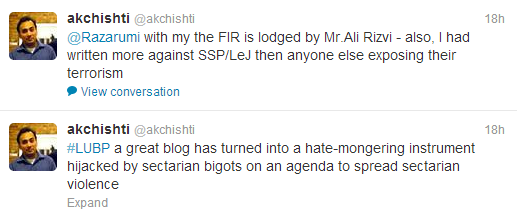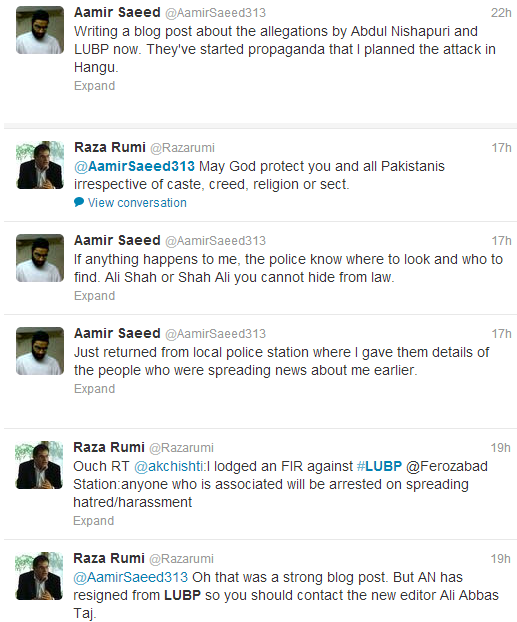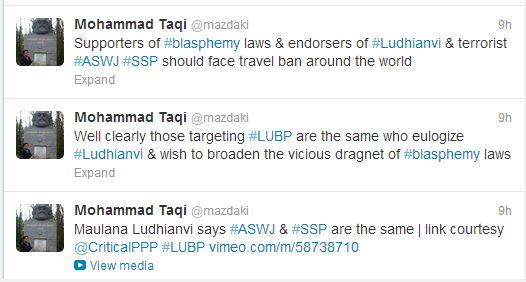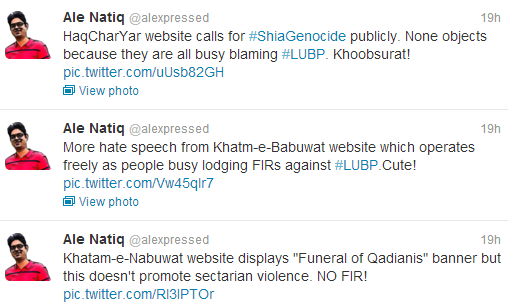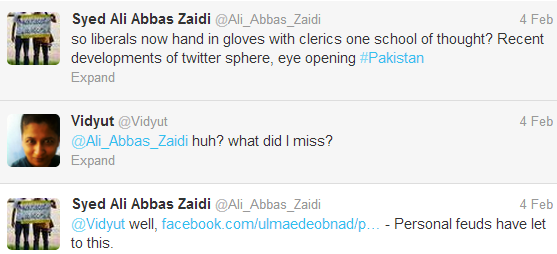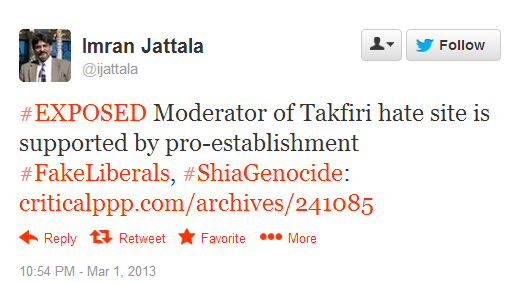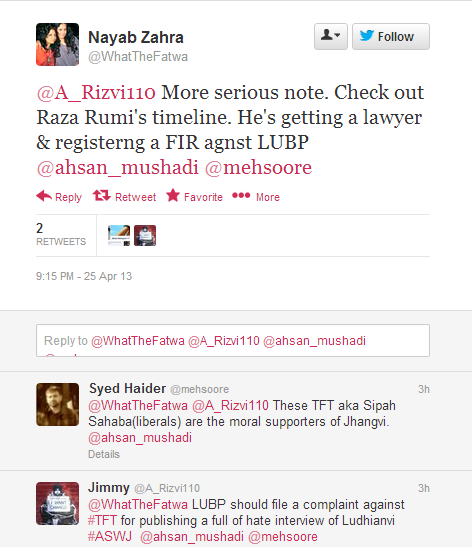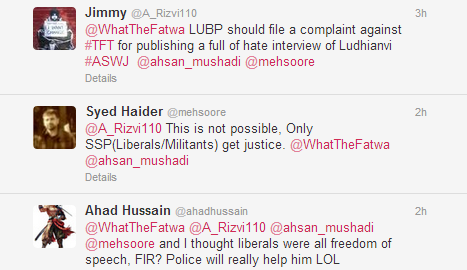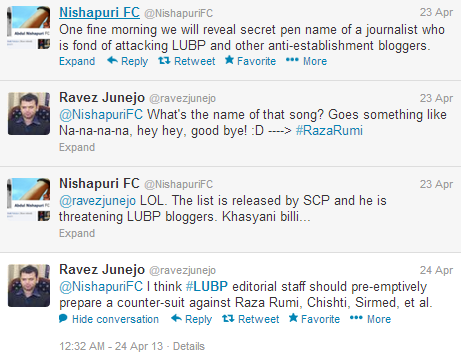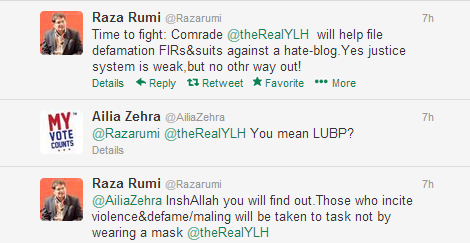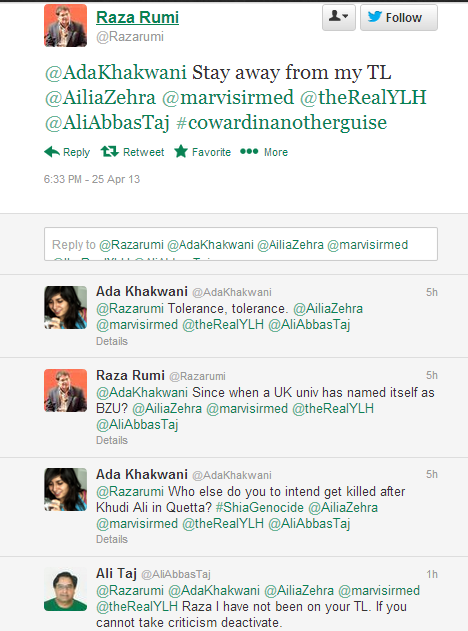 And now an Uncle Tom of Shias in service of Raza Rumi and Najam Sethi: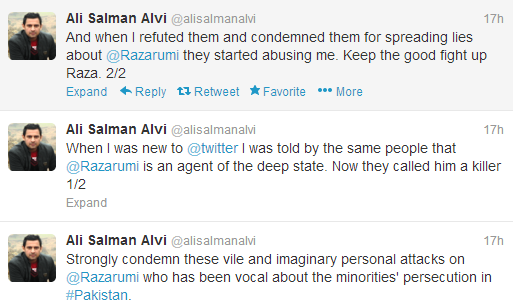 Comments
comments