The archaeology of how Saudi Arabia subcontracted Punjab to Najam Sethi – by Mahpara Qalandar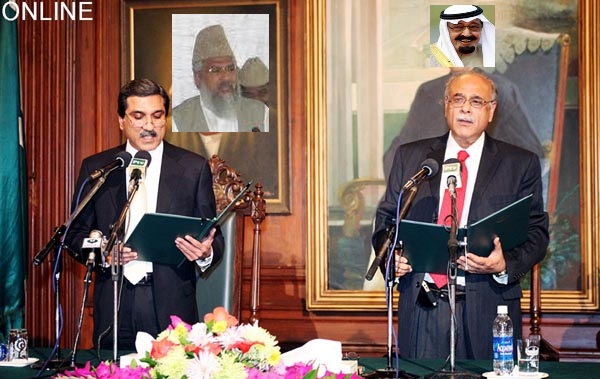 Since his youth, Najam Sethi has meant everything to everybody. He began his political career as a 'rebel' supporting the Baloch freedom-fighter against the Pakistan army. Through his own bragging and a cabal of courtiers like Ejaz Haider and Raza Rumi, he has built a narrative about himself which has shown him to be a liberal activist-intellectual. But he has never told the secret of his immense success as a publisher and a journalist. Coming from a modest middle class family, he is a multi-millionaire. The process, the acts, and the steps which turned him into a multi-millionaire are absent from the (auto)biographical legends woven around him – barring a recent column by veteran journalist Nazir Naji. https://lubpak.com/archives/255111 But here is what actually happened.
In 1973, Najam left London to join the Baloch freedom fighters. He stayed with them for one year learning their warfare tactics, language, and whereabouts of their hideouts. In 1974, he left his comrades telling them he would be more useful raising funds for their cause in Karachi. Yes, in Karachi! Why would one raise funds for the Baloch separatists in Karachi where no one was in sympathy with them? Why not return to London from where he could operate openly and could have gone all over the world to raise the funds? https://lubpak.com/archives/60154
Here is the answer: 10 months after going 'underground' in Karachi, Sethi was 'arrested' by the Military Intelligence. Within 6 months of his 'arrest' the all the Baloch militant leaders were captured and/or killed by the Pakistan army death squads in their secret hideouts.
(Read veteran journalist and former BBC boradcaster Asif Jilan's account of Najam Sethi: https://lubpak.com/archives/256617)
This mission accomplished, the great Sethi suddenly found himself a successful journalist and publisher. Soon he was a millionaire. What a story of a 'freedom fighter' who began his fighting career in secret hideouts away from the hustle and bustle of the civilization, but decided to live in the largest city of Pakistan to 'help' his 'cause'!
After securing his future, Najam Sethi was now the voice of reason. He was in the good books of the Pakistan Army, but he needed more credentials. Thus a fixed match (Noora Kushti) was played out in 1998. Nawaz Sharif had him arrested on treason charges. Once again he won the liberal hearts; most of those liberals heart hated him for betraying the Baloch. The American media found a darling who was a 'campaigner' for India-Pakistan friendship. Benazir had to be impressed too because the United States would not have liked if she had called Sethi's bluff.
Then came General Musharraf. He impressed the general too by joining his cause of the 'enlightened moderation'. Then came the PPP government after Benazir's assassination. He won the PPP too by winning Salmaan Taseer's heart and became The Daily Times' founding-editor. Having achieved this goal, the next target was to win over the Lakhani Group. So, Sethi became an advisor to the Group's Express Tribune. Once Dunya TV Channel was established by the rightwing Mian Amir, an ally of General Musharraf, Sethi joined it as a political commentator. The Dunya channel was and is still known as the ISI channel for its shameless defense of the notorious and criminal ISI. And Sethi was the star of Dunya on account of his analyses in which he made predictions based upon the information fed by the ISI and the Military Intelligence (MI).
One year with Dunya, and the State Department in Washington summoned Mir Shakeel, the owner of the Islamofascist Jang-Geo Media Group, and Sethi where it was decided that he would join the Mir's media empire. (This news was broken by LUBP three months before he joined the Group.)
Thus Sethi had worked his way to the pinnacle of Pakistan journalism by pleasing everyone. His profile became very high because only he could tell what was going to happen to the so-and-so politician because he was provided the inside information by his masters, handlers, and contacts in the intelligence agencies and the State Department.
Then came the moment when a journalist with liberal credential was needed to the Islamofascist House of Saud to who could give legitimacy to its dirty work of the Shia Genocide in Pakistan. The likes of Ansar Abbasi and Javed Chaudhry were too infamous for their links to the Sipah-e-Sahaba (ASWJ/LeJ Deobandi militants) to be trusted with the task. Thus the ASWJ/LeJ contract to kill the Shias had to be expanded and legitimized. Sethi was too willing to do the bidding. He first brought Mullah Ludhianvi Deobandi, the head of the ASWL/LeJ, on his Geo talk show (Aapas ki Baat) and gave him a free hand to demonize the Shias.
Sethi was criticized on the social media, but he had other plans. He defied everyone and published yet another notorious interview with Ludhianvi in his Friday Times in which he practically called for a Shia holocaust. Sethi defied the world because he wanted to prove to the Saudi establishment in Riyadh and the Saudi lobby in Washington D.C. that he was the man to deal with and to be trusted with any task. https://lubpak.com/archives/252959
Thus, Punjab was subcontracted to Sethi as its caretaker chief minister. The main term of his subcontract is to make sure that ASWJ/LeJ candidates are not debarred from contesting elections on constitutional or legal grounds. In fact, they face disqualification because they have been calling for the destruction of the Shias, Christians, Ahmadis, and Sunni Brelvis. But Sethi will make sure they get through the nomination process. Then he will make sure that through the Punjabi bureaucracy, pre-poll rigging is done smoothly. More importantly he has been tasked to repeat his magic performance as caretaker minister in 1997 when he reduced PPP to only 17 seats by pro-poll and polling-day rigging in favour of Nawaz Sharif by ensuring PML-N a landslide victory in the Punjab province.  Thus, Sethi's major task is to ensure smooth transition to Saudi-backed, pro-Taliban, pro-Wahhabi Nawaz Sharif's government in the Punjab and entire Pakistan. This is also discussed by senior journalist Nusrat Javeed in his column in daily Express: https://lubpak.com/archives/255221
Sethi's wife Jugnu Mohsin is a Shia. But she is a Yazidi Shia just like Ejaz Haider and Nasim Zehra. Many naïve Shias think that his Shia wife can be good for them. But the job of Sethi the subcontractor is to facilitate the spilling of the Shia blood. For the road to power and glory lies worming one's way through Shia corpses.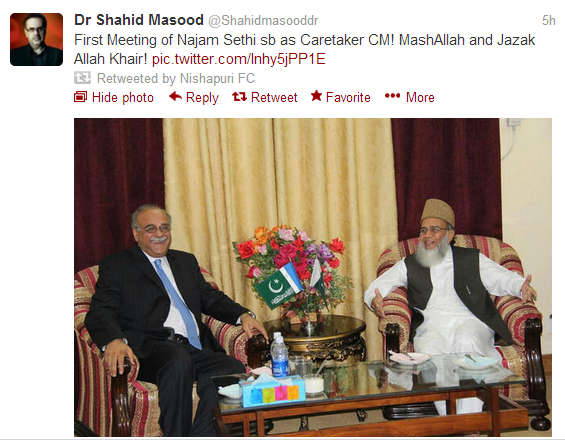 Comments
comments