#ShiaGenocide: Death threats to Shia Muslims in Lahore by ASWJ Deobandi terrorists – Express Tribune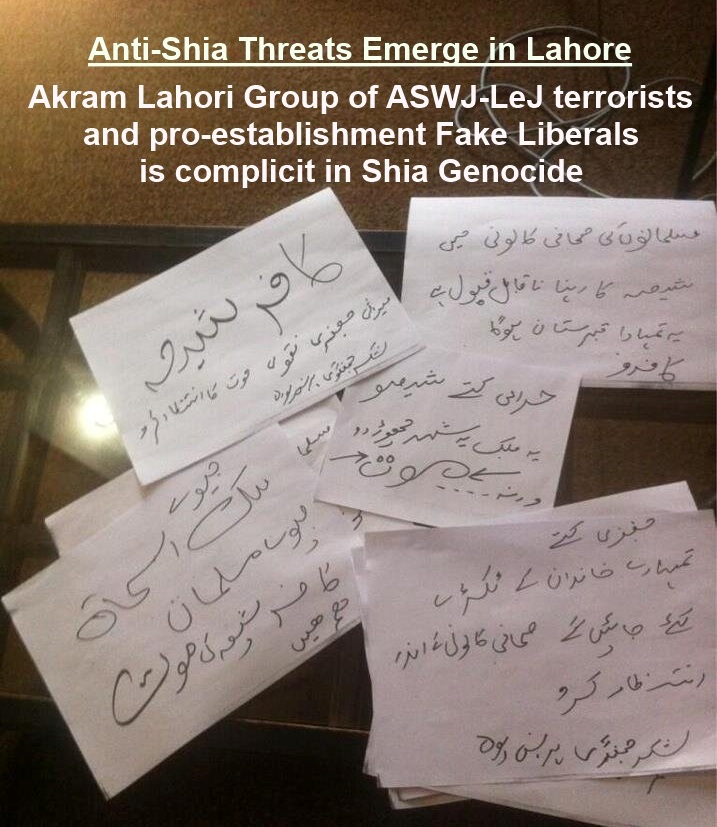 LAHORE: After ASWJ-LeJ's Takfiri terrorists' attacks against Shia Muslims in Karachi and Balochistan, the Shia community in Lahore is getting threats, The Express Tribune has learnt.
Hand-written pamphlets carrying derogatory remarks against the community and its leaders and threats are being dropped in Shia homes in the city. Wall-chalking nearby declares Shias kafir (infidel). The pamphlets have been ostensibly issued by the banned Deobandi outfit Lashkar-i-Jhangvi (LeJ, currently operating as Ahle Sunnat Wal Jamaat ASWJ) which claimed responsibility for the Quetta killings.
Shias have started taking the threats more seriously after a Shia doctor (Ali Haider) and his 11-yr old son were shot in Lahore a few weeks back.
In the last few months, noted Shia professionals haver been target killed by ASWJ-LeJ terrorists in Lahore, Peshawar and other areas of Pakistan.
Wall-chalking in Lahore carrying messages against Shias has appeared outside the house of photo journalist Azhar Jafri. Pamphlets threatening him and his family with a deadly attack have also been dropped at his house.
Jafri has filed an FIR with the Harbanspura police.
Talking to The Express Tribune, he said a bundle of pamphlets inscribed with life threats and derogatory remarks against Shias and their leaders had been dropped at his house. He said he had approached Operations DIG Rai Tahir with his complaint, but police had only arrested and then released three labourers working at his under-construction house.
A few weeks ago, Marvi Sirmed, a seemingly liberal NGO-activist based in Islamabad, who also happens to be a niece of Lashkar-e-Jhangvi's co-founder Akram Lahori Deobandi, was seen threatening Shia activists and professionals, providing details of their families to a pro-ASWJ Deobandi cleric. Pro-establishment fake liberals are harassing Shia activists because they do not allow them to paint Shia genocide at the hands of State-backed Takfiri Deobandi militants as Sunni-Shia sectarian or Hazara specific ethnic violence. Shia activists in social media have been advised by their community leaders to not share their personal details with anyone in order to avoid harassment and violence by Akram Lahore group of ASWJ terrorists and pro-establishment fake liberals.
Qaisar Abbas, a resident of Imamia Colony, Shahdara Town, says that two days back, someone dropped a pamphlet carrying death threats at his home. He said he and his family were quite scared.
President of Tehreek-i-Nifaz-i-Fiqh-i-Jafria, Lahore, Shahzada Ghulam Hussain says that terrorists have allies in the government and intelligence agencies. He said the whole Shia community was under threat. He said he had advised his community to remain vigilant and stop their children from going out of houses unnecessarily.
Source: Adapted with minor changes from The Express Tribune, March 9th, 2013.
Comments
comments