Will Marvi Sirmed act as bridge between PPP and Lashkar-e-Jhangvi? – by Shazia Najmi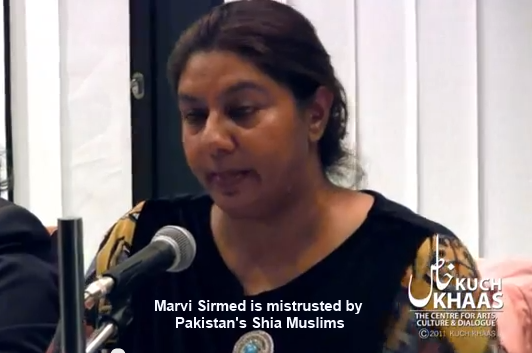 Related post: Marvi Sirmed, a traitor to liberal causes in Pakistan – by Rusty Walker
Marvi Sirmed and other fake liberals encourage Deobandi moderator of anti-Shia LeJ hate site Ulma-e-Deoband
To call any Pakistani who is minimally human and decent related to Akram Lahori is the ultimate insult, by association. Akram Lahori along with Malik Ishaq and Riaz Basra created Lashkar-e-Jhangvi (known as the Accursed Three) which has been carrying out the Shia genocide in Pakistan. https://lubpak.com/archives/242131
Unfortunately, Marvi Sirmed also PUBLICLY cast her support for LeJ by supporting a pro-Malik-Ishaq cleric against anti-establishment bloggers. Thus for her, it is not just guilt by association but active collaboration with LeJ.
One would assume that, to call Marvi Sirmed (a self-styled champion of liberalism in Pakistan) a niece of Akram Lahori will drive her mad with anger given her rants and mad reactions over calling her mild names (see below). But see how meek, even friendly, she presents herself when asked: Are you a niece of Akram Lahori? See the exchange below: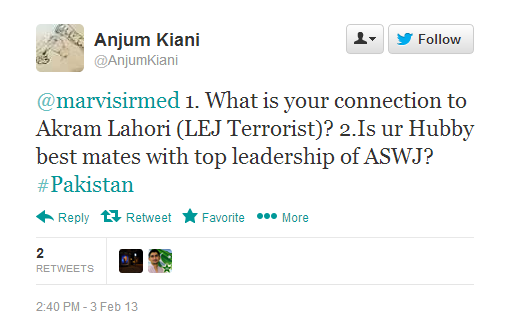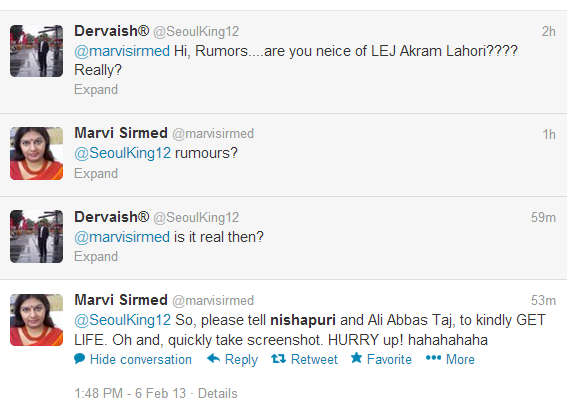 "Get Life" (without even the interjection mark), she says and that is all. This is such a lyrical, sisterly two-word message for, of all the people, Abdul Nishapuri, the former editor-in-chief of LUBP blog!
Now rewind a little and go back to a couple of weeks when to an exchange, which was so harmless compared to the allegation of one's being Akram Lahori's niece, Marvi Sarmid tried to destroy not just Abdul Nishapuri but his entire life. See the exchange below: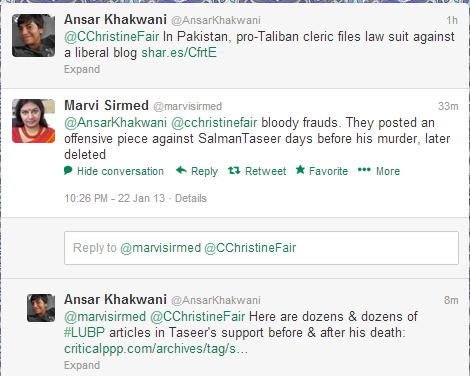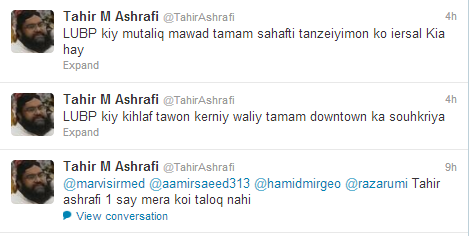 Before she subtly threatens to give details of the residential locations of members of Abdul's family, she uses an extremely vulgar language. Translation from Urdu: "I will rip his [Abdul's] rectum apart and give it in his own hands!"
Now this is how our educated, enlightened (fake) liberals speak!
Next, she subtly tells Tahir Ashrafi (a Deobandi cleric known for his role in the release of LeJ terrorist Malik Ishaq) that she has done some "homework" and has been able to locate Abdul's family (revealing location of defenceless women and children). It was based upon Marvi Sirmed's threat to have Abdul's family physically eliminated that he resigned from the editorship of this blog. In his letter of resignation, he has pointed out that if anything happens to any member of his family, Marvi Sirmed should be considered to have been involved in it. Technically, this serves an FIR (First Information Report) with the police. (Read his letter: https://lubpak.com/archives/240095, apparently other tangible evidence in this regard too has been located and safely archived.)
Now the question is: Why has Marvi Sirmed suddenly decided to become a dove? Why would a woman who goes mad with anger for being called a "fake liberal" say nothing when called a niece of the most despicable murderer of Pakistan?
The answer lies in the grapevine that the Pakistan Peoples Party (PPP) has decided to give her a women's quota ticket for the Punjab assembly. Allegedly, the decision has been made upon a direct request (pressure?) by a pro-establishment Deobandi cleric, while the lobbying was done by PPP's federal minister Qamar Zaman Kaira who himself is alleged to have been elected through a local political alliance with Sipah-e-Sahaba (ASWJ-LeJ). https://lubpak.com/archives/246875 In Islamabad's Jiyala circles, Marvi Sirmed and some of her close comrades (one of them heads a pro-establishment think tank) are known for supporting PMLN in the day and PPP during the night. In other words, PPP-Shahbaz-Sharif-Group!
This sounds unbelievable, but the PPP has always been a cynical party since the martyrdom of Benazir Bhutto. The present PPP-led government has overseen the worst anti-Shia violence in Pakistan's history proudly committed by Lashkar-e-Jhangvi. The Nawaz League has released Malik Ishaq, may release Akram Lahore any time soon, and has formally made electoral alliance with ASWJ (new name of banned terrorist group Sipah-e-Sahaba) which is the political face of Lashkar-e-Jhangvi. The PPP seems to be doing the same. Shows the ultimate power of Takfiri Deobandi militants and their fake liberal affiliates in Pakistan.
Despite having been explicitly asked the question about her relationship with Akram Lahori, Marvi Sirmed decided not to deny it. What does this mean?
Marvi Sirmed has another feather in her crown. Her father Maulvi Anwar was Director General of the Punjab Information Department during General Zia's regime. Imagine what tales he must have woven to glorify the Father of Islamofascism in Pakistan, while spreading dirtiest of propaganda against the PPP and the Bhutto family.
As a progressive and liberal individual, I understand that being related to Akram Lahori is not a crime but sharing his ideology and tactics of physical harassment of people based on difference of opinion is a cause for concern. Finding common cause with a Deobandi cleric against a liberal blog and its various editors and authors is exactly the reflection of the ideological thought process that will make her uncle Akram Lahori, the founder of LeJ, very proud. Moreover, outing the private and confidential life of any individual and putting women and children in harm's way is unethical and shows the LeJ mentality. Even after Abdul's resignation and the takeover of LUBP by completely new team, Marvi Sirmed continues to suffer from an ongoing paranoia, alleging various bloggers to be Abdul's avatars or friends and thus further trying to place Abdul's family in harm's way. http://nishapurifc.wordpress.com/2013/01/30/endless-paranoia/ Someone with such a close association with LeJ founder outing a blogger's family's whereabouts raises serious concerns about their motives which characterize threatening with physical violence or elimination.
As a concerned Pakistani citizen and a Jiyala of Shaheed Benazir Bhutto, I demand that the decision to award a ticket to Marvi Sirmed be withdrawn. Giving a ticket to a woman of such dark credentials will be like honoring the murderers of Shaheed Benazir Bhutto who died fighting the likes of Lashkar-e-Jhangvi. The PPP leadership must not undermine the basic philosophy of the party. The PPP is fundamentally a party for the oppressed. By promoting the likes of Marvi Sirmed it will be giving a human face to Lashkar-e-Jhangvi and insulting the thousands of Shia Muslims killed by the likes of Akram Lahori.
Shaheed Benazir Bhutto always used a term for the likes of Marvi Sirmed: Zia's Baaqiaat (remnants of General Zia)!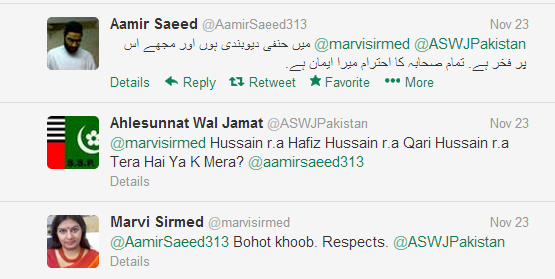 Comments
comments