LUBP condemns murder of Bangladeshi blogger, pen name Thaba baba, by Islamists and fake liberals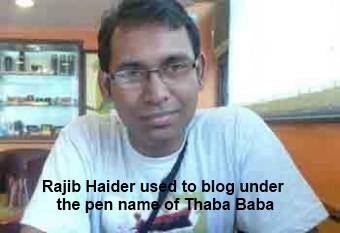 A Bangladeshi blogger who had been critical of the Islamofascist groups (Jamat Islami etc) responsible for Bengali genocide has been killed, prompting the protesters in Bangladesh to continue their round the clock sit-in vigil demanding death penalties for 1971 war criminals.
Rajib Haidar, 30, an architect and Shahbagh protest activist, was stabbed to death near his house at Pallabi in the capital.
He was a key figure in organizing the demonstrations and wrote a blog devoted to them under the pen name Thaba baba. In his life, his struggle against fanatic Muslims was ridiculed by Islamists and their fake liberal comrades. His pen name was used to ridicule him as a fake identity. According to his comrades on Twitter, one fake liberal (an Islamist infiltrator posing as liberal) leaked his real identity to Islamist terrorists which led to his murder. He was attacked outside his home on Friday night after returning from a 100,000-strong rally in Shahbag Square.
Haider's family told reporters they believed he was stabbed to death for standing up to the Islamist Jamaat-e-Islami party and drawing people to the protests. Police said they had detained five suspects. "Haider's death has rekindled our spirits," said Nasiruddin Yusuf, a film-maker. "It will not go in vain."
The killing prompted the protesters to go back to their 24-hour movement instead of seven-hour programme which they had declared hours before the death.Tens of thousands of Bangladeshi protesters, angered by the killing of one of their leaders, poured back onto the streets of the capital on Saturday to demand death penalty for those found guilty of war crimes in the 1971 independence conflict.
Haidar's death came hours after violence at southeastern Cox's Bazar district that broke out after JI activists turned violent following Friday prayers to protest their top leaders' trial for war crimes. JI and their student affiliate Islamic Chhatra Shibir were trying to wage counter protest attacking or torching vehicles and attacking policemen apparently under a hit ad run strategy to halt their stalwarts' ongoing trial.
The violence saw deaths of at least 14 people including Haidar, who apparently came under wrath of the Islamists for his internet blog campaign demanding ban on the JI politics and boycott of the health, banking and other services as part of the youngsters "non-political and non-partisan" movement.
"We announce from here, we will not go back home until the war criminals are hanged, his (Haidar's) assailants are exposed to justice and politics of Jamaat and Shibir is banned," said a leading organiser of the Shahbagh protest.
"The young generation is shining a light on the spirit of the liberation war we fought more than 40 years ago," said Dhaka University professor Abul Barakat. "We couldn't achieve all the dreams of the war. Now, no one can stop them."
LUBP condemns Raijb Haidar's murder. In the past few months, several Shia, Sunni, Ahmadi etc bloggers in Pakistan have been threatened by right-wing thugs of ASWJ-LeJ and Akram Lahori group of pro-establishment fake liberals.
Recent target killings of Shia Muslims in Peshawar, Lahore, Karachi and Quetta suggest that certain pro-establishment fake liberals are providing information about families of anti-establishment Shia activists to Takfiri Deobandi terrorists of ASWJ-LeJ. According to a report, Akram Lahori's fake liberal niece has been tasked to collect data about Shia, Sunni Barelvi, Ahmadi bloggers and place their families in harm's way. https://lubpak.com/archives/242737
Marvi Sirmed mourns murder of a pen-name blogger in Bangladesh, however, her attitude to Shia pen-name bloggers  in Pakistan remains in question.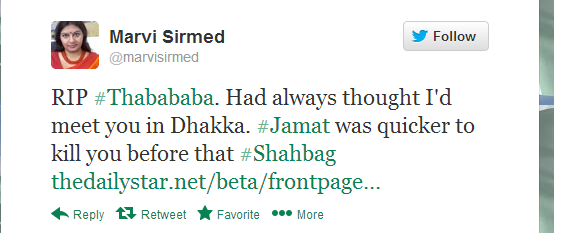 Recently, Pakistani Shia Hazara community lost a blogger Irfan Khudi Ali who was killed by Akram Lahori group of Lashkar-e-Jhangvi in Quetta.
A few days ago, Dr. Ali Haider, leading eye surgeon in Lahore and his 11-yr old son were recently killed in Lahore as a result of joint operation by LeJ-ASWJ terrorists and fake liberals against Shia professionals and activists.
Source: http://articles.timesofindia.indiatimes.com/2013-02-16/south-asia/37132649_1_protest-deaths-war-criminals-nationwide-general-strike
http://articles.timesofindia.indiatimes.com/2013-02-17/south-asia/37144356_1_war-crimes-islamist-leader-demand-death-penalty
Comments
comments