Government data: From 2008 to 2012, 420 non-Hazara Shias, 338 Hazara Shias killed in Balochistan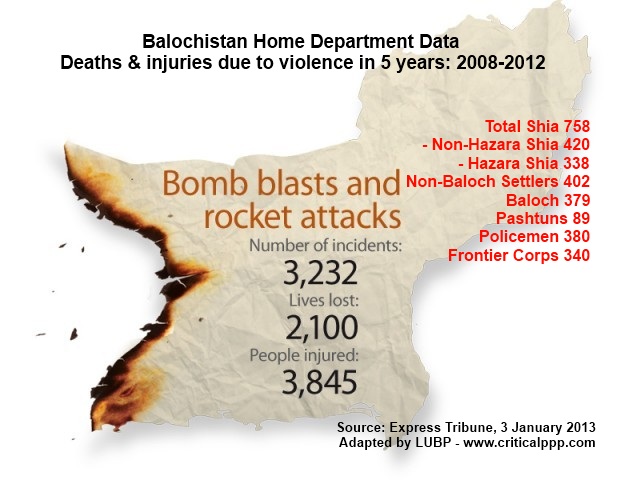 Related posts: Shia Genocide Database: A detailed account of Shia killings in Pakistan since 1963 https://lubpak.com/archives/236909
We kill Hazaras not due to their Hazara ethnicity, but due to their Shia faith – Statement by Sipah Sahaba
In 2012, total 1450 Shia Muslims killed by Deobandi militants in Pakistan
https://lubpak.com/archives/236793
Source: Adapted from Express Tribune
The past five years (2008-12) have been difficult for Balochistan according to statistics revealed by the home department. Violence in the province has claimed over 2,100 lives and left 3,845 injured in over 3,232 incidents of bomb blasts and rocket attacks in this period. Amidst rising sectarian strife and targeted killings, the government's inability to deal with the situation appears more jarring than ever.
Throughout the Balochistan province, sectarian killings (Shia genocide) remain the biggest challenge. From 2008 to 2012, 758 members of the Shia Muslim community were killed by Deobandi militants (Sipah Sahaba Taliban) in 478 incidents. Of these, 338 victims belonged to the Shia Hazara community and 420 belonged to non-Hazara Shia communities (Baloch, Pashtun, Punjabi, Muhajir etc), indicating that Shia Muslims of all ethnic backgrounds remain the prime targets of target killings in Balochistan.
The province has become a base for a decade-long insurgency as well as a killing field for various sects. Banned Deobandi outfit Lashkar-e-Jhangvi (aka Sipah Sahaba or ASWJ) allegedly keeps targeting Shias throughout Balochistan. Accordingly, officials have beefed up safety measures from Quetta to Taftan and are even planning to hold meetings with Iranian authorities to discuss possible arrangements to facilitate the movement of Hazaras from Marriabad to Hazara Town and Hazar Ganji.
"The Shia community, the Shia Hazaras in particular, remains the prime target of violent groups in the province," Balochistan Home Secretary Captain (retd) Akram Durrani told The Express Tribune when asked about these statistics. "We are struggling against militants, but the situation is not as bad as [what is] being reported." He added that the increasing trend of violence in Balochistan is alarming, regardless of the disparity between the reported numbers and the actual happenings on the ground.
It may be noted that Shia Hazaras total population in Quetta is estimated to be around 500,000. Total 338 Shia Hazaras killed in a population of 500,000 (Hazara population in Quetta) makes a death rate (due to violence) of 0.06 percent. In contrast, non-Hazara Shia population in Quetta is estimated to be around 20,000. Total 420 non-Hazara Shias killed in that population gives a death rate of 2.1 percent. In other words, non-Hazara Shias are at least three times more likely to be target killed in Balochistan than Hazara Shias. While Shia Hazara are indeed vulnerable due to their Mongolian racial features, non-Hazara Shias remain vulnerable too due to their language (Urdu, Punjabi, Gilgiti), and lack of social support networks due to very low numbers of non-Hazara Shias in Balochistan.
Here is a list of non-Hazara Shias killed in Balochistan: https://lubpak.com/archives/64797
The current report effectively puts to rest the theory that Shia genocide in Balochistan is a Hazara specific ethnic issue. It may be noted that a Hazara ethnic party, allegedly involved in human smuggling of Shia Hazaras, uses the Hazara ethnic card in order to exploit Hazara youth luring them to illegal and hazardous migration expeditions to Australia and Europe. https://lubpak.com/archives/229441 The Hazara ethnic killing discourse also suits those agencies and media persons who want to deflect the attention from country-wide Shia genocide taking place in all parts of Pakistan at the hands of Deobandi militants. https://lubpak.com/archives/226239
The Home Department's findings also uncover staggering 'kill and dump' statistics. Around 570 dead bodies have been found strewn throughout the province, with 370 of the victims belonging to the Baloch community and 89 to the Pashtun community. The rest remain unidentified to this day.
Further still, over 402 non-Baloch have been killed in 498 incidents, and over 486 injured in multiple attacks.
Not surprisingly, security personnel have also suffered great losses. As many as 340 Frontier Corps personnel and 380 policemen have lost their lives in the line of duty, and 508 security officials in total have been left wounded.
Analysts say that despite the staggering figures, the provincial government is yet to review regulations pertaining to the movement of pilgrims under the Travel Agency Act of 1976. In one instance, police decided to refer the investigation of 'sensitive cases' to the Crime Investigation Department after the arrest of alleged terrorist Sher Dil of Lashkar-e-Jhangvi, also known as Babu, in a bid to curb violence in Balochistan.
Sectarian target killings (Shia Genocide)
Number of incidents: 478
Number of non-Hazara Shias (Baloch, Pashtun, Punjabi, Sindhi etc) killed: 420
Number of Shia Hazaras killed: 338
Total number of members of the Shia community killed: 758
Loss of security personnel
Frontier Corps personnel killed: 340
Policemen killed: 380
Security officials wounded: 508
'Settlers'/ Non-Baloch target killings
Number of incidents: 498
Number of those killed: 402
Number of those injured: 486
'Kill and dump'
Total number of bodies found in sacks: 570
Number of victims from the Baloch community: 370
Number of victims from the Pushtun community: 89
Unidentified victims: 111
Comments
comments