Related post: Government data: From 2008 to 2012, 420 non-Hazara Shias, 338 Hazara Shias killed in Balochistan https://lubpak.com/archives/236909
According to Shia genocide database compiled by LUBP based on various activist groups and websites, 630 Shia Muslims were target killed by Takfiri Deobandi militants of Sipah Sahaba Taliban during 2012. https://lubpak.com/archives/132675
It may be noted that Shias of all ethnic backgrounds including Pashtun, Muhajir, Sindhi, Hazara, Punjabi, Baloch, Gilgiti etc have been killed by Deobandi militants who are also killing moderate Sunni Muslims, Ahmadis and Christians in Pakistan.
In total, at least 4700 people were killed by Deobandi militants in Pakistan in 2012 (except last week of the year).
http://tribune.com.pk/story/486991/victims-of-terrorism-2012-read-them-if-you-can/
If we deduct the figure of 630 Shias killed (already recorded in the LUBP database), remaining = 4070. Based on Shia population in Pakistan, approximately 20% of the 4070 are Shias = 820 (approx).
In other words, total number of Shias killed by Deobandi militants in 2012 are = 630 (direct target killing) + 820 (i.e., 20% of ordinary Pakistanis killed) = 1450
Province wise percentage of Shia genocide is as follows:
Balochistan: 30% (both Hazara & non-Hazara Shia),
Sindh: 26%
FATA 14%
Punjab: 12%
Gilgit Baltistan 11%
Khyber Pakhtunkhwa 7%
In the last few decades, total number of Shia Muslims killed in Pakistan now exceed 21,000.
Source: LUBP Research – www.CriticalPPP.com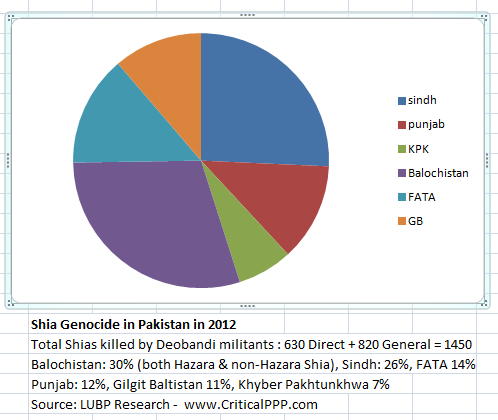 05-Jan-12 Balochistan Quetta Target killing 1 0 Ghulam Abbas Bangash, ASI Police, 35. The incident occurred on 5th January 2012, at Nawa kali, in front of Labour colony gate. Originally of Hangu. –
05-Jan-12 Gilgit-Baltistan Gilgit Target killing 1 0 Ibrahim Astori , DSP Police. Attacked at 06:30 P.M near Nagarel Kashrote link road Biltistan, near his house. He was the resident of Astore district and was involved in many cases like case of Shaheed Asad Zaidi in which he had to record his statement in the court in the next few days. He was DSP Investigations –
05-Jan-12 Punjab Lahore Target killing 1 2 Mashkoor Hussain
07-Jan-12 Gilgit-Baltistan Gilgit Murder attempt 0 1 Hameed Karim
07-Jan-12 Khyber Pakhtunkhwa Peshawar Target killing 1 0 Dr Jamal
08-Jan-12 Sindh Karachi Failed bomb attack 0 0 – –
08-Jan-12 Sindh Karachi Murder attempt 0 2 Ghulam Raza, 35, his aunt.
09-Jan-12 Sindh Karachi Target killing 1 Kalb-e-Abbas Rizvi, 50
12-Jan-12 Gilgit-Baltistan Gilgit Attack on house 0 0 Sabir Hussain
12-Jan-12 Khyber Pakhtunkhwa Peshawar Murder attempt 0 1 Muhammad Shakil
12-Jan-12 Sindh Karachi Target killing 1 0 Syed M. Mushtaq Zaidi, 50
15-Jan-12 Punjab Khanpur, Rahim Yar Khan Bomb attack 34 50 "Name of some of the martyrs are: 1- Ghulam Abbas 2- Faiz Hussain 3- Abad Hussain 4- Zahid Abba 5- Asad Abbas 6- Mureed Hussain 7- Akhter Hussain 8- Mohammed Ashaq
9- Khezhar Hayat 10- Amjad Hussain 11- Sadam Hussain 12- Abad Hussain 13- Aatif 14- Adnan 15- Faisal Hayat 16- Tahir Abbas 17- Syed Hussain 18- Qurban Hussian etc" Names of some of the innjured persons are as follows: 1- Majjad 2- Ghulam Sarwar 3- Arasha 4- Mubeen 5- Muzzamil 6- Umear din 7- Nadar 8- Farhan 9- Fedha 10- Asad ali 11- Ejaz 12- Jameel 13- Wahaid bux 14- Nadir hussain 15- Sabar hussain 16- Arshad ali 17- Mehboob alem 18- Sarkar hussain 19- Mehboob ali 20- Ali hussain 21- Riaz ahmed 22- Zeeshan 23- Sarfaraz 24- Abad parvaiz etc
15-Jan-12 Sindh Karachi Target killing 1 0 Ghulam Raza, 35
16-Jan-12 Punjab Khanpur, Rahim Yar Khan Failed bomb attack 0 0
16-Jan-12 Punjab Rahim Yar Khan Bomb attack 1 0 Ghulam Qadir
16-Jan-12 Sindh Karachi Target killing 1 0 Muhammad Pasha, 25
17-Jan-12 Balochistan Hub Target killing 1 0 Moosa Khan
18-Jan-12 Balochistan Quetta Target killing 1 0 Nisar Ahmed, 50
19-Jan-12 Sindh Karachi Target killing, attack on house 1 0 Ehteshanm, 16
20-Jan-12 Punjab Lahore Judicial terrorism 0 0
22-Jan-12 Punjab Jhang Attack on Shia procession 0 7
22-Jan-12 Punjab Okara Attack on Shia procession 0 0
23-Jan-12 Sindh Karachi Murder attempt 0 1 Asif Karbalai
23-Jan-12 Sindh Karachi Target killing 1 0 Ali Hussain, 20
24-Jan-12 Sindh Karachi Attack on Mosque / Imambargah 0 0
25-Jan-12 Balochistan Quetta Target Killing 3 Wilayat Hussain, 50, FIA inspector; FIA inspector; Abid Ali Nawazish, 35, Actor; Anwar Ali, 60, poet
25-Jan-12 Sindh Karachi Target killing 3 1 Shakeel Jafri; Kafeel Jaffri; Badar Muneer Jafri (all three were lawyers) Babar (lawyer)
28-Jan-12 Sindh Karachi Target killing 1 0 Dr. Jaffer Mohsin, 55
30-Jan-12 Sindh Karachi Target killing 1 0 Taseer Abbas Zaidi, 25
31-Jan-12 Khyber Pakhtunkhwa D.I. Khan Target killing 1 1 Malik Ghulam Ahmed Hussain, 38 Tabaruk Hussain
31-Jan-12 Sindh Karachi Target killing 1 0 Naeem Ali, 23
01-Feb-12 Sindh Karachi Attack on Imambargah 0 1 Jafar, Security Guard.
06-Feb-12 Punjab Lahore Attack on Shia students 0 1 Asad Abbas
08-Feb-12 FATA Sadda, Kurram Attack on house 0 0
09-Feb-12 Sindh Karachi Target killing 1 0 Muhammad Asif
10-Feb-12 Sindh Karachi Murder attempt 0 1 Takhliq Haider Naqvi, 60, lawyer
11-Feb-12 Punjab Attock Murder attempt 0 1 Nasir Abbas, 45
12-Feb-12 Sindh Karachi Murder attempt 0 1 Dr. Najmi
13-Feb-12 Sindh Karachi Murder attempt 0 0
13-Feb-12 Khyber Pakhtunkhwa Hari Pur, Abbottabad Target killing 2 0 Azmat Abbas, Faizan
14-Feb-12 Sindh Shahdad Kot Attack on Shia Mosque 0 0
15-Feb-12 Sindh Karachi Target killing 1 0 Maulana Sadaqat Hussain, prayer leader
16-Feb-12 Sindh Karachi Target killing 1 0 Kazim Ali, 22, tutor of small children
17-Feb-12 FATA Parachinar Suicide Attack 46 40 42 men killed in the Parachinar blast, which are: Johar Ali, Syed Qaiser Hussain, Ali Raza, Yaqoob Ali, Murtaza Jamal, Shaukat Hussain, Muzahir Hussain, S Sabir Hussain, Jan Agha, Shujaat Hussain, Hidayat Hussain, S Ishtiaq Hussain, Habib Hussain, Jabir Hussain, Jamil Hussain, Saffar Ali, Irfan Ali, Ghulam Hussain, Haider Abbas, Bahar Hussain, Rasheed Hussain, Wajid Hussain, Manzoor Ali, Qaiser Hussain, S Gulzar Hussain, Masoom Shah, Noor Alam Khan, Ikhtiyar Hussain, Rashid Ali, Kamran Ali, Mushid Hussain, Zeeshan, Qasier Ali, Shujaat, Kamran Ali, Abid Hussain, S Arif Hussain, Wahab Ali, Syed Muhammad, Turab Ali, Shahid Hussain and one unknown.
17-Feb-12 Sindh Karachi Attack on house 0 0
21-Feb-12 Sindh Qambar, Larkana Attack on Shia mosque
24-Feb-12 Sindh Sukkur Attack on Shia prisoners in Sukkur Jail by SSP prisoners 1 6
27-Feb-12 Punjab Alipur Target killing 1 0 Allama Saqlain Naqvi
28-Feb-12 Gilgit-Baltistan Kohistan Massacare – bus , identity card checked for sect 19 Raza Ali, Hussain Ali, Karim Abbas, Anees Hussain, Kaleem Abbas, Hashmat Changezi, Mohsin Abbas, Muhammad Abbas, Mubashir, Idrees Ali, Owais Husain, Kaleem Abbas (of Barmas), Farhan Ali, Faraz Hussain, Tehseen Abbas, Saqalain, Asad Zaman, Ambareen and Fatima.
29-Feb-12 Sindh Karachi 1 2
29-Feb-12 Gilgit-Baltistan Gilgit 1
01-Mar-12 Sindh Khairpur attack by SSP terrorists on Navid shah and 2 others 3
01-Mar-12 Sindh Ghotki attack on Maulana Ali, His guard Mashooq Ali injured 1
03-Mar-12 Punjab Chicha Watni SSP's attack on two Shia Muslims 0 0
04-Mar-12 Sindh Karachi Sajjad Hussain killed in Hussaini Hazara Goth 1 0
04-Mar-12 Sindh Ghotki SSP's attack on Shia mosque 0 0
06-Mar-12 Punjab Alipur SSP's attack on Shia mosque 0 0
07-Mar-12 Gilgit-Baltistan Gilgit Naveed Raza 1 0
10-Mar-12 Khyber Pakhtunkhwa D.I.Khan Dr Jalal 0 1
11-Mar-12 Khyber Pakhtunkhwa Peshawar Lt. Wajihullah of Kohat was killed in Peshawar 1 0
12-Mar-12 Sindh Sukkur Qalandar Bakhs (attaced in Sukkur prison by ASWJ terrorists) 1 0
12-Mar-12 FATA Kurram agency Peshawar to Parachinar van attacked by remot controlled bomb 2 15
13-Mar-12 Sindh Karachi Azfar Naqvi, 32, injured in SSP-ASWJ attack 0 1
13-Mar-12 Sindh Karachi Police constable Ghulam Abbas, 55, water pump area 1 0
15-Mar-12 Sindh Karachi Akmal Rizvi, 17, 1 1
16-Mar-12 FATA Kurram agency Attack on van 0 16
17-Mar-12 Punjab D.G.Khan Taunsa Sharif 1 1
18-Mar Balochistan Quetta Father and son, shopkeepers 2 0
18-Mar-12 Khyber Pakhtunkhwa Hangu Raziq Ali 1 1
21-Mar-12 Sindh Karachi Asif Ali, 22, attacked 0 1
23-Mar-12 FATA Waziristan Asghar Gulam (an FC soldier), his wife, 12 year old son killed, attack on his house 3 2
24-Mar-12 Sindh Karachi Shia Muslim Asad Rizvi injured 0 1
24-Mar-12 Sindh Jacobabad Attack on Shia mosque in Garhi Khairu 0 3
25-Mar-12 Sindh Karachi Two Shia lawyers killed 2 0
26-Mar-12 Sindh Karachi Basharat Hussain Zaidi 1
26-Mar-12 Balochistan Quetta Ejaz Hussain s/o Ghulam Hussain 1 1
26-Mar-12 Gilgit-Baltistan Gilgit Khushi Muhammad 1 0
28-Mar-12 Balochistan Bolan Jawad Ali 0 1
28-Mar-12 Sindh Karachi Syed Tahir Hussain Sajid of Nazimabad 1
29-Mar-12 Balochistan Quetta Attack on van at Spini Road 7 killed, 3 more killed by police firing on protestors 9
01-Apr-12 Gilgit-Baltistan Gilgit Shia youth Shoaib injured by firing in Kashrote 1
01-Apr-12 Sindh Karachi Manoor Rizvi, 40, attacked in Gulshan-e-Iqbal 1
03-Apr-12 Sindh Karachi Syed Asghar Hussain Jafari, attacked in his car, in Nazimabad 1
03-Apr-12 Sindh Karachi Naeem Abbas Naqvi of Rizvi Soicety, 35, Clearing agent, killed at Burns Road 1
03-Apr-12 Gilgit-Baltistan Chilas Over 200 Shia Muslims taken out of buses and killed, 6 buses burnt, two dozens kidnapped 40
03-Apr-12 Balochistan Quetta Firing on Shia Muslims taxi on Spini Road 1
03-Apr-12 Balochistan Quetta Firing at a medical store on Micangi Road Near Ghora Hospital 2
03-Apr-12 Sindh Karachi SSP Police Central Asim Qaim Khani's attack on Shia houses in Incholi
04-Apr-12 Sindh Karachi Nadir Ali 1
05-Apr-12 Sindh Karachi Ghulam Hussain, Aamir Abbas, Ghulam Abbas Shigri 3
06-Apr-12 Sindh Karachi Ghulam Abbas killed 1
09-Apr-12 Balochistan Quetta Shia-Hazaras killed in an attack on a shop on Prince Road 6
11-Apr Khyber Pakhtunkhwa D.I.Khan Naveed Hussain killed in custody of agencies 1
12-Apr-12 Balochistan Quetta Separate attacks by the same group on the same day on Shia-Hazaras on Qandhari Bazar, Archer Road and Liaquat Bazar Quetta 3 1
13-Apr-12 Balochistan Quetta Shia-Hazara man killed, another hurt, on Abdus Sattar Road 1 1
14-Apr-12 Balochistan Quetta Shia-Hazaras killed on Brewery Road 8
16-Apr-12 Balochistan Quetta Salman Ali killed on Cowary Road 1
17-Apr-12 Sindh Karachi 45 yr old Syed Imran Zaidi killed near Board Office 1
19-Apr-12 Sindh Karachi Syed Gulzan Hussain Killed 1
21-Apr-12 Balochistan Quetta 2 Shia-Hazaras, Boman Ali & Mohammad Hussain, killed on Brewery Road 2
25-Apr-12 Sindh Karachi Ali Shah Killed in Karachi 1
27-Apr-12 Sindh Khairpur Lashkar-e-Jhangvi attacked an Imambargah and injured 5 0 7
29-Apr-12 Sindh Karachi Shia youth Umair Kazmi injured 1
30-Apr-12 Sindh Karachi Ahsan Abbas and Zia Mehdi killed in Kareemabad. Close associate of Nohakhwan Nadeem Sarwar. In a separate incident, another Shia Nasir Ali also killed 3 1
01-May-12 Sindh Shahadatkot Shia notable Haji Shafqat attacked and hurt (passed away on May 9) 1
01-May-12 Balochistan Quetta Haji Mazhar killed on Kirani Road 1
02-May-12 Sindh Karachi Wasi Jaffery a Nohakhwan injured in attack. In another attack Sajjad Abbas was also injured in Abbas Town 2
03-May-12 Khyber Pakhtunkhwa Kohat Shia person Abdul Hussain abducted and decapitated 1
04-May-12 Sindh Karachi Syed Sibtain Naqvi killed in Orangi Town 1
04-May-12 Punjab Gujranwala Shia man Zulfiqar abducted and killed 1
06-May-12 FATA Parachinar 3 Shias injured in an attack on a bus nar Sadda 3
06-May-12 Balochistan Mastung A Shia Mohammad Ali, tyreshop owner killed 1
07-May-12 Khyber Pakhtunkhwa Hangu A Shia Sheraz Ali killed 1
08-May-12 Sindh Karachi A Shia Mirza Sarfaraz killed in Orangi 1
10-May-12 Punjab Jhang A Shia man and 12 yr old girl hurt 2
14-May-12 Pakistan Occupied Kashmir 1 Shia killed 5 hurt in an attack on a house 1 5
15-May-12 Balochistan Quetta 2 Shia brothers Mohammad Tahir and Mohammad Qadir killed, another hurt in an attack on Joint Road, near Passport Office 2 1
15-May-12 Sindh Karachi Mehdi Raza killed in Nazimabad 1
16-May-12 Balochistan Mastung Shia man Abdul Ghafoor killed 1
17-May-12 Balochistan Quetta 2 Shias killed in Quetta 2
18-May-12 Punjab Lahore Renowned educationist, literary critic and writer Dr. Shabihul Hasan killed 1
20-May-12 Sindh Karachi 65 yr old Manzoor Hussain killed 1
21-May-12 Sindh Shahdadkot Amanullah Haro injured in an attack 1
23-May-12 FATA Lower Kurram 4 Shias injured in an attack on a bus 4
24-May-12 Punjab Lahore Shia youth Jawad Shah killed 1
24-May-12 Balochistan Quetta Shia-Hazara Ameer Mohammad killed 1
24-May-12 Sindh Karachi Dr. Taqi Haider hurt in an attack 1
26-May-12 Khyber Pakhtunkhwa Kohat 70 year old Shia Hasnain injured 1
27-May-12 Balochistan Mach Mohammad Sohail Bangash Killed 1
28-May-12 FATA Parachinar 2 Shias killed, 6 injured in attack on bus 2 6
29-May-12 Sindh Karachi Yousaf Bangash injured 1
30-May-12 Sindh Karachi A civil judge Sagheer Ahmed, and 2 Shia boys Raza and Ahmer killed in separate incidents 2 1
30-May-12 Balochistan Quetta Shia person Mohammad Ali killed 1
31-May-12 Sindh Karachi Dr. Asif in Liaquatabad, & Fakhar Abbas killed in a separate incident 2
01-Jun-12 Khyber Pakhtunkhwa Hangu 2 Shias hurt in a bomb attack 2
03-Jun-12 Balochistan Quetta Shia man Mohammad Ali killed 1
09-Jun-12 Khyber Pakhtunkhwa Hangu Anwar Ali and Ghulam Hussain killed after torture 2
12-Jun-12 Sindh Tando Jam A shia student Faqeer Mohammad tortured in university 1
14-Jun-12 Sindh Dadu Shia dignitary Seth Ibrat Hussain killed 1
14-Jun-12 Sindh Karachi Syed Afaq Hussain attacked, injured 1
15-Jun-12 Sindh Karachi Syed Abbas Ali Zaidi killed 1
17-Jun-12 Punjab Chakwal 2 Shias hurt in attack on Imam Bargah 2
18-Jun-12 Balochistan Quetta University bus carrying Shia students attacked 5 70
18-Jun-12 Sindh Karachi Shia scholar Molana Mohammad Amini killed 1
18-Jun-12 Sindh Karachi Syed Hasan Raza killed 1
18-Jun-12 Sindh Karachi 6 Shia boys hurt in an attack near Pehlawan Goth 6
21-Jun-12 Sindh Karachi Hasan Ali Jaffery killed 1
23-Jun-12 Punjab Lahore Founder, caretaker of Bhaati Gate Imambargah Mian Asif killed 1
28-Jun-12 Balochistan Hazaganji Bus carrying Shia pilgrims attacked 14 30
28-Jun-12 Khyber Pakhtunkhwa D.I.Khan Syed Saqlain Kazmi injured in attack 1
30-Jun-12 Sindh Karachi Shia youth Mohammad Imran killed 1
01-Jul-12 Gilgit-Baltistan Gilgit 1 Shia Mohammad Hasan killed, 3 others Safdar, Imran and Shoaib injured in attack 1 3
01-Jul-12 Sindh Karachi Syed Habib Haider killed in attack on his shop in Saddar 1
02-Jul-12 Sindh Nawabshah Shia Dr. Ibrahim Shah killed near hosp 1
04-Jul-12 Balochistan Kuchlak Shia-Hazara Mohammad Yaseen killed 1
07-Jul-12 Sindh Karachi Ali Madad killed in Pehlawan Goth 1
07-Jul-12 Sindh Karachi Shia Deputy Director Intelligence Bureau Qamar Raza killed 1
08-Jul-12 Balochistan Quetta Ramzan Ali Qureshi killed in Quetta 1
10-Jul-12 Balochistan Mastung Shia teacher, Nohakhwan Babar killed 1
10-Jul-12 Punjab Sargodha 2 brothers Ahmed Yar, Qasim Ali, newly Shia converts slaughtered 2
11-Jul-12 Balochistan Quetta Syed Haseeb Zaidi and Molana Noor Ali abducted by security forces and handed over to Jihadi terrorists who slaughtered them after severe torture 2
12-Jul-12 Balochistan Quetta Rehmat Ali, a Shia-Hazara, killed 1
14-Jul-12 Sindh Karachi Syed Abu Turab Haider abducted and killed after severe torture 1
16-Jul-12 Sindh Karachi 3 Shia boy Ali, Sajid and Irfan injured in 2 attacks 3
17-Jul-12 Balochistan Mastung 2 Shias Ghulam Hussain and Noor Muhammad killed 2
18-Jul-12 FATA Orakzai Attack on a pickup van in Orakzai 14
18-Jul-12 Sindh Karachi Yawar Mehdi killed in Nazimabad 4 1
24-Jul-12 Balochistan Quetta Syed Ibrar Ahmed deputy director schools attacked, one terrorist killed under his car 2
24-Jul-12 Khyber Pakhtunkhwa Peshawar Attack on imambargah Saeen Zareen 1
26-Jul-12 Balochistan Quetta Shia stabbed to death 1
28-Jul-12 Punjab Jhang Firing 2
28-Jul-12 Balochistan Jafarabad Qadir Bux Imrani killed in Ota Muhammad 1
28-Jul-12 Balochistan Quetta Noor Ali son of Hussain Ali killed at Kanwari Road 1
29-Jul-12 Balochistan Quetta Qurban |Ali abducted by LeJ 1
30-Jul-12 Gilgit-Baltistan Gilgit Firing on Shias in Majini Mohalla 1
30-Jul-12 Sindh Karachi Murder attemp 1
02-Aug-12 Gilgit-Baltistan Gilgit One Shia abducted in Gilgit (Shahrote) slaugthered 1
05-Aug-12 Gilgit-Baltistan Gilgit Bomb attack on passenger bus 1 8
14-Aug-12 Sindh Karachi Syed Sajid Hussain Moosvi killed 1
16-Aug-12 Khyber Pakhtunkhwa Naran 22 Shias, 3 Sunnis on way to Gilgit dragged out of buses, identified and killed. 25
16-Aug-12 Balochistan Quetta 3 Shia-hazara offloaded from a Rickshaw and killed near Arbab Karam Khan road. Khadim Hussain aged 24 years,Mohammad aged 22 years and Abdul Ali aged 38 3
17-Aug-12 Sindh Karachi Bomb attack at Shiite students bus near Safari Park, 2 killed Manzoor Hussain, Imtiaz Ali 2
17-Aug-12 Sindh Karachi Abbas Haider Jaffri killed by firing near Golimar 1
17-Aug-12 Gilgit-Baltistan Skardu Stone attack by ASWJ terrorists on a Shiite procession, 8 injured 8
25-Aug-12 Sindh Karachi Syed Faraz Hussain killed as bicyle mechanic shop near Rizvia Imambargah; Syed Shahzad Raza killed near Jona Market in a barber shop 2
26-Aug-12 Sindh Hyderabad Hyderabad: Guru Naka Chowk Chaki Hotel, firing by ASWJ terrorists, 1 Shia youth injured 1
27-Aug-12 Balochistan Quetta 5 Shia Hazaras killed: Zamin, Mustafa (Habibullah), Muhammad Ali, Amir Ali, Ali Hasan, by firing on a taxi at Spini Road near Mubarak Chowk 5
30-Aug-12 Balochistan Quetta Session Judge Zulfiqar Naqvi (originally from Karachi, Shia) with Shia Hazara driver and security guard killed. Killed on Munir Mengal Road 3
01-Sep-12 Balochistan Quetta 7 Shias killed; 5 vegetable vendors on Hazar Ganji Road (names: Nauroz, Ali Baba, Jawad, Salman, Syed Yousuf), 2 in Akhtarbad area, 2 killed by FC firing on anti-killing protest 9
02-Sep-12 Punjab Lahore ASWJ's attack on Imamia Colony Abbas Nagar Imambargah 1 1
02-Sep-12 Balochistan Quetta Abbas Shahid, 28, water tanker driver injured by firing 1
04-Sep-12 Sindh Karachi ASI police Ali Mohsin Jafri, 42, killed on Kashmir Road 1
05-Sep-12 Sindh Karachi Mukhtar Azmi, his son Muhammad Baqir killed, grandson injured due to firing 2 1
05-Sep-12 Balochistan Quetta Dental Doctoral Nematuallah killed 1
05-Sep-12 Balochistan Quetta Liaquat Ali killed in firing by FC (army) on anti-genocide protest rally 1
10-Sep-12 Sindh Karachi Syed Kashif Imam injured due to firing by ASWJ terrorists 1
10-Sep-12 FATA Parachinar Car bomb attack on Toori Market 15 60
13-Sep-12 Balochistan Quetta An unidentified Shia Hazar killed and dumped at Saryab Road, Killi Kambrani 1
14-Sep-12 Gilgit Baltistan Gilgit Javed s/o Muhammad killed by ASWJ terrorists of Qazi Nisar group; 1
14-Sep-12 Muhamad Ali s/o Muqaddas Raza killed in Karachi, near Malir Naddi. Nawaz injured 1 1
17-Sep-12 Sindh Karachi Firing by Police on anti-Islam film protest – Raza Taqvi killed 1 8
18-Sep-12 Balochistan Mastung Bomb attack on bus of pilgrims going to Taftan, Iran, severa killed and injured including women and children 6 15
18-Sep-12 Sindh Karachi Attack on Shia Bohra community in Hyderi area, Karachi – twin bomb blasts 7 15
22-Sep-12 Gilgit Baltistan Gilgit Hussain injured by firing 1
22-Sep-12 Sindh Karachi Ali Hussain Rizvi (khurram) s/o Azhar Hussain age 25 years 1 The incident occurred at 7:45am near Chishti Nagar, Orangi.
23-Sep-12 Punjab Nankana Sahib Trustee of Imambargah Syed Alamdar Hussain killed 1
24-Sep-12 Sindh Karachi Syed Shoaib Raza 1
25-Sep-12 Sindh Karachi Raza Devji ,Komail and Abbas embraced Shahadat. 3 1 Ali Raza is injured. Near Jaudia Bazar.
26-Sep-12 Sindh Karachi Zulqadr Ali 1
26-Sep-12 Sindh Karachi Zaheer Abbas s/o Nadir Abbas age 36 yrs 1 The incident occurred at Gulberg, when he was returning home after dropping his children to school
26-Sep-12 Sindh Karachi Zahid Zaidi, Bilal, Nisasr Ali 3
26-Sep-12 Balochistan Quetta Ghulam Sakhi Yousuf Zai 1 Satellite Town area
26-Sep-12 Punjab Multan Syed Hasan Shamis poisoined in Jail 1
27-Sep-12 Sindh Karachi Moazzin Shabbir Hussain s/o Shah Gul Akbar age 56 1 The incident occurred near 2 Mint Chowrangi,
27-Sep-12 Balochistan Quetta Gulab Shah 1 The incident occurred in Satelite Town near Goal Masjid,
30-Sep-12 Balochistan Quetta Khaliq Jeweller injured, a deobandi attacker killed 2 Liaquat Bazar
30-Sep-12 Gilgit Baltistan Gilgit Niaz Ali 1
04-Oct-12 Sindh Karachi Qamar Allah Ditta, musician; Abdul Waheed 2
04-Oct-12 Balochistan Kuchlak "Firing near Kuchlak, as a result of this 1 momin Sikandar Ali embraced martyrdom.
1 momin Mushtaq Hussain got injured." 1 1
04-Oct-12 Balochistan Quetta terrorist opened firing on spare parts shop near double road Quetta one momin age 15 Sheraz Ali Beig S/o Fayyaz Ali Baig and his friend Imran got martyred. 2 "Sheraz ali belong to Karachi and his body shifted to Karachi today. Imran (ahlaisunnat) belong to Qasoor panjab and
his boday shift to Qasoor today."
07-Oct-12 Balochistan Quetta Mohammad Yaseen embraced shahadat in quetta early morning around 10 am when yazidi terrorists opened fire on him near Saryab Road. 1
08-Oct-12 Sindh Karachi Qambar Abbas Naqvi 1 Syed Qamber Naqvi s/o Syed Yonus Naqvi age 28 , killed at Nazimabad
09-Oct-12 FATA Kurram Agency Attack on bus from Parachinar to Peshawar 3 Kazim Hussein, Munir Hussein, Arif Hussein
09-Oct-12 Sindh Karachi Jahangir Hasan, attacked near Saddar Parking Plaza 1 Jahangir Hasan s/o Hasan Raza, 40, a bank employee, belonged to D.I.Khan
11-Oct-12 Sindh Karachi Ejaz Hussain Rizvi embraced Shahadat near UP Morh Karachi 1 age 30
14-Oct-12 Balochistan Quetta Malik Haji Ishaq embraced Shahadat in Liaquat Bazar Area of Quetta while his brother Mohammad Naseem and Son Haji Ismail sustained injuries 1 2 Qandahari Shia
16-Oct-12 Balochistan Quetta Four momineen namely Ali Atta, M. Ibrahim, Syed Awaz and G. Ali Ata embraced martyrdom. The incident occurred in Kabari Market, Sirki Road, 4
16-Oct-12 Sindh Karachi Sajjad Balti killed near Kati Pahari 1
16-Oct-12 FATA Kurram Agency Saukat Hussain killed while going to Sadda Bazar 1
16-Oct-12 Sindh Karachi Advocate Agha Mirza Waqar Hussain succumbed to injuries and embraced shahadat at a local private hospital where he was under treatment ,it was learnt here shortly . Advocate Waqar was targetted on 12th October near the Jehangir Road in Karachi and had sustained injuries . He was 55 years of age. 1
17-Oct-12 Sindh Karachi Sajjad Ali killed near Aagra Taj 1
17-Oct-12 Sindh Karachi Syed Ali Raza s/o Sarwar Hussain age 35 years embraced martyrdom. The incident occurred on Raza Autos near Masjid-e-Ali Qasba Colony 2.5 no. His mother died the next day due to grief. 2
18-Oct-12 Sindh Karachi Zeeshan killed in Orangi Town 1
19-Oct-12 Punjab Lahore Advocate Syed Shakir Ali Rizvi embraced martyrdom. The incident occurred behind Lahore High Court. 1
19-Oct-12 FATA Orakzai Agency Orakzai Agency: Bomb blast at pickup many embraced martyrdom. The incident occurred at Kalaya main road on a Pickup. As a result of this 3 momineen embraced martyrdom, while many got injured. 3 10
20-Oct-12 Khyber Pakhtunkhwa Noshehra Sajjad Hussain 1
22-Oct-12 Sindh Karachi Attack on Shias at fast food shop in North Nazimabad 2 3 Sohail, Babu, Zohaib, Asif
22-Oct-12 Sindh Karachi 2 Shia police officers attacked, Mumtaz Ali injured, Riaz Shah Killed 1 1
24-Oct-12 Sindh Karachi Ashiq Hussain 1
25-Oct-12 Khyber Pakhtunkhwa Peshawar Ali Abbas, youn child, injured 4 years ago 1
28-Oct-12 Khyber Pakhtunkhwa D.I.Khan Yasir Ali and Zeeshan Ali died due to grenade attack on house 2 2
29-Oct-12 Sindh Karachi Syed Mehmood Ali s/o Syed Musharaf age 37 years embraced martyrdom. The incident occurred at about 2:00 am in night, near Nafees Chamber, Nazimabad 1
02-Nov-12 Sindh Karachi Sajjad Ali 1
03-Nov-12 Sindh Karachi "Hammad Ali s/o Hussain Ali age 30 years embraced martyrdom.
The incident occurred near anda mour, North Karachi, at mobile shop." 1
04-Nov-12 FATA Kurram Agency Firing on Wood cutters as a result of this 1 momin Dildar Hussain embraced martyrdom while 2 momineen Qamar and Jawad got injured and 1 momin was missing. 2 1
04-Nov-12 Balochistan Quetta Haseeb Raza killed on Sirki Road 1
06-Nov-12 Sindh Karachi Shia schoalr Alama Aftab Jafri and his colleague his colleague Mirza Shahid Ali killed near Parking Plaza. Employees of a bank. 2
06-Nov-12 Balochistan Quetta Firing on Spini Road 3 2 3 momineen embraced martyrdom namely M.Essa, Zakir Hussain and M. Hussain. While 2 momineen got injured.
06-Nov-12 Sindh Karachi 3 Shias killed by rangers firing on funerla procession 3 Faraz, Qasim, Waseem
07-Nov-12 Khyber Pakhtunkhwa Peshawar Shia ASP Hilal Haider 1
07-Nov-12 Sindh Karachi 40 year old Shaban 1
07-Nov-12 Sindh Karachi KDA chowrangi Sajjaid Hussain killed 1 1
08-Nov-12 Sindh Karachi Nisar Mehdi and Najam Abbas 2
08-Nov-12 Balochistan Quetta M. Daud 1
09-Nov-12 Balochistan Quetta Ghulam Rasool 1
09-Nov-12 Sindh Karachi Saeed Haider Zaidi, a scholar 1
10-Nov-12 Balochistan Quetta Musa, two others killed 3 2
11-Nov-12 Sindh Karachi Asad Raza son of martyred IB officer killed 1
11-Nov-12 Sindh Karachi Mukhtar Zaidi 1
12-Nov-12 Sindh Karachi father, two sons killed 3 Shahed Bap Or 2 Beto Ki N.Jnaza Aj Bad Az Zohr Muhamadia Imambarga Orangi 11.5 Shahed Mukhtar
12-Nov-12 Islamabad Islamabad 4 Shia students of Parachinar injured in NUST hospital 4
12-Nov-12 Balochistan Machch 4 1 Ghulam Ali, Ghulam Muhammad, M Ibrahim and Abdullah killed; Taqi injured
12-Nov-12 Sindh Karachi Injured with knife attack Hasan; neaer Incholi 1
13-Nov-12 Sindh Karachi Jamal Raza killed in Orangi Town 1
13-Nov-12 Sindh Karachi Shujaat Ali in Orangi Town 1
17-Nov-12 Balochistan Quetta Hakim attacked in Hazar Ganji area 1
18-Nov-12 Balochistan Khuzdar Hashim 1
18-Nov-12 Sindh Karachi Bomb attack at Abbas Town imambargah 2 8 Azhar Hussain killed
21-Nov-12 Sindh Karachi bomb attack at an imambargah orangi town 3 15
21-Nov-12 Punjab Rawalpindi Dhok Sayyadan, Saddar, Jaloos attacked 24 70
22-Nov-12 Punjab Gujranwala A child attacked in a bomb attack in Kamoke 1
24-Nov-12 Punjab Sargodha Firing on Muharram Jaloos in Kot Momin, Halalpur 30
24-Nov-12 Khyber Pakhtunkhwa D.I.Khan Attack on Shia jaloos 7 18 5 children died including Sunni kids
24-Nov-12 Khyber Pakhtunkhwa Bannun 10 killed in attack on a Shia jaloos 10 20
25-Nov-12 Sindh Karachi Bomb in Kharadar Khadda Market 1
25-Nov-12 Sindh Gambat Khairpur Firing on Jaloose 2 3
25-Nov-12 Sindh Sangarh 6 people injured in attack on Jaloos 6
25-Nov-12 Khyber Pakhtunkhwa D.I.Khan Attack on Jaloos in Commissioner Bazar 7 135 1- Sayad Hasan Mujtaba, 2- Syed Zulqarnain Shah, 3- Muazam Hasan. 4- Bashir Ahmad 5- Safdar Abbas. Killed during Ashura procesoin bomb attack;
26-Nov-12 Sindh Karachi Ali Haider killed in Gulbahar 1
27-Nov-12 Punjab Rahimyar Khan 4 Shias injured in Minawal area 4
27-Nov-12 Sindh Noshehro Feroze 3 Shias injure in attack on Jaloos 3
28-Nov-12 Balochistan Quetta Haji Hussain killed on Circular Road 1
28-Nov-12 Sindh Karachi Nazimabad 2, trustee of Imambargah Hasan Mohsin killed 1
29-Nov-12 Sindh Karachi Dr. Iqbal Hussain, his wife Dr. Kaniz Fatma killed at Abul Hasan Ispahanir Road 2
29-Nov-12 Khyber Pakhtunkhwa D.I.Khan Jamil, injured in Ashura blast, died in Islamabad 1
30-Nov-12 Sindh Karachi Manzar Abbas Zaidi, his 14 year old daugher Mehzar Zehra injured 1 1
30-Nov-12 Sindh Karachi Riaz Hussain of Jhang killed in Shah Faisal Town on his shop, Mahdi Shah injured 1 1
30-Nov-12 Sindh Karachi Ghulam Qadir and Fazl Abbas (fahter and son) killed near Baldia Bakra Piri 2
01-Dec-12 Sindh Karachi Muhamamd Daraz killed 1
03-Dec-12 Khyber Pakhtunkhwa D.I.Khan Ahsura bomb blast injured victim Dawar killed 1
03-Dec-12 Sindh Larkana Naseer Magsi and Sohana Magsi (4) 2
04-Dec-12 Balochistan Quetta Two real brothers Ashfaq Hussain and Altaf Hussain killed. One of them died a few days later 2
05-Dec-12 Sindh Karachi Kashif Imam Zaidi 1
05-Dec-12 Sindh Karachi Tanvir Bangash 1
06-Dec-12 Punjab Rawalpindi Syed Azhar Hussan, injured from Ashura attack 1
08-Dec-12 Punjab Rawalpindi Syed Zamir Hussain Shah, injured in Ashura attack 1
10-Dec-12 Sindh Karachi Syed Ali Abbas Naqvi 1
11-Dec-12 Sindh Karachi Zaheer Abbas 1
12-Dec-12 Sindh Karachi Baqir Shah & Bahawal Shah 1
13-Dec-12 Sindh Larkana Bakht Hussain 1
13-Dec-12 Balochistan Quetta Shabbir Hussain & Gul Shirin 2
13-Dec-12 Balochistan Quetta Ali Khan 1
13-Dec-12 Sindh Karachi Syed Shiraz Abbas 1
14-Dec-12 Balochistan Zhob Qutub Ali 1
15-Dec-12 Gilgit Baltistan Gilgit 16 Shia students suspsended for 3 years for holding Imam Hussain Day
15-Dec-12 Sindh Nawabshah Fida Hussain of Mehran University 1
16-Dec-12 Sindh Karachi Raja Munsif kiled in Gulshan-e-Maymar 1
17-Dec-12 Sindh Karachi Riaz Hussain injured in Chaki Wara, Lyari 1
17-Dec-12 Sindh Karachi Ali Raza killed, Farhan injured 1 1
17-Dec-12 Sindh Karachi Javaid Bhatti (Zakir) 1
17-Dec-12 Balochistan Quetta Mirza Khadim Hussain Noori, Deputy Director of Public Relations 1
18-Dec-12 Gilgit Baltistan Gilgit Zamir Abbas 1 3
20-Dec-12 Sindh Karachi Ashiq Abbas, Lines Area 1
20-Dec-12 Sindh Karachi Abbas Daryani 1
20-Dec-12 Balochistan Quetta Riaz Hussain 1
21-Dec-12 Sindh Karachi Abdur Rehman Hazara killed in Jinnah Hospital Emergency War 1
22-Dec-12 Punjab Faisalabad Jafar Ali and Haider Ali, two brothers 2
23-Dec-12 Sindh Karachi Azmat Ali 1
23-Dec-12 Gilgit Baltistan Gilgit Nayyarr Ali Khan s/o Muhammad 1
24-Dec-12 Sindh Karachi 3 including two brothers in Paper Market Nazimabad Hasnain and Qamar, Muhammad Hussain 3
25-Dec-12 Sindh Karachi Syed Shahid Hussain Zaidi ,30, killed in Orangi town . He was a vegetable vendor by profession. Nearly a year and half back his brother Majid Hussain Zaidi was killed. 1
26-Dec-12 Balochistan Quetta Ghulam Rasool killed in Hazar Ganji area 1
29-Dec-12 Sindh Karachi Two young brothers ,both sons of Shaheed DSP Sadiq Shah came under attack of yazidi terrorists near Murghi Khana ,Landhi town. Athar Shah died, Mazhar shah injured 1 1
30-Dec-12 Balochistan Mastung Bomb attack on 3 buses of pilgrims 40 25
30-Dec-12 Khyber Pakhtunkhwa Peshawar Fayaz Hussain MBA of Hangu was called for a fake job interview in Peshaawar 1
30-Dec-12 Sindh Karachi Jawad Husasin Naqvi killed in Orangi Town 1
31-Dec-12 Punjab Chiniot Malik Mukhtar Hussain was target killed durning a mourning procession 1 4
2012 Direct target killed 630
2012 20% of others killed 820
2012 Total Shias killed 1450