The Life and Legacy of Mohtarma Benazir Bhutto Shaheed
Remember, remember, the 27th of December! The night that tore the heavens asunder!
In her autobiography, Mohtarma Benazir Bhutto Shaheed writes of the time when she was allowed to travel to England in 1984 for medical treatment by the most brutal dictator in Pakistan's history, General Zia ul Haq. When she entered Heathrow Airport, a large crowd of supporters and foreign journalists welcomed her. One of them asked whether she was in England for political exile. Her response was as representative of her love for the country as it was prophetic of her own destiny.
"I was born in Pakistan and I'm going to die in Pakistan. I will never leave my country. I will stay by your side until my last breath. The Bhuttos keep their promises1."
Though death is a certainty of human existence as much as life, there isn't a single supporter of hers who hasn't wished that she had forgone this one promise.
[youtube id="tnrstgR-bKU" width="600″ height="340″ position="left"]
When Mohtarma Shaheed ended a decade of exile and returned to Pakistan in October 2007, she had started whirlwind tours of many cities in the four provinces of Pakistan. Every city that she went to in Sindh, Balochistan, Khyber-Pakhtunkhwa and the Punjab, she was welcomed by thousands of jiyalas chanting that timeless slogan that had become the war cry of the soldiers of democracy in Pakistan, "Jeay Bhutto (Long Live Bhutto)!" In every city she witnessed the love and loyalty of her supporters to not only her party but to the memory of her martyred father. In every city, she spoke of her aim of restoring true democracy in Pakistan and solicited the support of the people towards achieving that aim. Well aware of the threats to her life, Mohtarma Benazir Bhutto fearlessly charged on through the hinterlands of Pakistan…until finally she reached the cantonment city of Rawalpindi for her public rally at Liaqat Bagh.
THE DARK NIGHT OF DECEMBER 27
In the days leading up to the PPP rally, the whole city was dressed up in banners and billboards welcoming Mohtarma to the city. PPP supporters from all over the Punjab province were gathering in Rawalpindi for what was bound to be a historic political event. On the day of the rally, Liaqat Bagh, the garden named after Pakistan's first Prime Minister and assassinated political leader Liaqat Ali Khan, was choke full of jiyalas, raising the slogans of "Jeay Bhutto!" and "Zinda hay Bhutto Zinda hay!".
Her speech that day was like the roar of a lioness. Each word leapt off her tongue and seared itself in to the hearts and minds of those present in Liaqat Bagh. People listened in rapt attention as Mohtarma recounted her father's and her own efforts at strengthening the armed forces of Pakistan. Once again, she taunted the dictator's regime and it's allied parties for their unpopularity and exhorted the masses present to reject them on Election Day and support democracy by voting for the Pakistan People's Party. The resounding applause and adulation she received from the grounds of Liaqat Bagh probably made her confident that victory was hers. Alas, we shall never know what she felt now.
As she finally left the stage and settled into her Toyota Land Cruiser, she was told of the attack on former Prime Minister Nawaz Sharif's political rally in Lahore who had recently allied himself with the PPP. Although she asked an aide to call him so she could condole with him over the killing of a few of his workers in the attack, Providence had another act for her to fulfil. Some individuals chanting the party slogans and carrying party flags massed in front of her SUV. Not wanting to turn them back rueful, she laboured to stand out of the open top hatch of her SUV and waved to the excited supporters in response to their slogans.
As all eyes remained transfixed at the vision of contentment and humility on Mohtarma's face, none watched a devilish cretin slithering through the crowds like a snake towards the SUV and Mohtarma. No one saw him lift his hand and shoot at Mohtarma before a bomb went off and killed scores of her supporters and maimed others. What followed was a mesh of consternation and confusion, as anger over the brutal attack mingled with concern for Mohtarma's life. The sense of invincibility that surrounded Mohtarma like an aura was such that no one dared think the unthinkable even when signs started pointing towards the latter dark eventuality. That night, the sky fell on the people of Pakistan the very moment that PPP leader Dr Baber Awan made the tearful announcement of the martyrdom of Mohtarma Benazir Bhutto Shaheed.
[youtube id="wluVIrR-jw4″ width="600″ height="340″ position="left"]
What followed was an expression of public anger that verged on rebellion against not only the dictatorial regime, but the entire state. Armed and angry supporters of the Mohtarma Shaheed trooped out of their cities and villages to wreak havoc on the symbols of the state. Police stations were attacked and burnt. Entire train buggies and engines were demolished. Rail tracks connecting the province of Sindh to the rest of Pakistan were uprooted as if to sever this link between the two. Billboards boasting of the "achievements" of the regime were burned. Banners of the dictator's allied parties were burned and their party offices were attacked. Vehicles were burned on the streets and highways of Pakistan, not in the hundreds but in the thousands. In every city, village, town of Pakistan, angry demonstrators burnt tyres and chanted slogans against the dictator and his regime.
[youtube id="ubpuNEUyj5s" width="600″ height="340″ position="left"]
This violent mood would subside during only two events, the heart-rending burial of Mohtarma Benazir Bhutto Shaheed and the press conference by her widower Mr Asif Ali Zardari and their 19 year old son, Bilawal. That press conference, which took place on December 30, was awaited by every individual within and outside Pakistan since it held significant importance for the immediate stability of the country. The PPP had lost it's only leader. There was no visible candidate among the party's senior leadership fit enough to hold the PPP together till even the forthcoming elections. More importantly, a viable and strong leader was required to quell the uprising of the masses that had begun on December 27. In such a foreboding environment, a press conference was held by Mohtarma Shaheed's loved ones to settle these and many other issues.
The PPP leadership gave it's supporters hope by vesting the chairpersonship of the party in the hands of Mohtarma Shaheed's young and capable son, Bilawal, who also took on his maternal surname, along with his two sisters, to become Bilawal Bhutto Zardari. Mr. Asif Zardari was elected the Co-Chairperson of the party by the Central Executive Committee (CEC). In his very first speech, the Chairperson thanked the CEC before calling on the people of Pakistan to end the violence and direct their anger towards the aim for which Mohtarma Shaheed sacrificed herself, the restoration of democracy in Pakistan. His statement became a battle cry for the entire democratic opposition within Pakistan. "My mother always said, Democracy is the best revenge!"
A 'BENAZIR' LIFE
Intelligence. Charm. Eloquence. Wit.
Mohtarma Benazir Bhutto Shaheed encapsulated all of these ethereal qualities in her personality. Apart from these human abilities, she also possessed superhuman traits like her endurance in the face of extreme tribulations, bravery in the face of brutal enemies and an always forgiving heart that never brooked intolerance or hatred for any soul save the most dastardly. Inspired by her legendary father, Zulfikar Ali Bhutto Shaheed, she also retained in her soul an unrequited love for her country and her people. It was this love that kept her spirits high as she single-handedly battled against the forces of intolerance not only in the 80's but afterwards when the whole world had become it's victim.
If one were to look at the life of Mohtarma Shaheed, the contradiction between what life she could have had and what she actually went through is extremely intriguing. She was born the daughter of a leading land lord of Sindh and political leader of Pakistan. She enjoyed every luxury and privilege that a child born in royalty receives. Her parents lavished her with love and care.
She received formal education from some of the most premier educational institutions of Pakistan such as the Convent of Jesus and Mary and Karachi Grammer School. After completing her A-levels, she was sent by her father, now the leading opposition politician in Pakistan, to study at the prestigious Radcliffe College in the USA where she did her graduation. She followed that up with a four year stint at Oxford University where she studied some post-graduate courses and was elected the President of the Oxford Union debating club, the first Asian woman to have this honour.
In Pakistan, her family homes in Karachi and Larkana were located in posh areas and were extremely luxurious. Her ancestral lands gave her access to significant wealth and a prosperous, comfortable life. Her servants numbered in the dozens and she never had to labour after herself in any way.
Yet, she chose the trials and tribulations of political activism in the darkest dictatorship to ever assail this country. Her persecution and mental torture at the hands of the Zia dictatorship are chronicled not only in her auto-biography but also in the reports of many international human rights organisations such as Amnesty International. After her father was removed in a military coup, she was kept in house arrest in total isolation from her family. She was denied medical care at times when she suffered from extreme physical pain and mental agony. She always had a choice to end it all. The agents of the dictatorship had wanted to get rid of her by sending her out of the country. But she persisted in staying in Pakistan and fighting along with her supporters in the righteous struggle for democracy. Her reversal of fortunes was succinctly summed up by Begum Nusrat Bhutto at a public rally in 1977.
"My daughter is used to wearing jewellery. Now she will be proud to wear the chains of imprisonment2."
As a political prisoner, she was shuttled for fours years from one dirty jail cell to another. She was insulted by lowly law enforcement personnel and almost slapped by an Army captain. These people wouldn't have dared to even look her in the eyes when her father was the Prime Minister. How could the daughter of a former Prime Minister be kept in dark, dirty, rat-infested jail cells by men who proudly titled themselves "Mard-e-Momin" (Righteous Men)? How could a young lady be tortured like that by honourable men? More importantly, how could a young girl, who always lived a comfortable lifestyle, even survive through such hardships with her physical and mental capabilities intact?
It is due to the exemplary strength and character of Mohtarma Shaheed that she could do so. She had an iron will and determination bequethed to her as part of her family legacy and forged in the furnace of a brutal dictatorship. Her unconditional belief in democracy and the rights of the people made her realise the importance of her resilience in the face of stark adversity. Her steadfastness during these times of struggle gave the rest of the nation great hope.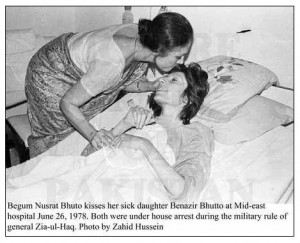 There were people in Pakistan who saw democracy as a threat to their power. They felt that the people of Pakistan were simple-minded, too ignorant, and too stupid to be able to understand democracy. But the leadership of the PPP always proved them wrong. It proved them wrong in 1967 when Zulfikar Ali Bhutto Shaheed created the party and involved the poor and downtrodden masses in the struggle for this great objective. It proved them wrong in 1970 when Mr. Bhutto Shaheed became the most popular politician in West Pakistan electorally and Pakistan's first elected Prime Minister in 1973. Then, years later, Mohtarma Shaheed proved them wrong as she led the toiling masses of Pakistan in protesting and attacking the Zia dictatorship.
The aim that she struggled for was the same that her martyred father had struggled for. Democracy was the system of government that the people of Pakistan desired. It was their right to vote and elect the leaders of their choosing to lead the country and look after their affairs. Democracy was also the form of government with the greatest level of accountability. An individual standing for election would be held to account for his or her actions by the people who did or did not vote for him or her. This natural element of accountability of the leaders is what makes democracy such a popular system of governance around the world.
Mohtarma Benazir Bhutto's struggle didn't just end with the ending of the Zia dictatorship. After she was elected the youngest ever Prime Minister of Pakistan and the first female head of a Muslim country, Mohtarma had to safeguard that democracy against an establishment that not only prevented her from alleviating the suffering of the people but also spread rumours about her personality, her past and her financial honesty. When the rumours didn't work in rousing the people against her, her first term was illegally and unjustifiably ended by Presidential edict in 1990. Mohtarma's renewed struggle saw the establishment suffer another defeat in 1993 when she was re-elected as the Prime Minister of Pakistan for the second time. Again, the anti-people establishment used ethnic ploys and rumour mills to discredit Mohtarma Shaheed. In the end, the suspicious assassination of her only surviving brother, Mir Murtaza Bhutto, strengthened the anti-democracy forces which once again had her removed through the President. When she was told of the threats to her life similar to that faced by her martyred brother, she decided to leave Pakistan for Dubai along with her three children. Her decision was that of a mother of extremely young children. If something were to happen to her and her husband who was indefinitely incarcerated on trumped up and politically motivated charges, who would look after their orphaned children? It was with these concerns in mind that she made the tough decision of leaving her country and going into exile.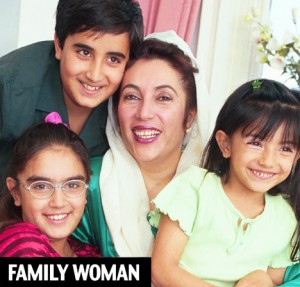 Her struggle for the people of Pakistan continued in exile. As she played the role of a single parent to her children, she continued to lead the PPP in it's actions against PMLN's Nawaz Sharif-led elected dictatorship of that time. Then, when Mr Sharif was himself removed from power by another military dictator, Mohtarma extended to him an offer of friendship and reconciliation in the larger interest of restoring and strengthening democracy in Pakistan. Her collaboration with Mr Sharif started from the constitution of the Alliance for the Restoration of Democracy (ARD) and culminated in the signing of the Charter of Democracy in 2005. It was only her far-sighted political acumen and sagacity that achieved such political successes from a relationship that was known in Pakistan for it's cutthroat rivalry.
Her return on October 18 was historic not only because of the millions who gathered to welcome her in Karachi but due to that crowd being the largest political procession in the history of Pakistan. It is the evil character of the anti-democratic forces that made itself apparent that night when two bomb blasts killed more than 150 supporters of the PPP as the caravan was slowly making its way through the raging sea of humanity massed before it on Shahrah-e-Faisal Road. Amid strewn limbs and wails of pain, Mohtarma Benazir Bhutto was safely moved out of the area and transported to Bilawal House. The next day, she decried the carnage that the city of Karachi had witnessed and called for action against the perpetrators of that heinious terrorist attack. In retrospect, the October 18 bombing was the very first assasination attempt on the life of Mohtarma Benazir Bhutto Shaheed. Regretfully, it wasn't the last.
[youtube id="Exnf8BQlboU" width="600″ height="340″ position="left"]
Grief over the victims of the terrorist attack gave way to real world concerns as the political campaign was restarted. Mohtarma visited the far corners of the country to take to the people her message of tolerance, peace and democracy. Her trips to some of the most lawless areas in Pakistan were completely devoid of any other bloody incident. All those people who had resorted to criminal activities out of hopelessness and desperation saw the early rays of a new dawn in her words.
Any other individual in such a situation might have done what Mohtarma Shaheed's enemies said she would do. They said that Mohtarma would end her public rallies. They said she would stop meeting the ordinary people of Pakistan who came to see her in the big cities from far-off villages at great expense. But Mohtarma Benazir Bhutto Shaheed proved all of them wrong! She resumed her political activities and held rallies where thousands of people came to see and hear her. She continued her struggle for the restoration of democracy…until her untimely martyrdom on December 27, 2007.
At the end of this perspicuous exposition on the legacy of Mohtarma Benazir Bhutto Shaheed and her peerless sacrifice towards the restoration of democracy in our country, I hope to have added to the sea of tributes in honour of MBBS that continues to rage and flow ever since her martyrdom. Each of which is more eloquent than my humble ode, I am sure. I hope I have been able to capture my sadness and grief, at not only her martyrdom, but at the loss of the generations who have been denied the opportunity of experiencing this great and unique life. Stories of her experience shall continue to inspire the generations of the future. In the end, I shall sum up my opinion on Mohtarma Benazir Bhutto Shaheed's struggle for democracy with these words.
Unequalled and unparalleled in name,  as such in life and death.
Never did she surrender to her enemies, even till her last breath.
Had she been born an eon ago, they'd have worshipped her a goddess.
But God, in His mercy, made her greater, and she lives on as the peoples' princess.
Comments
comments