Appeal to General Raheel Sharif: Investigate Najam Sethi's extremely serious charges against Pakistan army and ISI
In his talk show on Jang Group's Geo News TV (1 Aug 15), journalist Najam Sethi alleged that Pakistan army, ISI in particular, was involved in a conspiracy to dislodge PM Nawaz Sharif and army chief General Raheel Sharif.
Aapas Ki Baat – 1st August 2015
Sethi and his assistant Muneeb Farooq alleged that ISI's ex-Chief General Zaheer-ul-Islam and some other generals were part of a conspiracy, in collusion with Imran Khan, to remove not only PM Nawaz Sharif but also General Raheel Sharif and replace him with another General, possibly General Zaheer himself as the new army chief. In the past, Sethi has levelled somewhat similar charges against ex-ISI chief General Ahmad Shuja Pasha.
In the said episode of Aapas ki Baat, Sethi alleged that it was the ISI, along with ordinary PAT and PTI workers of Dr Tahir ul Qadri and Imran Khan, who attacked the PTV, Pakistan's State television network.
Sethi further claimed that a civilian intelligence agency IB (Intelligence Bureau) provided phone tapes of the ISI chief and other individuals's conversations to PM Nawaz Sharif who then shared the same with General Raheel Sharif.
These are extremely serious charges that need to be investigated at the highest level.
1. Najam Sethi is a controversial journalist, known for his loyalties to PM Nawaz Sharif and some foreign donors. He has been continuously compensated by the ruling party PML-N for his 'favourable' role during elections 2013 – rewarded in the shape of lucrative posts in Pakistan Cricket Board and elsewhere.
2. Sethi and some of his associates, eg Beena Sarwar and Tahir Ashrafi, are currently upset over the recent elimination of Malik Ishaq along with 14 ASWJ-LeJ terrorists. It may be noted that Nawaz Sharifs' PML-N is an informal ally and supporter of ASWJ-LeJ.
3. Sethi wants to paint a picture that army is an unprofessional institution, lacking discipline. A similar attempt was made by PM Nawaz Sharif in his previous tenure when he tried to dismiss the then army chief General Musharraf by creating divisions within army generals and corps commanders. Apparently, Nawaz Sharif and Sethi have not learnt from their past mistakes.
4. By bringing Pakistan army to disrepute and also by creating divisions within, the Saudi-loyalist PM Nawaz Sharif and his media proxies are hoping to weaken the only Pakistani security institution that can defeat ISIS, LeJ-ASWJ, TTP and other Saudi-backed Takfiri terrorists in Pakistan.
5. Nawaz Sharif and his associates want to pre-empt another sit-in against a corrupt, pro-terror government by the PTI, PAT and other likeminded parties.
Overall, Sethi's programme shows that the ruling elite (PMLN-ASWJ-CommercialLiberals) can go at what extent and ruin the components of the state to remain in power. It also shows that the Saudi-financiers, the Takfiri Deobandi lobby and the commercial or elitist (Ashrafi-brand) liberals want to make Nawaz Sharif the Rafiq Hariri of Pakistan, to pave way for an ISIS-style takeover of the country and to create social strife to promote Saudi interests in the region.
It shows the the extreme of the yellow journalism and how the corporate journalist control the mind of public just to hold on to power and make money.
Please share this post even if you do not agree. But you have to acknowledge this country cannot afford to be divided further. We have to live together. Although military has problems particularly in terms of FC's questionable links with ASWJ-LeJ in Balcohistan, but with some reforms, it is the only factor left to keep the country united. PM Nawaz Sharif, Najam Sethi, Tahir Ashrafi, Beena Sarwar and other PMLN-ASWJ-loyalists and Saudi-poodles cannot be allowed to destroy this country and its institutions for their personal gains and commercial agendas.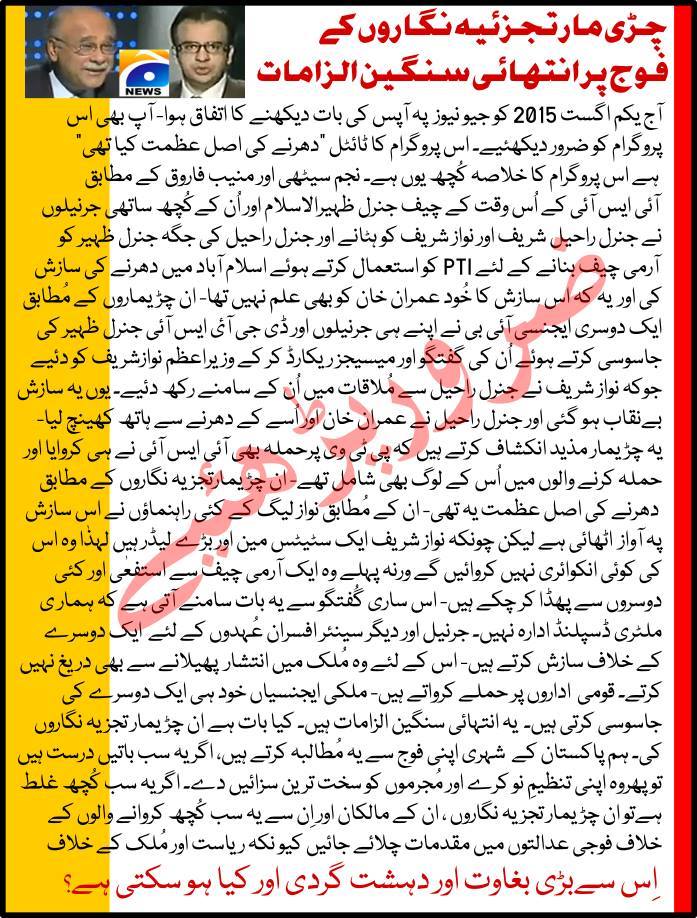 Note: Thanks to Mannoss Aazaad for the poster and some points.
Comments
comments