Nawaz Sharif's deal with LeJ-ASWJ-TTP: Out of 139 criminals hanged from Dec 2014 to June 2015, only 20 hanged for terrorism, 119 for other charges
It seems that Pakistan pro-Taliban PM Nawaz Sharif, who is known for sypathies with banned Deobandi terror outfit Sipah-e-Sahaba Pakistan (SSP aka ASWJ aka LeJ) has decided to hurt the National Action Plan in the aftermath of the Peshawar Army School massacre. PM Nawaz Sharif, it has been alleged, has made a secret deal with Takfiri terrorists of ASWJ-TTP, in which he enjoys the support of PPP's Asif Zardari and certain rogue elements in Pakistan security establishment. According to this deal, the ASWJ-LeJ-TTP terrorists on death row will not be hanged.
Pakistan lifted the moratorium on death penalty after seven years, in December, 2014, following a deadly attack on Army Public School in the city of Peshawar. The attack took more than 150 lives, most of them children. The incident sent shock waves across the country. Protest rallies were held and civil society demanded strict actions against the terrorists. The government, sensing the public sentiment, agreed carrying out the executions.
But some analysts say that the executions are being carried out selectively, sparing many of those the public most wanted to see hanged – terrorists who killed civilians.
According to data compiled by the Human Rights Commission of Pakistan (HRCP), over 139 people have been hanged since December 2014. Out of these, more than 10 were hanged for involvement in attacking former military dictator and President Pervez Musharraf and attacking Army's General Headquarter (GHQ). Another 10 were hanged for sectarian killings, and the rest were executed for charges like rape and murder.
"A perception is developing that the undeclared policy is to fast-track the execution of the ones who targeted the military officials while putting the ones who mass murdered the civilians, on the back burner. No major figure from the Tehrik e Taliban Pakistan (TTP) appears to have received death penalty while many of their ringleaders were captured, for example from Swat. Some of these TTP men have perhaps not even been convicted yet", said Dr Muhammad Taqi, a columnist with Pakistan's Daily Times.
"There are over 500 convicts in Pakistani jails, who had been awarded death sentence on terrorism related charges", says Baqir Sajjad, a senior Pakistani journalist with Dawn, an English newspaper.
As the law and order situation was getting out of control the government wanted to send a strong message to the militants that's why the moratorium on death penalty was lifted in the first place. At the start, some members of the banned Lashkar-e-Jhangvi (LeJ) or SSP-ASWJ, involved in killing Shi'ite and Sunni Sufi /Barelvi Muslims were also hanged, but then the militant organizations clearly told that the executions of their men would be taken as a declaration of war by the government for which it would have to pay a heavy price.
In the first two months of this year, number of attacks on Shi'ite Muslims were increased, situation changed in March as the focus shifted from hanging Deobandi militants to those involved in murdering over personal enmity and rape. Why this sudden shift in policy?
"This clearly indicates that there has been some kind of settlement between the militants and the authorities and both sides are observing restrain, militants would be encouraged to cooperate with the authorities and the move was only to clip the reneged groups", said Kalbe Ali, who also works for Pakistan's Dawn.
Through this silent deal with Takfiri Kharijite terrorists of LeJ-ASWJ-TTP, PM Nawaz Sharif and certain pro-Takfiri rogue elements in security agencies want to hurt General Raheel Sharif's Operation Zarb-e-Azb against terrorists.
(Adapted from Arooj Zahra's article "Who is actually behing hanged in Pakistan?")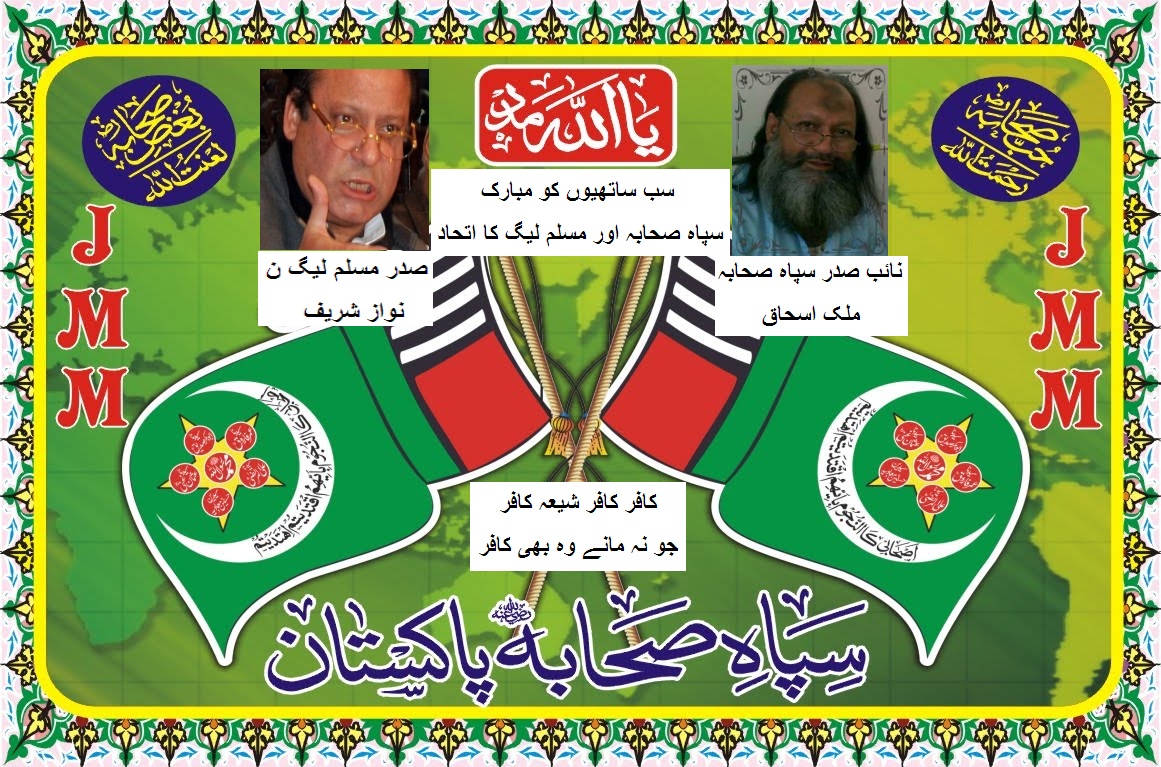 Related: https://lubpak.com/archives/313338
Comments
comments
Tags: Friends of Taliban, Nawaz Sharif, Peshawar School Attack, PMLN, PMLN's support to ASWJ LeJ Taliban AlQaeda LeT, Punjab Government, Punjabi Taliban, Sipah-e-Sahaba Pakistan (SSP) & Lashkar-e-Jhangvi (LeJ) & Ahle Sunnat Wal Jamaat (ASWJ), Takfiri Deobandis & Wahhabi Salafis & Khawarij, Taliban, Terrorism