Reyhaneh Jabbari's legal case: Iran bashing for populism
Related post: No bandwagon for Serena Shim https://lubpak.com/archives/325908
**************
I am a critic of the Iranian thecracy and don't need to repeat my arguments or cite my posts to show my neutrality and objectiveness. (Use Google if you wish to read my critical posts on Iranian theocrats.) At the same time, I am not a fan of jumping on the bandwagon.
I refuse to follow the fake liberal sheep and condemn execution of a convicted murderer by a court of law. Iran bashing is a popular hobby in Western media and is a trait also shared by fake or commerical liberals, Deobandis, Salafis and other Shia phobes. All of them are acting as lawyer, jury and judge without studying the details of this case – barring the one sided Western and Deobandi propaganda.
On social and mainstream media, there is a pronounced tendency to create a false binary between Iran on the one hand, and the former and current supporters of ISIS, like Saudi Arabia and Turkey. This false Saudi-Iran or Sunni-Shia binary is deeply problematic and damaging to the cause of human rights. A young female journalist of Press TV has just been murdered in Turkey by the State authorities. However, because Turkey is part of NATO and is aligned with the US in a very dubious and stage managed fight against its former ISIS protégés, it gets a free pass.
Interestingly, same Amnesty International that remains silent on routine massacre of hundreds of Shia and Sunni Sufi Muslims in Pakistan at the hands of Deobandi terrorists is making a lot of hue and cry on Reyhaneh's exeuction in Iran.
I want every terrorist to be hanged. Similarly, killers who show no remorse for the acts should not be spared as the deceased victim and their families also have rights. Pakistan too must execute all killers and terrorists without late. All Deobandi and other terrorists of TTP, ASWJ etc must be hanged till death to make Pakistan a better place.
Here is an extract from a Western media report on Reyhaneh Jabbari's execution in Iran:
"Reyhaneh Jabbari had spent five years on death row for stabbing a 47-year-old surgeon. Reyhaneh, an interior designer by profession, confessed to kill Morteza Abdolali Sarbandi in 2007. Sarbandi's family insisted the murder was premeditated; Jabbari confessed to buying a knife 2 days before murder.
Sarbandi's family insisted the murder was premeditated and that Jabbari had confessed to buying a knife two days before the killing.
According to Jalal Sarbandi, the victim's eldest son, Jabbari testified that a man was present in the apartment where his father was killed but she had refused to reveal his identity.
He said in April that his family "would not even contemplate mercy until truth is unearthed".
"Only when her true intentions are exposed and she tells the truth about her accomplice and what really went down will we be prepared to grant mercy," he said at the time.
Jabbari's plea of self-defence failed to persuade judges at various stages of the appeal process up to Iran's Supreme Court and she remained in prison throughout.
Her last chance of reprieve lay with the supreme leader, Ayatollah Ali Khamenei, but he failed to intervene.
After the execution was carried out, the Tehran state prosecutor's office issued a statement that appeared aimed at countering sympathy for Jabbari. It said: "Jabbari had repeatedly confessed to premeditated murder, then tried to divert the case from its course by inventing the rape charge.
"But all her efforts to feign innocence were proven false in various phases of prosecution. Evidence was firm. She had informed a friend through text message of her intention to kill. It was ascertained that she had purchased the murder weapon, a kitchen knife, two days before committing murder.
http://www.theguardian.com/world/2014/oct/25/iran-reyhaneh-jabbari-executes-appeals
Here's a detailed account of the case not reported in the mainstream Western media: https://lubpak.com/archives/325382#comment-1731123
If there are questions about the way this case was tried, they should be brought out into the open. At the same time, the questions cannot be selective. Critics of this decision should present both sides of arguments and evidence. If only one side is presented, then this is a simple case of Iran bashing by an organization, Amnesty International, whose selective and Western-centric stance on human rights has dented its credibility.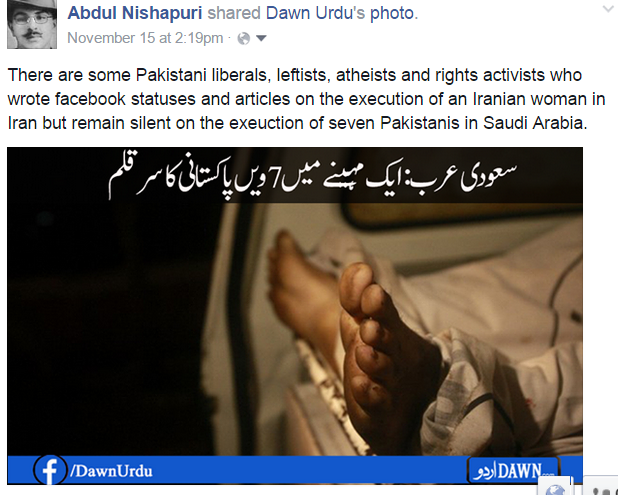 Comments
comments