No bandwagon for Serena Shim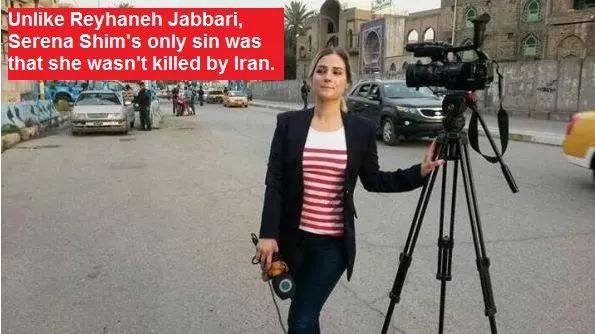 Unlike Reyhaneh Jabbari, Serena Shim's only sin was that she wasn't killed by Iran.
According to newspaper reports:
An American journalist has been killed in a car crash in Turkey just days after claiming she claimed the Turkish intelligence services had threatened her over her reporting of the siege of Kobane.
Serena Shim, who worked for Iran's state-owned Press TV as Turkey correspondent, died in the city of Suruc after the car in which she was travelling reportedly collided with a 'heavy vehicle'.
Shim's death came just days after she spoke on camera of her fears of being arrested, claiming Turkish intelligence agents had accused her of spying after one of her reports suggested ISIS militants were being smuggled back and forth over the Syrian border in the back of aid vehicles.
Neither the 'heavy vehicle' nor the driver involved in the crash have been located after the incident, Press TV claimed, adding that her parents 'refused to believe' the crash had been an accident and are planning to pursue the matter legally.
Due to its strategic location close to the Syrian border, Suruc is where much of the international media covering the crisis in Kobane has been based over the past few weeks.
Only last Friday Shim was interviewed on camera by Press TV about her fears of being arrested by Turkish intelligence agencies.
In the short interview she alleged that she had been approached and accused of spying after a report in which he said she claimed to have received images of Islamic State terrorists being smuggled over the Turkey-Syria in vehicles belonging to the World Food Organization and other aid groups.
Shim described herself as 'surprised' at the accusation, 'because I have nothing to hide and I have never done anything aside my job.'
http://www.dailymail.co.uk/news/article-2799924/mystery-american-journalist-killed-car-crash-turkey-just-days-claimed-intelligence-services-threatened-coverage-siege-kobane.html
How many liberal, secular and progressive activists wrote articles on Serena Shim?
How many tweets? Facebook statuses, posts and banners?
It's not an either or case nor a comparison is intended. Both cases are important in their own way.
Iranian theocrats are known for poor record on human and women's rights. But what about Turkey, the EU membership candidate, a NATO member and a Western ally? Imagine if Iran had killed an American journalist in dubious circumstances!
To all liberals and rights activist, I have this much to say.
Be an expert lawyer, jury and judge the way you did in a previous case.
Support Serena or condemn her, say something. Break your silence. Will you!
http://rt.com/op-edge/198560-serena-shim-killed-journalists-hypocrisy/
http://www.wnd.com/2014/10/suspicion-hangs-over-death-of-u-s-journalist-in-turkey/
Comments
comments