PM Nawaz Sharif decides to penalize the Model Town inquiry judge
PM Nawaz Sharif has decided to penalize Justice Ali Baqir Najfi for his incriminating report against the Punjab government on the Model Town massacre. According to sources, PMLN govt has prepared a reference that will be lodged against Justice Najfi. PMLN has taken cue from a banned terrorist outfit's propaganda against Justice Najfi.
It may be recalled that Justice Najfi had conducted a highly professional and impartial inquiry into the Model Town massacre in which at least 14 activists, women and men, of Dr Tahir ul Qadri's Pakistan Awami Tehreek (PAT) were massacred by Punjab police and PMLN loyalists on the instructions of Chief Minister Shahbaz Sharif. The judicial inquiry held CM Shahbaz and other members of his government directly responsible for the massacre.
In recent past, Justice Najfi has been sent threatening messages by the banned Deobandi terror outfit ASWJ, an ally of ruling PML-N.
We warn PM Nawaz Sharif, CM Shahbaz and the ruling PMLN-ASWJ mafia to refrain from attacking and silencing a few independent, impartial and honest judges left in the otherwise PMLN-loyalist, chamak-zada judiciary.
We hope that Asma Jahangir, Ayaz Amir, Aamir Hussaini, Nazir Naji, Zohra Yousuf and other independent media persons and rights activists will take notice of this development and advise PMLN to refrain from any misadventure against Justice Najfi and other independent, honest judges.
In the past the PMLN's political allies, the Deobandi terrorists of ASWJ/LEJ have carried out assassination attempts on senior independent judges in other parts of the country. https://lubpak.com/archives/281335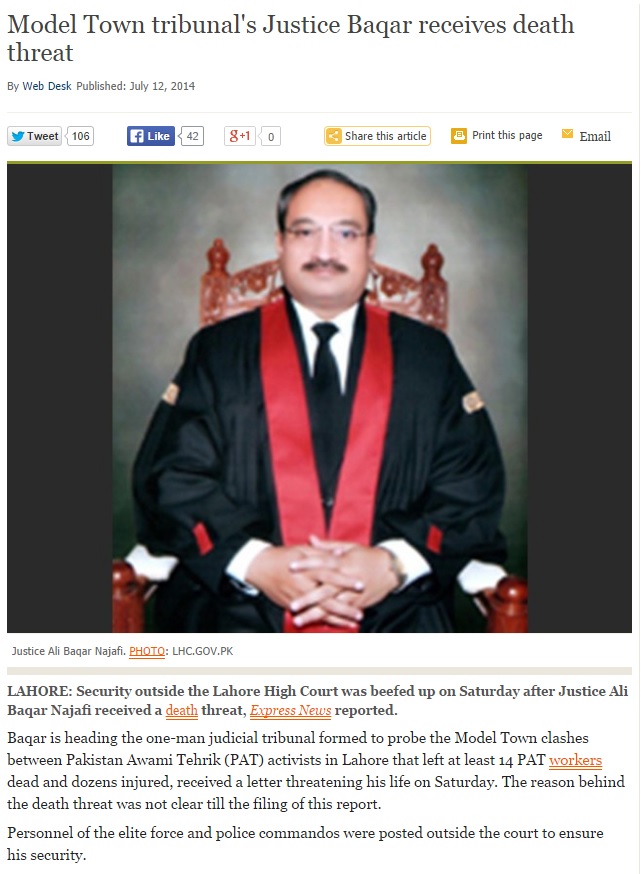 http://tribune.com.pk/story/734662/model-town-tribunals-justice-baqar-receives-death-threat/
Comments
comments