طاہر القادری اور عمران خان کے دھرنوں میں ڈنڈا بردار دہشت گرد اور کمرشل لبرلز کی منافقت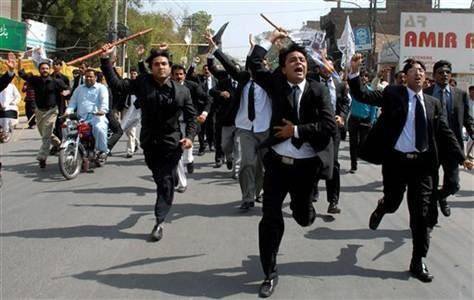 مفتی نعیم، عاصمہ جہانگیر، اعتزاز احسن، طاہر اشرفی، ڈاکٹر تقی، عارف جمال، احمد لدھیانوی، انصار عباسی، ماروی سرمد، بشری گوہر، طلعت حسین، مشرف زیدی، اوریا مقبول جان، مجیب الرحمن شامی اور دیگر دیوبندی مولویوں، نونی چیلوں اور کمرشل لبرلز کو کوئی یہ تصویریں دکھاۓ اور پوچھے کہ اگر یہ "پر امن" جدو جہد ہے افتخار چودھری کی بحالی کی تو پھر انقلاب مارچ اور آزادی مارچ کے مظاہرین کیسے دہشتگرد ہو گئے؟ جو وہاں پیو تو حلال ہے جو یہاں پیو تو حرام ہے ؟
Summary: Pictures of PMLN workers along with members of civil society, laywers, Jamaat-e-Islam, Sipah-e-Sahaba (ASWJ) in the so called Lawyers Movement for the restoration of the corrupt, pro-Taliban pro-Takfiri Chief Justice Iftikhar Muhammad Chauhdry. These workers, laywers etc are clearly armed with batons, bricks and stones.
Video of PMLN's attack on Supreme Court of Pakistan.
چودھری نثار، خواجہ آصف، سعد رفیق کی قیادت میں ایوان صدر پر مسلم لیگ نواز کا حملہ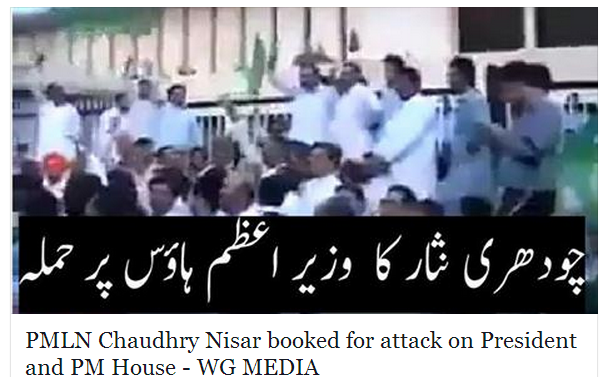 Video of Nawaz Sharif's 2012 speech in which he demands for resignation of PM Gilani and President Zardari and wants their resignation until charges against them are proven in a court of law.

ماضی کے نواز شریف کا کہنا ہے کہ وزیر اعظم کو پہلے استعفیٰ دینا چاہیئے اگر جُرم ثابت ہو تو گھر جائے اگر بے قصور ہو تو اپنی کُرسی پر دوبارہ آجائے۔۔۔ نواز شریف نے آج سے دو سال پہلے یہ بات کہہ کر طاہر القادری عمران خان کے موقف کی تائید کردی۔۔۔ یاد ماضی نورا جی ۔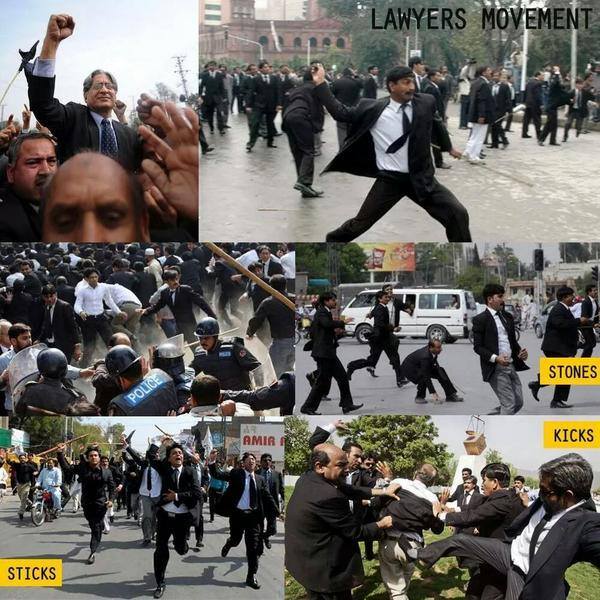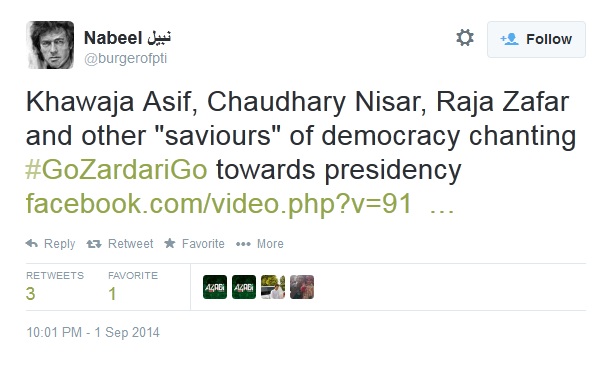 Now compare these pictures aand videos with the vicious propaganda by PMLN, ASWN, JUI-F, ANP bigots and fake liberals against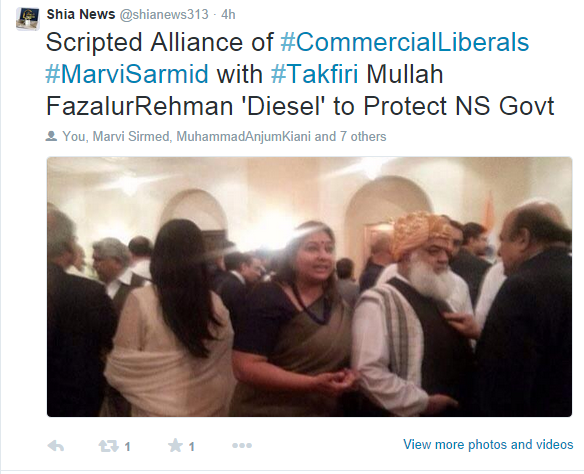 Comments
comments