Thirty-eight Balochs killed in Aug 2014 alone, where are Achakzai's 50,000 protestors?
August 2014 was another bloody month for the Baloch population of Balochistan when at least 38 Baloch activists and intellectuals were killed by Deoabandi ASWJ proxy terrorists of the pro-Takfiri establishment.
Mahmood Khan Achkazai claimed in his speech at the Parliament that he stood ready to bring fifty thousand people in support of Nawaz Sharif at one hour's notice to confront Imran Khan and Sunni Sufi cleric Tahir ul Qadri. However, he is not willing to bring fifty thousand protestors for the Balochs that were killed after being abducted by takfiri establishment and ASWJ Deobandi gang led by Ramzan Mengal and Rafique Mengal.
Why is this?
Achazai's brother is the Governor of Baluchistan. Nine other family members are ministers or hold important offices in the center or Baluchistan.  Achkazai clan who is working with the Army to exterminate the Baloch nationalists is also working to stop Army sponsored PTI and PAT protests is ludicrous.
The truth is the parliament is filled with such prostitutes, nepotism and ugly relationships with the Pakistan Army. Mir Hasil Bizenjo, a Baloch politician and key ally of Achazai mocked the PTI and PAT protestors sitting outside parliament for three weeks that they were getting food. The feudal mindset of the elite which governs Pakistan considers the public their slaves. They think of the protesters and less than human and only the parliamentarians and elite as worthy. Their message and narrative is supported by teams of commercial liberals and for profit journalists.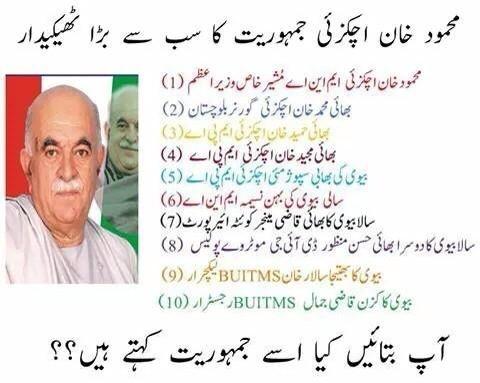 Comments
comments