Some inconvenient questions about Pakistan army's LeJ ties – by Marvi Sirmed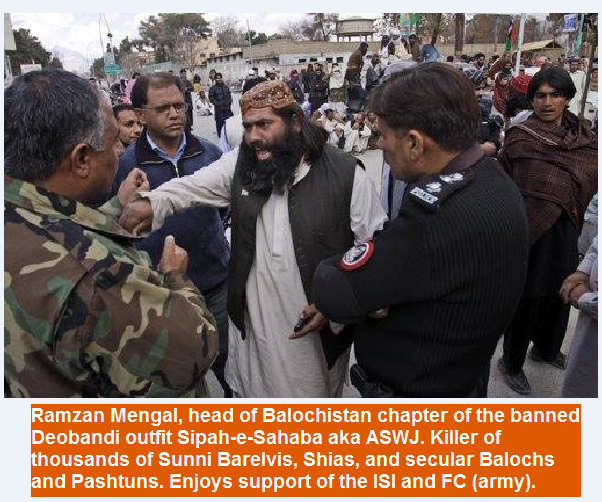 Editor's note:  We appreciate Marvi Sirmed's article in the Nation about the terrorist ties of  the Pakistan Army. There is plenty of evidence including but not limited to Carlotta Gall's book, the Wrong Enemy:
https://lubpak.com/archives/311475
https://lubpak.com/archives/312805
https://lubpak.com/archives/312576
https://lubpak.com/archives/tag/pakistan-armys-support-to-deobandi-aswj-taliban-other-militants
The news about the military operation in North Waziristan targeting the terrorist sanctuaries was received on Sunday with a lot of enthusiasm and support for the armed forces from many sections of society.
Named cleverly as Zarb-e-Azb (the sharp strike literally) after the name of the sword carried by Holy Prophet Mohammad (PBUH) during the battles of Badar and Uhud, the operation busts down the jihadist takfeeri narrative of the militants at the outset.
While one has heard many supportive sentiments from almost all walks of life on electronic as well as social media, one has also come across some skepticism from a cross-section of civil society voices outside Punjab and Islamabad. The Pashtuns especially, were heard carefully expressing their measured hopes for the operation while reminding of the earlier operations that did not produce sustainable results.
Political parties across the board appear to be supportive of the military operation after alloptions of negotiations with the militants have already been exhausted. A few parties like Jamaat-e-Islami (JI) have chosen to oppose it firmly while Jamiat-e-Ulama-e-Islam-F (JUI-F)has demanded to pair it with a policy framework to deal with terrorism in the longer run. Pakistan Tehrik-e-Insaf (PTI), the third largest party in the federal parliament, has protested on not being taken in confidence before deciding for the operation. Just when these lines are written, PTI head Imran Khan has come out of the National Assembly Session and is talking to media saying that the talks should still go on alongside the operation.
Amidst this landscape of political and popular support, the Armed Forces of Pakistan have finally decided to take on the militant hideouts in North Waziristan (NW). Pakistan has been long resisting the demand for a stern military operation in this part of FATA from liberal, progressive Pakistanis. The operation has been on the wish list of the West (read America) too but without any heed from Pakistani authorities. In fact, the foreign office under Hina Rabbani Khar was frequently heard stating that the operation in North Waziristan would be undertaken on Pakistan's own timeline and not under duress by any foreign power. The time, fortunately, has arrived. But what exactly has happened for the time to be ripe for the operation?
For one, the negotiations have, as is claimed, divided the terrorists who are busier than ever in managing internal rifts. Secondly, many skeptics in Pakhtun civil society believe that the Afghan assets have been removed from NW and taken abroad, which makes the military operation a safer option. Especially after the Karachi Airport Attack, fixing the renegadeshas become need of the hour.
According to the press release by the ISPR on last Sunday, "our valiant armed forces have been tasked to eliminate these terrorists regardless of hue and color, along with their sanctuaries". The statement further says, " With the support of the entire nation, and in coordination with other state institutions and Law Enforcement Agencies, these enemies of the state will be denied space anywhere across the country".
That roughly puts the operation objectives as follows. One: all terrorist organizations having sanctuaries in NW would be eliminated regardless of what nationality and tribe they belong to, which means, Tehrik-e-Taliban Pakistan (TTP), Afghan militants, Uzbeks and Chechens along with all other shades of sectarian outfits etc. whosoever is present in NW. Two: The sanctuaries of all kinds of terrorists would be eliminated. Three: The target will be the groups who are against the state of Pakistan (just to remind, Lashkar-e-Jhangvi and other such outfits are not against the state of Pakistan). Four: The 'enemies of the state' would be targeted wherever they are over the length and breadth of the country.
Now that describes a rather tall order. If one is getting the objectives right, the operation has to extend to the settled areas of Pakistan sooner or later. The ones our army seems to be well intentioned to eliminate – the TTP and Uzbek/Chechen mix – have strong support from the groups operating in settled areas of urban Pakistan with impunity. There has been strong circumstantial evidence to suggest ideological, tactical, operational and logistic ties between LeJ, Ahl-eSunnah-Wal-Jamaat (ASWJ), Lashkar-e-Toyeba (LeT), TTP, Punjabi Taliban and other Al-Qaida affiliated groups.
In 2009, Pakistan Army's GHQ was attacked and several officers were held hostage by the militants. The LeJ chief Malik Ishaq who was serving jail term in Lahore, was flown in a military plane to Islamabad and was 'requested' to mediate between military authorities and the militants. The attack was later claimed bythe AmjadFaruqi group of TTP.
In April this year, former Interior Minister Rehman Malik verified strong links between TTP and LeJciting reports of investigation agencies. He said that the two groupshad been frequently claiming the responsibility of each other's terror activities. Earlier, three terrorists were identified who were killed in a case of mistakenly exploded bomb in ManghoPir in Karachi in October 2013.UmerKhattab, a senior CID officer had told the media at that time that two deceased terrorists identified as Rafiullah Baloch and Abdul Majid Baloch were from TTP while the third one,Saqib alias Saqib Punjabi was fromLashkar-e-Jhangvi.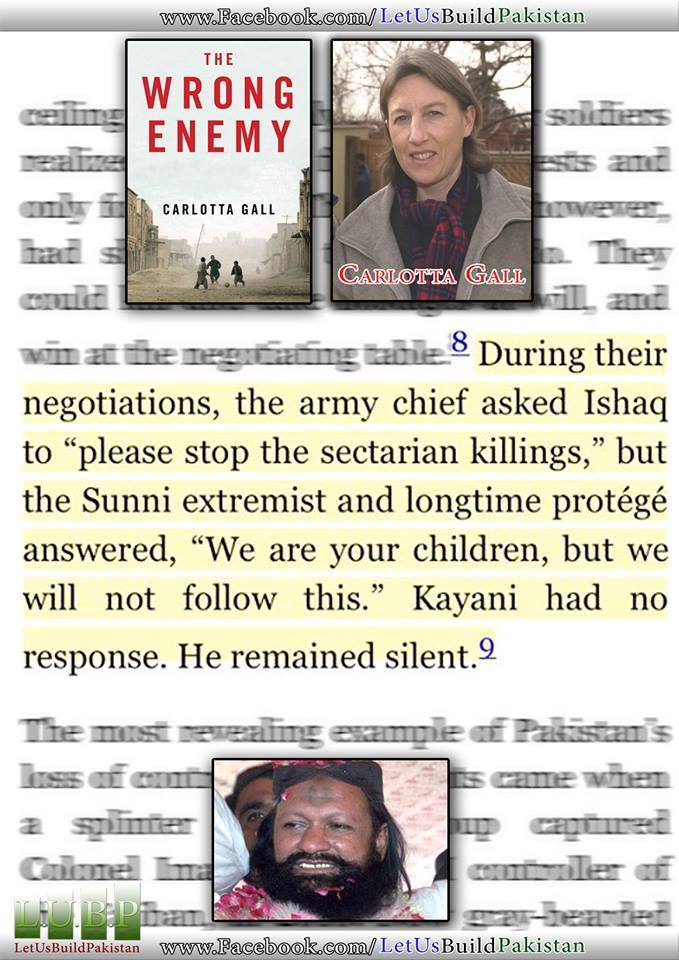 There has been some very disturbing news about alleged ties of LeJ with elements within the military establishment, which the new army leadership is expected to fix on priority basis. According to an excerpt from The Wrong Enemy: America in Afghanistan, 2001-2014 by Carlotta Gall, some of her sources inside Pakistan Army reported to her about the conversation between the then-Army Chief Gen (R) Pervez Kayani and LeJ chief Malik Ishaq during the post-GHQ attack negotiations. When Gen Kayani asked Malik Ishaq to stop sectarian killings, Malik Ishaq reportedly replied, "We are your children but we will not follow this". On which General Kayani, Gall writes, preferred to remain silent.
There are umpteen other instances where ferocious militants like Usman Saifullah Kurd (LeJ operational head of Balochistan), DawoodBadini (Second-in-Command of LeJBalocistan), Shakirullah Jan (LeJGilgit/Baltistan) and Arifuddin (LeJGilgit/Baltistan) among others, were allowed to escape from high security detention facilities controlled by army and FC in Quetta and Gilgit-Baltistan.
It is, thus, very important for the army leadership to look into these holes within its own establishment if a strategy of seeing militants as their strategic assets and proxies is no more being followed.
Rehman Malik's statement of last April also claimed the presence of 500 'terrorists' of Ghazi Force in Kohat and in seminaries of Islamabad. He further claimed, which has also been independently reported by various journalists that pery-urban areas in Islamabad's vicinity especially Bara Kahu had become strongholds of terrorists.Meaning thereby, that the blowback of Zarb-e-Azb would be an un-manageable Zarb-e-Azeem (the great strike) from militants if countrywide terrorist sanctuaries are not decimated.
In short, Zarb-e-Azb would be a litmus test of whether Pakistan has had any change of mind on the use of proxies to serve its geo-political agenda. If the strategic depth doctrine still exists in the shape it existed in 1990s and most of 2000s, the hope of these terrorist groups being shunned completely, is rather misplaced. The progressive forces in Pakistan, while extending all out support to our Armed Forces for Zarb-e-Azb, are keeping their fingers crossed for a real change in the right direction.
The writer is an Islamabad based defender of human rights and works on democratic governance.
marvi@marvisirmed.com
@marvisirmed
Source: http://www.nation.com.pk/columns/17-Jun-2014/zarb-e-azb-good-luck-pak-army
جرنل راحیل شریف پاکستانی افواج کی کس عزت و وقار کے تحفظ کی باتیں کر رہے ہیں؟ وہ عزت و وقار جس کو تحریک طالبان کے تکفیری خارجی دہشتگرد سر عام اپنے پیروں تلے روند رہے ہیں ؟ اگر افواج پاکستان کو اپنی عزت و وقار واقعی میں عزیز ہے تو تحریک طالبان، انجمن سپاہ صحابہ, لشکر جھنگوی اور القاعدہ کے دہشتگردوں کے خلاف مزید کسی مہلت اور رحم کے بغیر فوری فوجی آپریشن کا آغاز کرے اور اس ناسور کو ان کے مدارس سمیت جڑوں سے اکھاڑ پھینکے – See more at: https://lubpak.com/archives/311475#sthash.R5ONALFv.dpuf
Comments
comments