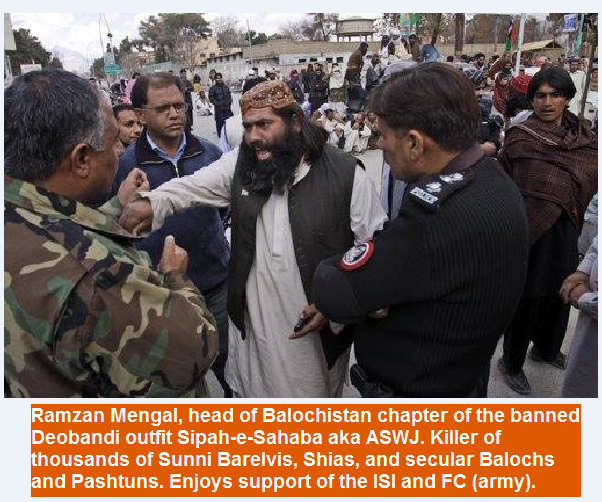 Key terrorists of Lashkar-e-Jhangvi (LeJ, also known as Sipah-e-Sahaba and ASWJ) who were released or allowed to escape from high security prisons of the country right under the nose of Pakistani military officials:
1. Malik Ishaq, Head of LeJ and Vice President of ‪Sipah-e-Sahaba. (He was released from prison by Supreme Court on 14 July 2011. He was flown from Lahore to Rawalpindi in 2009 on a military plane to get the al Qaeda-linked terrorist to negotiate with attackers who had taken several people hostage inside GHQ.)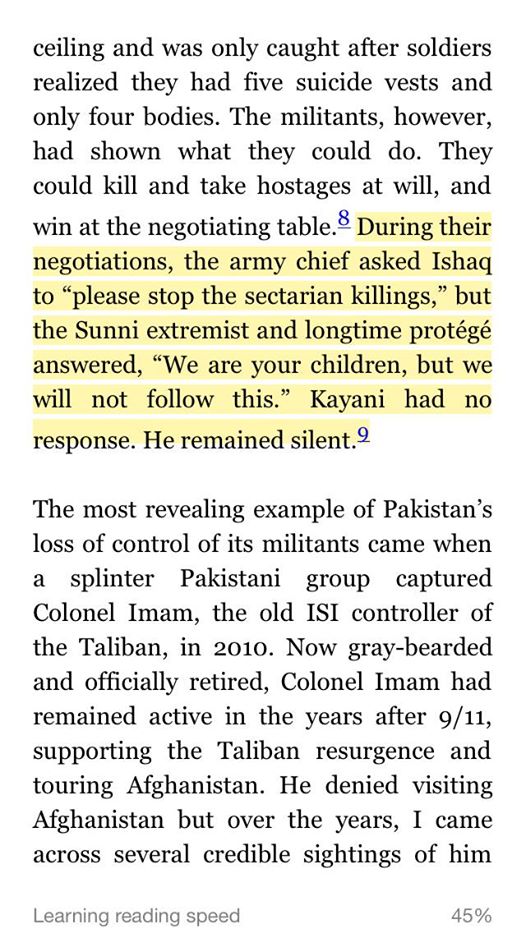 Source of extract: The Wrong Enemy: America in Afghanistan, 2001-2014 – by Carlotta Gall
(conversation between General Kayani and Malik Ishaq, the head of Lashkar-e-Jhangvi/ASWJ, when latter was flown from Lahore to Rawalpindi in 2009 on a military plane to negotiate with TTP/ASWJ attackers who had taken several people hostage inside GHQ on 10 October 2009.)
2. Usman Saifullah Kurd, LeJ operational head of Balochistan
3. Dawood Badini, Second-in-Command of LeJ Balocistan.
(The above two, Kurd and Badini, were allowed to escape from high security prison of Pakistan Army in Quetta Cantonment on 18 Jan 2008 when Gen Musharraf was the President of Pakistan and Supreme Commander of the Armed Forces.)
4. Shakirullah Jan, LeJ Gilgit/Baltistan
5. Arifuddin, LeJ Gilgit/Baltistan
(The above two, Shakirullah and Arifuddin, were allowed to escape from FC guarded prison in Cheeta sub-jail in Gilgit-Baltistan on 13 Dec 2012. They were involved in the assassination of Agha Ziauddin Rizvi.)
Of course, General Kayani or any other senior commander did not go to the Quetta or Gilgit Jail and opened the gates himself, however the army needs to answer as to why and how hardcore LeJ/SSP/ASWJ terrorists got away from a Jail inside a heavily guarded cantonment? Was anyone courtmartialed for that breach?
The aim is not to blame the whole Army, however, these generals are the ones who devise the policy, policy of harboring, abetting and using Takfiri Deobandi and Salafi terrorists to promote their strategic agendas in Afghanistan, Kashmir and beyond. Also it is a fact that in Army, decisions are made by commanders and for all practical purposes those very decisions represent the institution.
It may be noted that LeJ and TTP converge on certain points, both belong to radicalized takfiri branch of the Deobandi school, but they are NOT one and same organizations. For example, in Balochistan LeJ works with impunity and for this very reason we don't see any operations against LeJ in Balochistan despite number of terrorist attacks and subsequent sit-ins by the Hazara Shia community.
Critical readers are encouraged to consult scholarly literature on historical and strategical relationship between our Army and these beasts known as Taliban/SSP/LeJ and how they were nurtured by our security apparatus for last 30 or so years.
If our armed forces are serious about saving the dignity and honor of our country, then they need to act against the TTP/LeJ/SSP/ASWJ beasts and their takfiri sectarian ideology without any mercy and further delay, whether this side of border or that side of border. It is the extremist and takfeeri ideology which needs to be confronted instead of focusing on one group or another or indulging in false differentations between good Taliban and bad Taliban.
جرنل راحیل شریف پاکستانی افواج کی کس عزت و وقار کے تحفظ کی باتیں کر رہے ہیں؟ وہ عزت و وقار جس کو تحریک طالبان کے تکفیری خارجی دہشتگرد سر عام اپنے پیروں تلے روند رہے ہیں ؟ اگر افواج پاکستان کو اپنی عزت و وقار واقعی میں عزیز ہے تو تحریک طالبان، انجمن سپاہ صحابہ, لشکر جھنگوی اور القاعدہ کے دہشتگردوں کے خلاف مزید کسی مہلت اور رحم کے بغیر فوری فوجی آپریشن کا آغاز کرے اور اس ناسور کو ان کے مدارس سمیت جڑوں سے اکھاڑ پھینکے