British journalist Carlotta Gall's clear discourse on Pakistan's Deobandi terrorists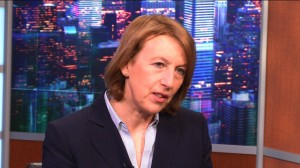 In her recently published and much acclaimed book "The Wrong Enemy" (2014), Carlotta Gall clearly writes about the role of Deobandi terrorists as committed partners and footsoldiers of Al Qaeda and Taliban. This clarity about takfiri Deobandi dimension of terrorism is lacking in the mainstream discourse in Pakistani media.
In her book, Carlotta Gall writes:
The one-eyed Mullah Omar was a hardheaded fighter who would never flinch from a challenge. He had grown up in a poor household, orphaned at a young age, and raised by his uncle who was a village mullah. A fighter since his teens, he had a reputation for toughness on the battlefield matched by an uncompromising adherence to Islam, in particular to a fundamentalist version of his religion taught by clerics of the Deobandi sect in madrassas in Pakistan and increasingly in Afghanistan.
The black and white striped flag of Jamiat Ulema-e-Islam (JUI-F),the Deobandi religious party of Maulana Fazlur Rehman, flew above the mosques and houses in every village. There were huge brick-and-cement madrassa compounds, incongruous among the small farming homesteads, funded by Arab donors from the Persian Gulf. Someone had painted "Long Live Faz lur Rehman" in large white script across the hillside outside one village.
Rehman, a Pashtun from Dera Ismail Khan on the edge of the tribal areas, was one of the most prominent religious political leaders in Pakistan, as his father, Maulana Mufti Mahmoud, had been before him. His party, JUI-F, held seats in parliament, and had been a close coalition partner to Benazir Bhutto in the 1990s. It had also been a strong supporter of the Taliban. It was from Fazlur Rehman's madrassas that so many students joined to support the Taliban in their grab for power in 1994.
The Haqqania madrassa is a notorious establishment; it follows the fundamentalist Deobandi sect and is often described as the alma mater of the Afghan jihad since it has trained generations of students over three decades for war in Afghanistan. It is run by Maulana Sami-ul-Haq, head of his own religious party and close supporter of Zia-ul-Haq. The madrassa houses three thousand religious students from Pashtun areas, Afghans and Pakistanis, in large, white-washed residence blocks built around a series of courtyards. Ninety-five percent of the Taliban fighting in Afghanistan had passed through its classrooms, a spokesman for the madrassa, Syed Mohammad Yousuf Shah, proudly told me.
(In the aftermath of TTP-LeJ's attack on GHQ in 2009)The army brought in one of its favorite mediators, Hafiz Tahir Ashrafi (Deobandi), a famous preacher and former jihadi who has since become a television personality with his own chat show. He is a colorful character of enormous girth and appetite, with a long beard and flowing white clothes. He arranged to meet me for an interview in a gym in Lahore, plopping himself down on a pink leather sofa in the café and dropping three smart phones on the glass coffee table.
Ashrafi cultivates a benign image, making public statements against sectarian attacks and trying to intervene in cases where people have been accused wrongly of blasphemy. Yet he has worked tirelessly to secure the release of militants from jail and remains a fervent supporter of jihad and the jihadi groups. He told me he had helped secure the release of seven hundred Pakistanis held in Afghanistan after the collapse of the Taliban in 2001, including some important militant commanders, who had successfully hidden their real identities from their captors. In 2007, he had been called in to help negotiate with the clerics at the Red Mosque.
Now, Ashrafi worked with senior military officers in night-long negotiations with Dr. Usman, the leader of the militants. They called in the heads of almost every banned militant group to intercede with the militants to release their hostages.7 Thinking the militants were connected to the vicious sectarian group Sipa-e-Sahaba, the army sent a military plane to fetch its notoriously hard-line leader,Maulana Mohammad Ahmed Ludhianvi, to intercede.
When Dr. Usman said he wanted the army to free men from another group, Lashkar-e-Jhangvi, the most dangerous of all, often described as the foot soldiers of al Qaeda, Kayani sprung the group's leader Malik Ishaq from a Lahore jail. Fifty years old, Ishaq was a Sunni extremist and the most notorious of murderers. He had been in jail since 1997, charged with forty-four cases of homicide, mostly for murdering Shiites. Kayani treated him like a valuable mediator. He sent his personal plane to fly Ishaq to Rawalpindi, and promised to free him in return for helping to release the hostages. Meanwhile, the drawn-out negotiations gave the army time to prepare a rescue. Before dawn, SSG operatives stormed the building and killed four of the five hostage-takers.
"We requested time to talk," Ashrafi told me. "We saved forty-two people." Usman nearly escaped by hiding in a false ceiling and was only caught after soldiers realized they had five suicide vests and only four bodies. The militants, however, had shown what they could do. They could kill and take hostages at will, and win at the negotiating table.8 During their negotiations, the army chief asked Ishaq to "please stop the sectarian killings," but the Deobandi extremist and longtime protégé answered, "We are your children, but we will not follow this." Kayani had no response. He remained silent.
Malik Ishaq was released from jail in July 2011 after he was acquitted of some cases against him and given bail for others as part of the deal made in 2009. He was detained again in March 2013 after one of the worst campaigns of sectarian violence, blamed on Lashkar-e-Jhangvi, against Shiites in Quetta.
Appendix: Extract of an exclusive interview with Caroltta Gall by Ali Abbas Taj, Editor LUBP
Comments
comments
Tags: Al-Qaeda, Carlotta Gall, ISI, Jihadi and Jihadi Camps, Media Discourse on Deobandi Terrorism, Military Establishment, Pakistan Army, Pakistan Army's Support to Deobandi ASWJ & Taliban & other militants, Religious extremism & fundamentalism & radicalism, Saudi Arabia KSA, Sectarianism, Shia Genocide & Persecution, Takfiri Deobandis & Wahhabi Salafis & Khawarij, Taliban & TTP, Terrorism