Condolences to Nawaz Sharif and other TTP-ASWJ apologists on Zarb-e-Azb – by Riaz Malik Al Hajjaji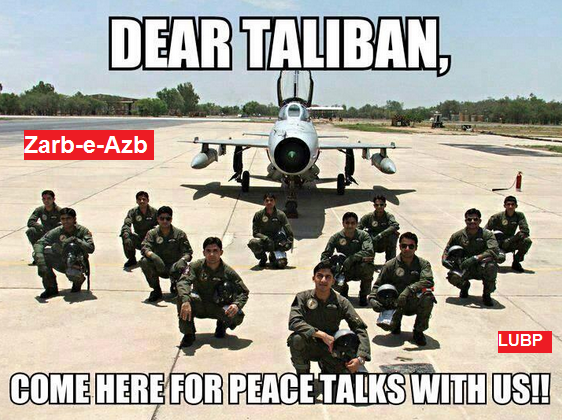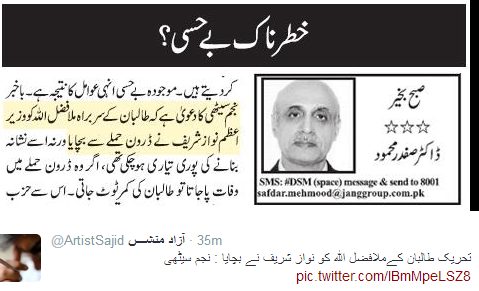 Condolences to the "anti-establishment" Comrade Nawaz Sharif on the launch of operation against the Taliban in North Waziristan.
Condolences to pro-TTP-ASWJ journalists including Hamid Mir, Saleem Safi, Irfan Siddiqi and Ansar Abbasi of Geo TV/Jang Group.
Condolences to Hazrat Imran Khan too who, eventually, is likely to extend half-hearted support to the Operation Zarb-e-Azb.
Just weeks ago, PM Nawaz Sharif called those who were opposed to capitulation, ooops, Talks with the Taliban, as "Traitors". If Hazrat Imran Khan is Taliban Khan, Nawaz wanted to be their leader (Amir) and publicly praised the "Good Governance" of the Taliban in pre 9/11 Afghanistan.
Condolences to some Good Liberals, the supportors of Pro Taliban Nawaz Sharif. Nawaz Sharif was the Man who was going to Stand up to the Man which is the army.
After a very long time, the roles seem to have been switched. In stark contrast to former COAS General Kayani, General Raheel Sharif seemed to be itching for a fight with the Taliban-LeJ-ASWJ Khawarij and had made his intentions clear. After half a dozen attacks on the army, General Kayani used to plea bargain his way out with Malik Ishaq of ASWJ-LeJ.
After attacks on the army and now the Karachi airport, General Raheel responded in a most unusual manner. He struck back.
This puts our Good Liberals the Jinnah Institute and The Friday Times in a real quandry. Do they support General Raheel Sharif and his proxies the Sunni Barelvi cleric Tahir ul Qadri and Pro Army politician, Faisal Raza Abidi. Raheel Sharif's proxies are clear in condemning the Taliban.
On the other hand, we have Nawaz Sharif proxies like the Judiciary and GEO TV who are decidedly Pro Taliban. So Good Liberals cast their lot with Nawaz Sharif. Many of them remained anti Taliban but typically confused as well.
Clearly, General Raheel Sharif must have served some potent sandwiches to Nawaz Sharif to end the latter's dithering on the military operation.
If this operation is unlike all the reluctant "operations" under General Kayani, it spells very bad news for our "misunderstood" Taliban "brothers" – the endearing term often used by Hazrat Imran Khan, Hazrat Siraj-ul-Haq, Fazl-ur-Rehman and Nawaz Sharif.
If this operation extends to Karachi, Rahim Yar Khan, D I Khan, Mastung, Jhang, Bhawalpur and other Deobandi Taliban-ASWJ zones, that we are headed for a future. A future where Pro Taliban "anti establishment" Nawaz Sharif faces a very bleak electoral landscape.
Post script: Excellent point by Taha Siddiqui "Ops wont solve anything unless Pk Army stops supporting proxies in regional conflicts like Kashmir/Afghanistan who produce monsters like TTP" Also due attention needs to be paid to safe relocation of IDPs after full registeration and scanning for militants. I would add that the ops, if conducted with sincerity, will automatically weaken the Doctrine of Strategic Depth, ooops, Death.
Comments
comments