ISI unleashes JuD-LeT and ASWJ-LeJ proxies to harass Jang Group, Umbrella support for Taliban Imran Khan joins in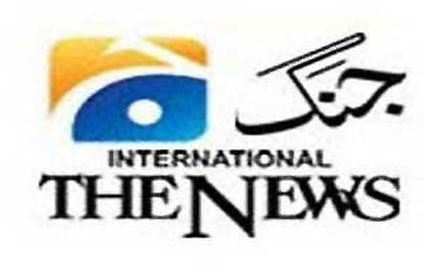 Editor's note: We are cross posting the screams of Jang/Geo group when the most wanted terrorists, which Jang/Geo stalwarts like Najam Sethi projected as ambassadors of peace, are being used to attack them. It must be noted that  the umbrella protectors of Taliban like Jamat e Islami (JI) and Pakistan Thereek e Insaaf (PTI) have also launched a relentless onslaught on the the Jang/Geo or Janju group.
While the biggest media house in Pakistan is trying its best to backtrack and prove to the Army that they are indeed their humble servants (Read: https://lubpak.com/archives/312915 ), the Army it appears has already unleashed its stretegic assets. 
Here is as link to Jang/Geo's response to allegations of election rigging by Imran Khan.
http://www.geo.tv/article-146533-Geos-response-to-Imran-Khans-allegations
KARACHI: The Jang/Geo management on Friday urged the civil and military authorities to take notice of the "relentless campaign" against the largest media group of Pakistan and provide security and protection to its employees and offices.
In a letter written to the top civil and military leaders, including the army chief and interior and information ministers, the Jang/Geo Group management said since the April 19 attack on Hamid Mir incidents of intimidation of its staff had increased to an alarming level.
"They have been taken to a level now where our employees clearly feel threatened and fear they could be attacked on the way to the Geo offices," the letter said.
"We are apprehensive that any day anything could happen. The campaign of vilification and physical threat is being taken to a higher pitch every day."
The letter, copies of which were also sent to the home secretaries, top police officials and director generals Rangers and Inter Services Public Relations, said these incidents assume an alarming perspective when seen against the backdrop of statements emanating from official 'uniformed' quarters.
"We have been accused of being anti-state, anti-army … in short, we are being accused of being traitors… our employees, contributors, distributors and editorial writers are now being targeted. They are being followed, accosted on the streets, (and) sent threatening letters. A sustained and relentless campaign of harassment and intimidation has been unleashed,"
said the letter adding that attempts were being made to shut the media group down.
In this context, the recent speech of the GOC Hyderabad in which he called the Geo/Jang Group "anti-state, anti-Islamic and working on a foreign agenda" remains a case in point, the letter added.
"The statement of another Maj. Gen. to the effect that 'those wanting to buy cameras should wait; Geo's cameras are about to be auctioned' are the cause for much concern."
The Jang/Geo Group said it does not wish to make a difficult situation worse, but would like to bring all these threatening statements and incidents of intimidation on the record.
"All these incidents seem to be part of a well-planned campaign to shut Geo down and harm our people and property," said the letter which quoted a number of incidents in which the Jang/Geo Group staff members have been targeted in recent days.
Giving details of the recent cases of harassment of its employees, the letter said: "Unfortunately, not only do these incidents have an official stamp about them, reports coming from all over Pakistan show official backing and encouragement."
The letter quoted the case of Geo cameraman Asif Kabeer who was attacked and severely beaten on Tuesday as he was going to cover the Jamat-ud-Dawa and Al-Muhammadia Students rally in support of the Pakistan Army and ISI in Rawalpindi. "They called him an Indian agent and threatened to kill him." In another incident, the residence of the investigative reporter of The News, Imdad Soomro, was attacked and burnt in Sehwan. The incident was reported in The News and Jang on Thursday.
The group chief executive also faced an embarrassing situation when he visited his lawyer. His bullet-proof car was parked at a distance from the lawyer's office. As the chief executive entered the office of his lawyer, the police and private guards went to a restaurant for a meal. Benefiting from this situation, some people tried to smash the car window with iron bars and stones. According to some Jang Group employees, attackers have come on motorcycles and sped away after roughing them up. They openly ask the victimised Jang/Geo Group employees to apologise. The social media is also full of such intimidation.
Geo's Karachi Bureau Chief, who has been staying at the AKU ever since the attack on Hamid Mir, is constantly followed and called a "traitor" (Ghaddar). When he confronted his follower, he was told 'Hamara kam hae aap pe nazar rakhna' (It's our job to keep an eye on you), the letter said.
"One of the editorial writers of The News received a phone call at 4 am on Wednesday in Islamabad; he was told to stop writing for The News and threatened with dire consequences if he didn't. He found an envelope slipped under the door containing the same threat. The same letter was delivered to his Karachi residence as well."
The letter from Jang/Geo added a large number of Jang Group agents and hawkers have been denied access to many localities and have been told not to carry and deliver Jang or The News. Similarly, many agents all over Sindh and Punjab have received telephone calls ordering them to stop selling 'Ghaddar' newspapers, the letter said.
The letter said many employees, including female staff members, in Karachi and elsewhere were being followed from home to office and on assignments. "If they confront the followers, they are told 'you are working for Geo, which is a traitor organisation. Stop working for them otherwise we will take care of you. We know the names and addresses of all your brothers and sisters'.
"On Wednesday, the Geo office in Islamabad was surrounded by an unruly mob. They chanted slogans accusing us of being anti-state. Some of the people were seen carrying petrol canisters. The slogans raised branded us anti-state, anti-army, traitors and Wajibul Qatal (liable to be killed). The police stood by and took no action."
The Jang/Geo management said copies of this letter were being sent to every person responsible for providing security and protection.
"We call upon all of you to take note of this relentless campaign against the largest media group of Pakistan and take necessary steps."
The media house urged the civil and military leaders to instruct the relevant police officers all over Pakistan to meet the Jang/Geo management and discuss security steps which need to be taken immediately.
"Failing this, we will have no recourse but to appeal to international missions and journalist associations all over the world, inform them of this threat to the lives and property of our group and our employees in an attempt to silence the voice of the largest media group in Pakistan," the letter said.
Source :
http://www.thenews.com.pk/Todays-News-13-30109-Jang-GroupGeo-employees-offices-under-threat
Comments
comments
Tags: ISI, Jamaat-ud-Dawa (JuD) and Lashkar-e-Taiba (LeT), Jang Group Jang & The News & Geo, JI, Pakistan Army's Support to Deobandi ASWJ & Taliban & other militants, Pakistani Media, PTI, Sipah-e-Sahaba Pakistan (SSP) & Lashkar-e-Jhangvi (LeJ) & Ahle Sunnat Wal Jamaat (ASWJ), Takfiri Deobandis & Wahhabi Salafis & Khawarij, Taliban & TTP, Terrorism