Community leader blasts Bilawal and PPP-led Sindh govt on utter failure to stop Shia genocide
In a week that saw the murder of five Shia professionals including two doctors and two lawyers in Karachi, the PPP led Sindh Government did nothing to stop this genocide. Surrounded by urban flatterers on social media, the current PPP leader, Bilawal Bhutto Zardari, did not even show any specific outrage or proper condemnation against the cold-blooded and cowardly murder of life saving professionals like doctors.
It is one thing to condemn the Taliban on social media and at the occasional PPP rallies but what about the ongoing Shia Genocide in Karachi being brazenly committed by the Taliban's urban Takfiri Deobandi partners, the ASWJ?
Has Bilawal done anything to address this?
While Aurangzeb Farooqi of the banned terrorist outfit Sipah Sahaba Pakistan (SSP aka ASWJ) brazenly advocates violence and genocide against the Shias in Sindh, what has Bilawal and PPP done besides shifting all the blame to the Punjab Government?
While the PMLN is actively complicit in Shia Genocide, the PPP is also indirectly complicit as it has clearly washed its hands off its duty to provide security to the Shia, Sunni Barelvi, Ahmadi and Hindu citizens of Sindh from the daily violence they face at the hands of the Deobandi ASWJ.
Refer to this post documenting Aurganzeb Farooqi and ASWJ's on Shia Genocide
https://lubpak.com/archives/235607
The original Brown Pundits post is no longer accessible at
http://floost.com/brownpundits-post-a-sipah-e-sahaba-leader-speaks-1593777
Incidentally, Bilawal himself has been threatened by the ASWJ.
Then why is ASWJ's Sindh leader, Aurangzeb Farooqi roaming around freely in PPP-governed Sindh Province, spreading hatred and inciting Shia Genocide as well as violence against Sunni Barelvis and Hindus?
Refer to the statement of Hasan Zafar to see the increasing despondency being faced by the Shia muslim community in Sindh which constitutes anywhere between 15 to 25% of the total population and whose member included Bilawal's own grand-mother, Begum Nusrat Bhutto as well as the country's founder, Mohammad Ali Jinnah.
https://lubpak.com/archives/235607
If this still does not grab the attention of PPP and its leaders, then refer to this picture of Dr. Raza Haider. Maybe it might evoke some humanity.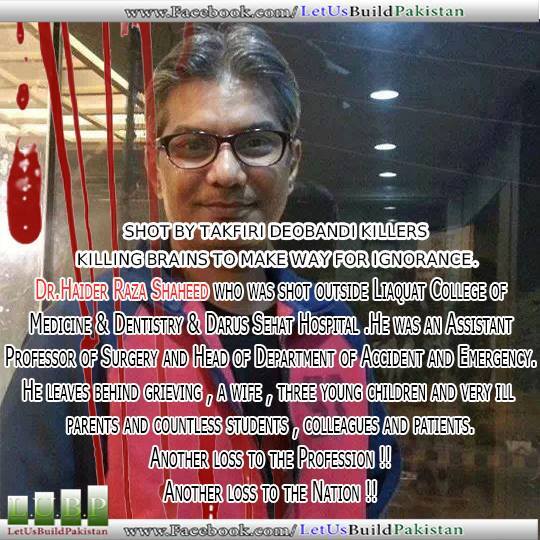 https://www.facebook.com/ShiaOnlineCommunity/photos/a.137279442395.120540.137278482395/10151936366687396/?type=1
LUBP is keeping its fingers crossed. When Bilawal was threatened by ASWJ, LUBP wrote in his support. When LUBP was harassed by ASWJ, BBZ chastised LUBP!
According to the urban flatterers who occupy an important place in BBZ's inner circle, uncomfortable but valid and factual criticism can be brushed away as "abuse". While Sindh's Shias are daily picking up the bodies of their near and dear ones, these urban flatterers have more important things to do like self-promoting photo ops.
Comments
comments