This is the death of men – by Hur Hussain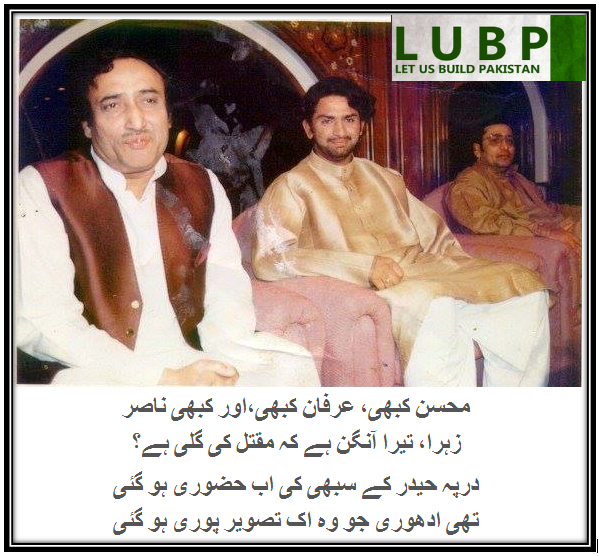 Shia Genocide has engulfed thousands of our innocent children, affectionate mothers, devoted sisters and bread winner fathers from earthly paradise Parachinar to the seashore of Karachi, hilly Gilgit-Baltistan and silent Quetta. Not a single inch of our land we can find not to be stained with the blood of exploited people of Pakistan. Civilians in thousands and our troops in hundreds lost their valuable lives in the hands of these very fewer extremists who have hostage the whole nation.
Unfortunately, even then we have their abettors and sympathizers among our ruling parties.
Heart bleeds to see a picture in which three beloved friends became victim of same genocide wave. An asset of this nation, A great poet, writer and candid extoller of Hazrat Imam Hussain a's, Syed Mohsin Naqvi martyred by banned outfit SSP (presently in fabricated cloak of ASWJ) in 1996 in Lahore.
Receiving bullets in chest and bleeding in ambulance in way to hospital Mohsin Naqvi Shaheed expressed his love for martyrdom in following word:
Ley Zindagi ka Khumas Ali a's kay Ghulam sey,
Aye maut aa zaroor mgar ihtiram sey,
Aashiq hun gar zara sey bhe iziat hoyee mujhe,
Shikwa karoga mi tera apnay Imam sey.
Allama Irfan Haider Abidi, A magnificent philosopher, religious scholar and prominent writer was put to death along with his wife, Syeda Saeeda Khatoon on 22 January 1998 in Karachi in a plotted traffic accident and last but not least Allama Nasir Abbas of Multan, an icon, an outstanding religious scholar and eminent admirer and orator of Prophet Hazrat Muhammad s'a'w'w martyred in 2013 in Lahore.
Mourners of Imam Hussain a's in thousands mourned his martyrdom and protested in front of Governor House Lahore but there was none to listen their raising voice against ongoing shia genocide in Pakistan.
While remembering these icons, I suddenly remembered the beautiful lines by Abdel Rahim Mahmud that is wonderful description of a martyr's life.
I will carry my soul in my hand
And throw it in the valleys of death
It is either a life that makes a friend happy
Or a death that makes an enemy angry
The noble man's soul has two goals
To die or to achieve its dreams
What is life if I don't live
Feared and what I have is forbidden to others
When I speak, all the world listens
And my voice echoes among people
I see my death, but I rush to it
This is the death of men
And whoever desires an honorable death
Then this is it
How am I patient with the spiteful
And patient with all this pain?
Is it because of fear?
While life has no value to me!
Or humiliation? While I am contemptuous!
I will throw my heart at my enemies' faces
And my heart is iron and fire!
I will protect my land with the edge of the sword
So my people will know that I am the man
Comments
comments