Major split in banned terrorist outfit Sipah-e-Sahaba ASWJ results in murder of its chief in Punjab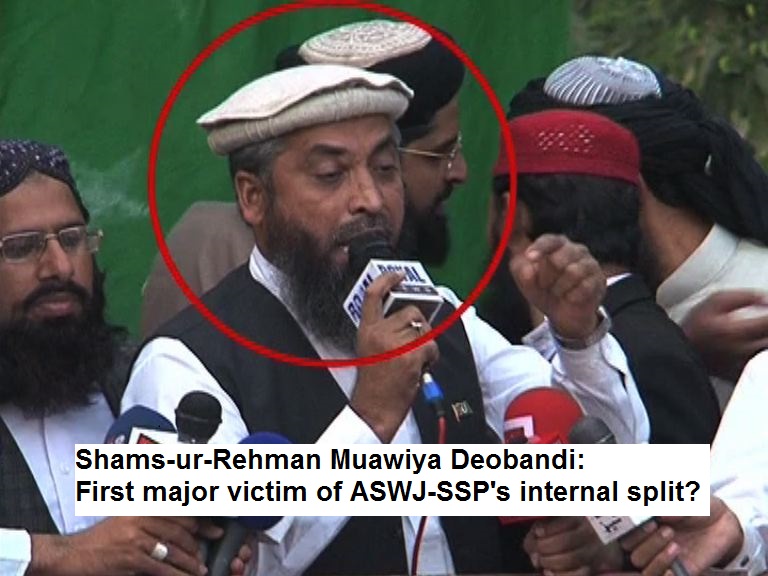 Urdu version: کالعدم دہشت گرد تنظیم سپاہ صحابہ کے رہنما مولوی شمس معاویہ کا قتل اندرونی تقسیم کا شاخسانہ ہے https://lubpak.com/archives/295039
Lahore (6 December 2013: News Report): Unknown assailants in Lahore have killed a Deobandi cleric. The deceased was the Punjab Chief of banned terrorist outfit Sipah-e-Sahaba Pakistan (SSP), currently operating as Ahle Sunnat Wal Jamaat (ASWJ) under the auspices of Punjab government (CM Shehbaz and Rana Sanaullah).
In 2001, Pakistan banned the Deobandi sectarian group Sipah-e-Sahaba under pressure from the United States to crack down on militancy but the group changed its name to Ahle Sunnat Wal Jamat (ASWJ).
Two days before this murder, on 4 December 2013, Aurangzeb Farooqi, the Karachi Chief of ASWJ-SSP held a secret meeting with Malik Ishaq Group in Lahore's Deobandi seminary Jamia Manzoor-ul-Islam. In the meeting, the participants discussed their dispute with the Ludhyanvi group led by Ahmed Ludhyanvi and Khadim Dhillon. The cause of the dispute is reported to pertain to the distribution of funds and also the internal power struggle over the leadership of the ASWJ-SSP.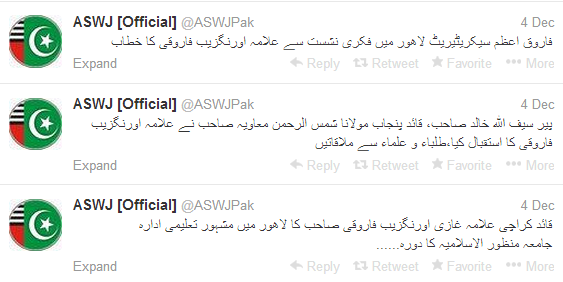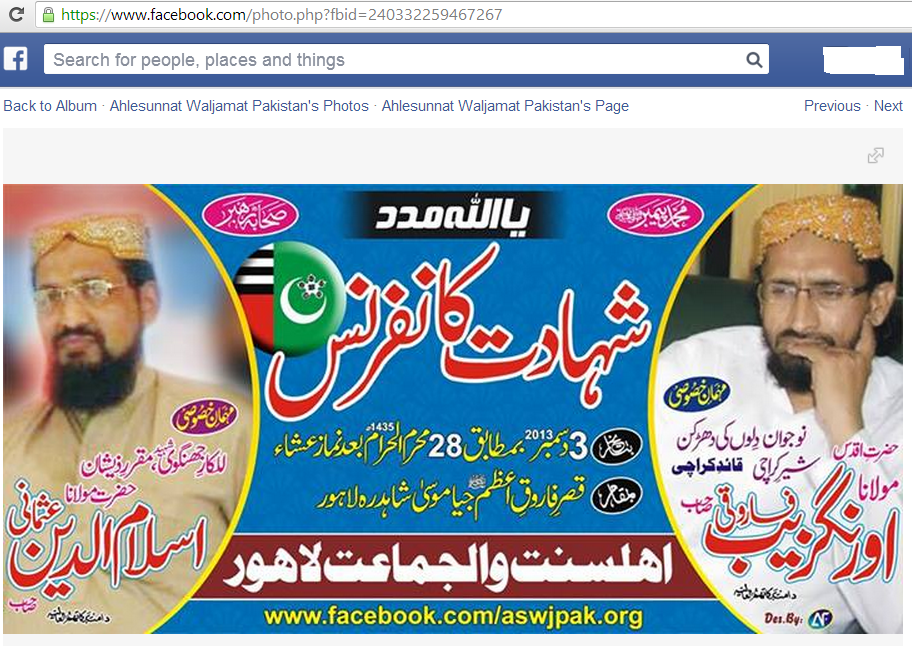 The Ludhyanvi Group and Malik Ishaq Group powe tussle was also reported by Geo TV in February 2013. Federal Interior Minister, Rehman Malik had said that two groups of the Lashkar-e-Jhangvi (LeJ) working under Malik Ishaq and Maulana Ludhianvi were operating in Pakistan, in the guise of ASWJ.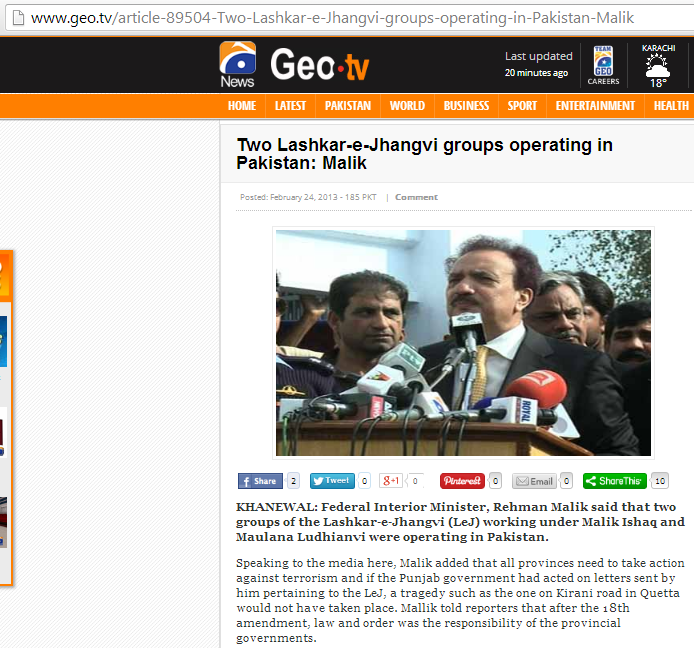 http://www.geo.tv/article-89504-Two-Lashkar-e-Jhangvi-groups-operating-in-Pakistan-Malik
The current split is in addition to the already surfacing division within the Deobandi sect in Pakistan, in which moderate Deobandi clerics and organizations are distancing themselves from violent Takfiri Deobandi outfits. In recent past, members of moderate Deobandi Tablighi Jamaat have been target killed in Karachi and Quetta by Takfiri terrorists of ASWJ-SSP. Moderate Deobandi clerics eg Maulana Hasan Jan of Peshawar and Mufti Shamezai of Karachi too have been killed by raidcalized Deobandi terrorists.
The internal power split within the ASWJ-SSP has also been reported by the mainstream media eg Express Tribune which reported that Malik Ishaq Group of ASWJ-SSP was unahappy with the distribution of election tickets etc by the Ludhyanvi Group.
According to daily Dawn: "The SSP said Maulana Muavia had apparently become the victim of targeted killing but it was too early to say that he had been killed on sectarian grounds. Officials said a constable had been provided to Maulana Muavia some time ago for security but the ASWJ leader had allowed him leave a few days ago." http://www.dawn.com/news/1061063/aswj-leader-killed-in-lahore-ambush
This is very startling detail. In the current sensitive situation, where was the police guard that was assigned to protected Molvi Muawiya? Who within ASWJ lulled Muawiya to send his police guard on leave? Why such a major lapse in security immeditaely after Farooqi's meeting in Lahore Deobandi madressa with Malik Ishaq Group? This major lapse in security clearly points to an inside job, within ASWJ.
In a changing geo-political environment where it is in the long-term inevitable that Saudi-funds for ASWJ-SSP will dry up in view of the Iran-US peace deal, therefore, factions within the ASWJ-SSP are currently jockeying to position themselves to secure maximum cash flow while the Saudi money is there.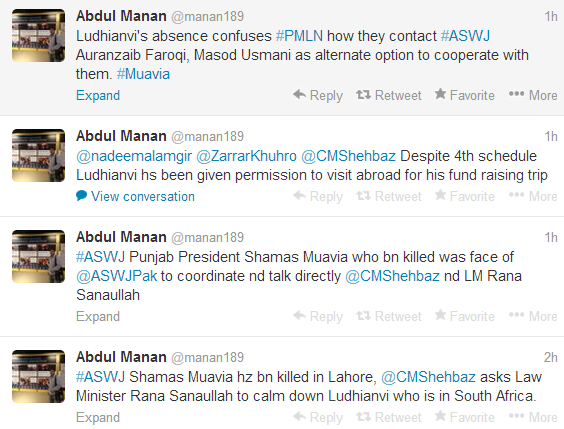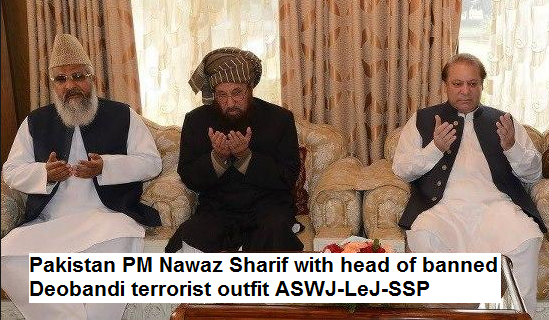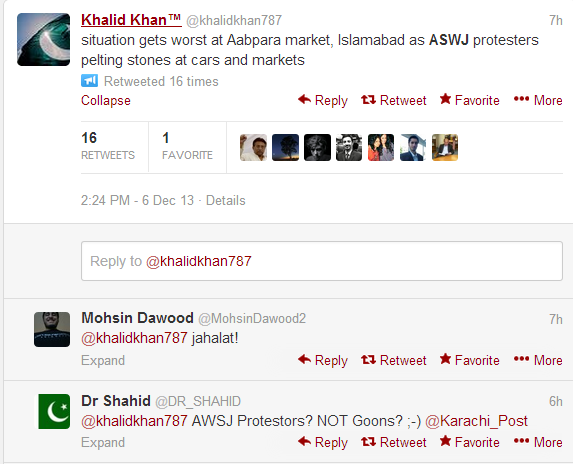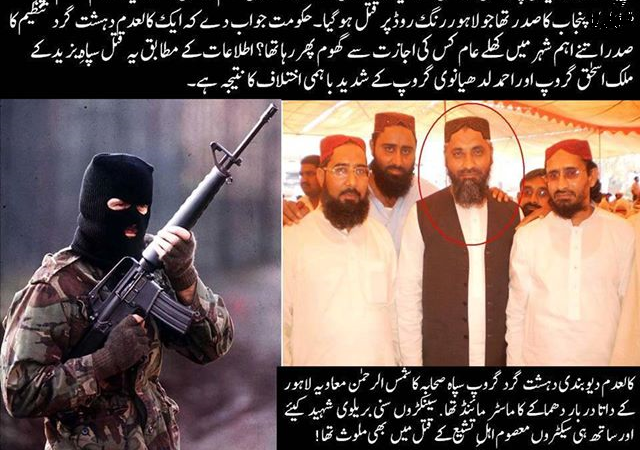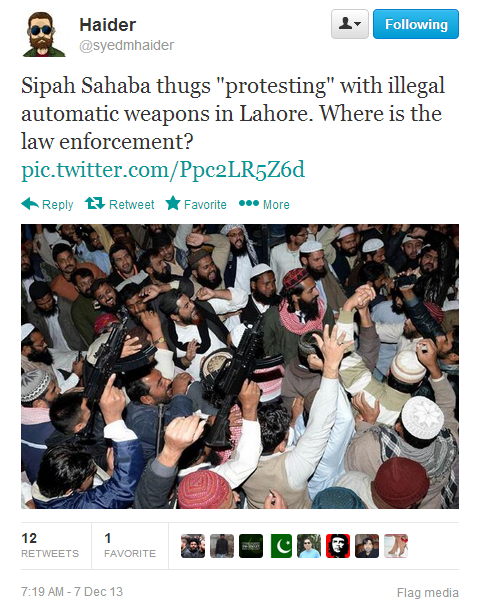 Comments
comments